Study Abroad
How Do I Know if Semester at Sea is Right for Me?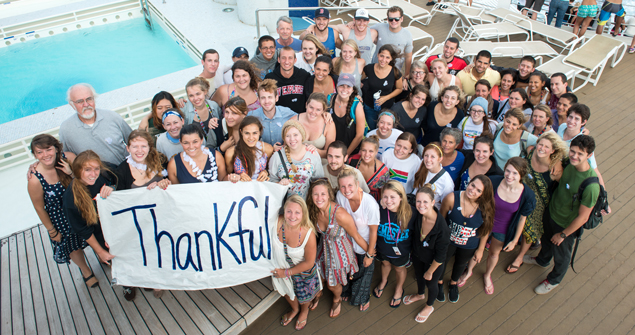 Note: This is from the perspective of one person, an alumnae of the Spring 2011 Voyage of Semester at Sea. These views do not in any way represent Semester at Sea, the Institute of Shipboard Education, or the University of Virginia. The purpose of this article is to assist prospective students in deciding whether Semester at Sea is the right study abroad choice for them.
Although I stepped off of the MV Explorer onto American soil (er... concrete) more than two months ago, Semester at Sea is still part of my life, something I think about every day. The turning point for me with SAS was when it ceased to be an ordinary study abroad semester and became indistinguishable from real life -- visiting a completely unfamiliar country every few days while forming a tight community with the other students on the ship began to feel normal.
I will always have a clear memory of returning to the ship after a week in port dirty, tired, sometimes irritated at how different these cultures were from my Westernized world, but always glad that I did it. I threw myself gracelessly into the unknown, absorbed as much as I could, did as many things that scared me as possible, and made it back in one piece. I could say I enjoyed every minute, but that would be untrue. As with any study abroad program, Semester at Sea is not perfect and it is not for everyone.
If you are apprehensive about whether you can make it through the journey, answering these seven questions may help you decide whether to take the plunge:
1. Can You Rough it Through Unfamiliar Countries and Cultures?
If you're seriously considering going on Semester at Sea, this is an extremely important quality to possess. If unfamiliar surroundings and cultures sound intimidating, you should probably study abroad in Europe instead. Semester at Sea will literally bring you around the world and back (at least the fall and spring voyages do).
An important thing to keep in mind is that many of the countries on this itinerary are lesser-developed and unless you are willing to dish out a lot of dollars for luxury, the accommodations in these countries will be below the standard of what United States residents are used to.
This is the catch of Semester at Sea - spend a little time in a lot of countries instead of a lot of time in a few countries. The choice is yours.
This may seem like stating the obvious, but some students expect luxuries in port just because they are sailing around the world on a small cruise liner. In country, you are responsible for yourself, you get what you pay for -- and by the end of the trip you will have a whole new set of standards.
2. Are You Just Looking for a "Booze Cruise"?
If so, look elsewhere. SAS is somewhat infamous for being a booze cruise, and a lot of students go on the voyage expecting exactly this. This is not the reality -- there are pub nights on the ship during which students with a beverage voucher can buy alcohol, but it is strictly monitored. Most nights on the ship, students are not allowed to drink. Neither can students bring alcohol on the ship -- bags are thoroughly checked and only originally sealed liquids are allowed on the ship.
3. Can You Live on a Small Cruise Ship for Three and a Half Months?
If your stomach can't tolerate motion, be prepared because the ship is always rocking at least slightly. Some days the sea is so rough that objects such as pencil sharpeners and computer monitors fly across the room. The health center on the ship provides free seasickness medication, and students can buy anti-seasickness patches in the campus store onboard the ship.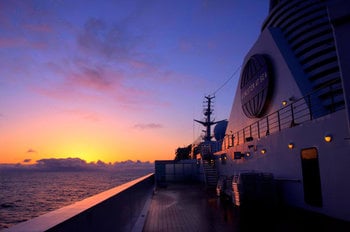 Keep in mind that while SAS visits twelve to thirteen countries on every semester-long voyage, you will be stuck on the ship for multiple days at a time crossing the Atlantic and Pacific oceans. The days at sea can range from three to ten days.
This is the catch of Semester at Sea -- spend a little time in a lot of countries instead of a lot of time in a few countries. The choice is yours. Would you rather spend an in-depth semester exploring one area of the world, or circle the globe while sampling countries from all over the world? If the latter sounds more appealing to you, and you can't decide on a study abroad destination anyway, SAS might be your choice.
4. Are You Open to Making a Completely New Set of Friends?
I didn't know a soul when I went on Semester at Sea, except for some students I had met briefly a few weeks before embarkation. This is the case for most people on the voyage. The first two weeks, nobody knows anyone else so it is perfectly acceptable to sit with strangers and introduce yourself, because chances are that they just met five minutes ago.
Of course, by law of human nature, cliques form a few weeks into the voyage. But the group of friends you make will inevitably become your second family.
5. Can You Accept the Undeniable Fact That...
You will be sailing to a dozen mostly-impoverished countries on a small cruise liner? Does this sound a little strange to anyone? It did to me before I went on SAS, and it still kind of does. There's no way to get around the fact that SAS lets students skim the surface of countries ridden with disease and poverty before retreating back onto the floating five-star hotel.
It is possible, however, to know this and still focus more on the positive things Semester at Sea brings about in these countries. It's about having the right attitude toward what you do in port. Your experience has the potential to be much more than getting a tan on the ship deck, posing for pictures with an African drummer, or wearing a sari (from my perspective, this was actually the case for a large number of students on my voyage). Like most things in life, it all depends on your attitude.
6. Can You Do Your Own Thing?
The opportunity offered by Semester at Sea is inimitable and rare. Your personal attitude toward the voyage and what you choose to do with your time in port are tremendously important in determining what kind of experience you will have. Semester at Sea is infamous for a number of its students behaving like bad tourists while in port -- in other words being rude, ignorant and often drunk.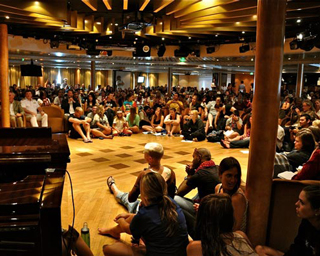 This was the case on my voyage, and it is probably the case on every voyage. When you have a ship full of 600 students, it's inevitable that there will be some bad eggs. Let me stress that, while this group has the power to leave a horrible impression of Semester at Sea, this is just a small percentage of the students, whose brash behavior overshadows the rest of the group.
The majority of SAS students are genuinely here to learn and explore. People who have had negative encounters with Semester at Sea most likely have only witnessed the witless among its students and aren't aware that SAS students have helped build houses in Ghana, teamed up with Operation Hunger in South Africa, and volunteered with disabled children in Vietnam and in orphanages all over the world.
Semester at Sea is a unique and highly personal experience for each individual, and the majority of its stories are never told to a wide audience. If they were, the world would be able to see how deeply a student's life, worldview and future can be changed by Semester at Sea.
The Bottom Line
So, are you still unsure if Semester at Sea is right for you? If yes, the only way to find out is to take the leap with an open mind and flexible expectations. If you feel like you will be able to withstand the situations listed above with enough grace and patience - and if you crave adventure and new experiences above everything else- start packing your bags and get ready for a life-changing experience.
Explore the Semester at Sea program and read reviews.