Reverse Culture Shock: 5 Ways to Beat the Back-at-Home Blues
You're back home - things are different, and it's hard to readjust. You're missing your life abroad – the people you met, the food you ate, and the way of life. You may have trouble relating to people at home. It's possible you're feeling bored, lost, and confused about your future goals.
If you've spent a good deal of time traveling abroad, it is likely that your return home may be an even tougher adjustment than moving abroad in the first place! What can you do to get out of this rut? Read on to discover five ways to beat reverse culture shock get over those back-at-home blues.
1. Understand that you are a different person now
Acknowledging and accepting the fact that you have changed is the first step to readjusting back home. Your worldview has inevitably been altered, and your friends and family may not realize it.
It's hard to explain what you're going through to people who haven't experienced it. To make sense of your thoughts, consider keeping a journal to jot down your reflections. Your writing doesn't need to be lengthy. It can be as simple as a few words or sentences. Getting it down on paper (or a computer doc) can serve as a good outlet to process your re-entry.
2. Connect with like-minded people online
The good part about today's world is that you can connect with anyone with just a few simple clicks. If you're missing the friends you made while abroad, hop on Skype or a Google Hangout to talk to them. This, however, is not going to cure the fact that you're not together anymore, which is why it's great to connect with other people in different ways. Check out these methods for interacting with others online.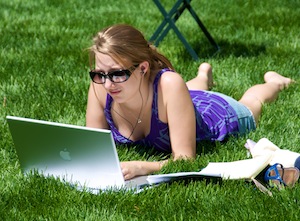 Social media: It's nice to know that you are not alone. Search Twitter for #reversecultureshock or #reentry hash tags. Connect with people you find by tweeting back and sharing links. If you're new to Twitter, it can be a little intimidating at first, but engagement is what it's all the about.
Helpful sites: There are also several great sites to check out. Two really good ones are Native Foreigner Magazine and Small Planet Studio. On these sites, you can find comfort in other people's stories and get inspired by reading about how they adapted to life back home. Read blog posts about what fellow returnees have to say. If you're not sure where to find more re-entry articles, a simple Google search on reverse culture shock will yield tons of results.
Informational interviews: Not sure what you want to do with your life now that you're back? Feeling lost? Informational interviews are extremely helpful when pondering potential career paths. Asking questions is one of the best ways to learn. Don't be afraid to reach out to interview someone through video chat or on the phone.
3. Connect with like-minded people face-to-face
Interacting with people online only goes so far. Sometimes the best way to feel less "foreign" in your own country is to meet up with others who have gone through similar experiences. Here's a list of suggestions to get you started.
Meetup: Meetup.com has tons of, you guessed it, meet-ups. From hiking to grubbing to travel-related events, you'll have no shortage of options for meeting new people. Don't see a group you are interesting? Make one yourself!
Inter Nations: Internations.org is a community for expats. Once you join, you'll have access to forums and will be able to attend events that nearby chapters host. Just because it's a community for expats doesn't mean you can't attend. It's a good opportunity for you to get to know more global citizens.
Language exchange: Did you learn a new language abroad? Want to practice with someone? Find a language exchange partner. This way, you can keep up with what you learned and make a new friend at the same time.
Volunteer, Intern, or Work: Find an organization that values international travel. This will keep you feeling fulfilled and will allow you to connect with your fellow coworkers more easily.
4. Keep your memories alive through your own work
It's true. Not everyone wants to hear you talk about the pigs' feet you ate, the glacier you climbed, or the romantic boat ride you took. You may feel the urge to constantly compare your life overseas to your life at home, and it can annoy others. For example, if you lived in Italy, and your family goes out for Italian food, you might catch yourself saying something like, "This isn't real Italian." Or, if you traveled to China, you be turned off by prices by announcing, "This would be $4 in China. It's ten times as much here!" It's okay to compare, but make sure to share these thoughts with the appropriate audience.
A great way to express yourself to the right audience is through your own work. Here are some ideas that you can implement.
Start your own site or blog: It's super simple to set up your own blog these days. Writing for an audience can be a great way to organize your thoughts and stories. Your own site can also serve as a portfolio piece for a resume, so make your posts insightful, unique, and interesting.
Write for other sites: Often, travel sites look for writers to share their own knowledge about living in a particular city. If maintaining a site of your own is too much for you, write an article for another site that accepts travel articles.
Make videos: Don't like writing? Consider posting videos on YouTube or Vimeo outlining your ideas on living abroad, coming home, and any other angle you feel would be helpful to yourself and others.
Get creative: Make a scrapbook or frame pictures as a way to relive your memories. You can keep these items as memorabilia and show them to guests who ask about them.
5. Explore your own country
Just because you are back home doesn't mean you can't stop adventuring. Find places and do things in your home country that remind you about the good times you had while overseas. Do you miss the food from abroad? Find a restaurant that serves food from your host country. Better yet, make a meal yourself and have a dinner party teaching others about it. Or, go on new and exciting adventures to parks or events or concerts. There are a lot of places you probably haven't seen in your own country that need exploring. Why not take a road trip or even just a day trip to reawaken your sense of adventure? Have a "stay-cation."
Another idea is to go on a scavenger hunt around your city. Who says you need to be a kid to do this? It's never too late to devise your own adult scavenger hunt with some friends and see who can check off the most items/activities on the list.
Interacting with people online only goes so far. Sometimes the best way to feel less "foreign" in your own country is to meet up with others who have gone through similar experiences.
Finally, remember that it takes time to feel like less of a stranger back home. It's a process that requires awareness and being proactive. Know that with ample reflection and determination, you can pick yourself up from feeling down.
Of course, if you're really finding life at home to be too tough, you could always opt to go abroad again. Maybe this time you'll try out teaching, or decide to pick up a new language or skill. Take it a step further by trying out a new industry for your career - you're never too old to intern abroad. Further, there are many countries in need of international volunteers - who knows where you'll end up (or what you'll end up doing!)!
Photo Credits: dougletterman, yourdon, Desert Road.