Volunteer Abroad
Why You Should Pay to Volunteer Abroad
So you've found the volunteer program of your dreams, but notice it comes with a fee. You may be wondering why you have to pay if you'll be putting in free work. Before you start to panic, we're here to tell you why volunteer fees exist and how they can be useful.
Key Takeaways 🔑
It costs money to host and run volunteer programs. Your money typically goes towards supporting the program organizers, as well as covering your volunteer costs such as accommodation, food, airport transfers, and more.
If you're curious about how program organizers are spending their volunteers' fees, you should be able to find it on their website. You can also check Charity Navigator or GuideStar.
Many of the best volunteer programs come with a price tag, and depending on what the fee covers, it can help you budget for the trip and provide you with a sense of peace and security, especially if you're traveling on your own for the first time, or in a country you aren't familiar with.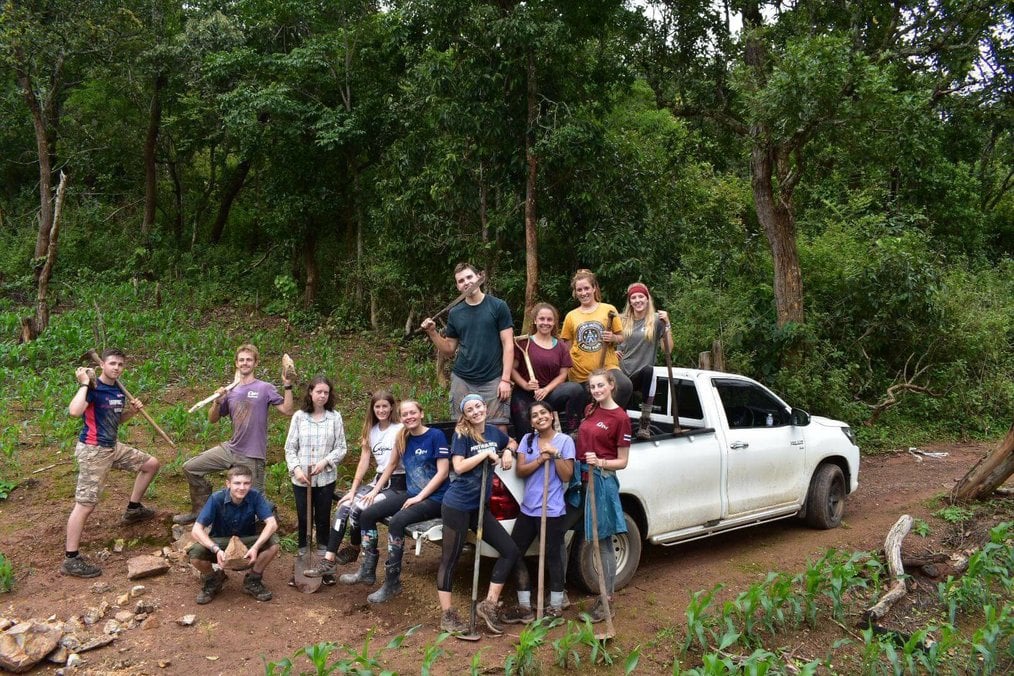 Cheers to you for making an incredible decision not to just travel abroad as an intrepid globetrotter, but to also give back along the way by volunteering abroad. We love to see it! However, it's natural to wonder why you're being expected to PAY to volunteer, when after all, you know you'll be putting in work and donating your time.
The truth is, in order for organizations to support and host their volunteers, they need money to fund all of the expenses. So let's break down these fees.
What do my volunteer fees pay for?
The cost of your fees vary depending on what the program provides for their volunteers. From logistics and orientation, to in-country support, these organizations are there to make sure you get the most out of your time abroad and can be a helpful hand if you find yourself in a tight situation.
1. Airport Pickup & Transfer
After traveling halfway around the world to a country you've never visited, there is nothing better than being greeted by a helpful, friendly face at the airport. Many organizations arrange airport pick-up and drop-off for their volunteers and include it in their program fees.
2. Logistics
Arguably the most difficult part of picking up your life and plopping down in another country is all the logistics involved. From finding a place to live to obtaining the perfect volunteer placement, the details are much easier to accomplish when you have a local there to guide you or take care of it for you.
3. Orientation
The work you do while volunteering should be useful and ultimately, help others. Thus, you'll need training. To help you better understand your role and the local practices of the country you're volunteering in, many organizations host an orientation and cultural awareness course for their volunteers.
Some programs will also set you up with someone from their organization to shadow after, as well as provide language training. The fees paid by volunteers helps the program providers hire and train quality individuals to help assist with leading the program.
4. Food & Accommodation
In some cases, the organization charging a fee may not only set up your accommodation, but also include the cost of living. Your fees will typically cover 2-3 meals per day, housing, and ground transportation from your hostel to your project site.
5. In-Country Assistance
Maybe you need help sorting out a banking issue, renewing a visa, or tracking down a doctor who speaks English. Having someone in-country to help with issues that inevitably arise can be invaluable, especially if you aren't fluent in the local language. These folks know which doctors to visit when you're sick, where the best place to buy a bus ticket is, how to avoid being scammed, and so much more!
Plus, they are around to help at all hours of the day, so if an emergency happens on a weekend or in the night, you'll have someone to call. They'll also keep in touch with family members if the unlikely happens and you need to be evacuated from the country or fall seriously ill. For those with worrying parents, the peace of mind will be worth the money!
6. Programmatic Support & Continuity
Organizations need money to run their programs. Funding typically comes from grants, donations, and volunteer fees. While volunteers are involved in daily activities, most people cannot volunteer for more than 6 months. Thus, organizations need to keep paid staff members to ensure continuity of their programs and administrative duties.
7. Trips and Excursions
Many volunteer program providers go a step further to ensure you have a great experience, by setting up trips for volunteers. From going on a safari in Masai Mara to visiting local ruins, this is a great way to see the country without being responsible for the logistics. Plus, it means you will have the opportunity to better acquaint yourself with your fellow volunteers and local staff.
separator_solid
---
It's worth noting that there are ways to volunteer abroad without a fee. But in that case, you will most likely be volunteering without a specific program provider to guide you. Those opportunities usually come about through small local non-profit organizations who take only a few volunteers per year and are in need of quick help.
If you're considering free-volunteer options, be aware that they usually are unable or unwilling to offer the additional support that fee-based organizations would typically provide, and likely won't be as structured, compared to programs with fees.
How do these organizations actually spend my volunteer fees?
It's natural to wonder where your money is going. In the United States, nonprofits are required to make their financial information public, meaning they legally have to let you peek into their pockets.
A responsible program will always be transparent about how they spend their volunteer fees. If a program doesn't display their stats online, you can always request this information. However, if they seem unwilling to disclose their financial information, that could be a red flag.
Projects Abroad, published a report on how their volunteer fees are distributed and spent.
29% of their fees went directly to the volunteer costs, or in other words "support for volunteers from start to finish". This includes accommodation, food, donation to placements, airport transfers, equipment and materials, and even insurance for individual participants.
24% of their volunteer spendings were used for recruitment and communication, which includes office utilities, print and digital marketing materials, recruitment training, and postage for informational materials.
22% went to indirect costs, which supports their local staff members' salaries, and covers local office rent, utilities, their communication infrastructure, government registration fees, and their operations team.
13% went to organizational costs that covered applications, program changes and cancellations, HR services, communication systems, and the salaries of their IT staff.
Lastly, 5% went to taxes and 7% was saved for "excess revenue over costs," to be used for emergencies and to pay shareholders who support and fund their business.
These are all completely legitimate expenses for a functioning organization, so it shouldn't set off any alarm bells if you see a small percentage of expenses go towards organizational costs or admin fees.
If you're concerned about what seem like really high numbers for admin costs, don't hesitate to reach out for clarification. You can simply ask the program to explain the numbers, or even seek out an opinion from someone else in the field.
Where can I find how organizations spend their money?
The best place to start is always the program provider or organization's website. Though it's true that the limited budget of some nonprofits means their online presence is, shall we say, less than up-to-date, a fair share of organizations do have a section on their sites where they clearly outline their spendings.
If you can access the annual reports, this is often the best way to see a precise breakdown of revenue and expenses, and how those are distributed.
Another option is looking at an aggregator like Charity Navigator or GuideStar, which compile financial information about thousands of nonprofit organizations, mostly based in the United States, since that financial information is public record.
Charity Navigator evaluates 8,000 different charities and nonprofits, rating them on metrics of financial health, accountability and transparency, and grading them on a four-star system. The site also has a fun Top Ten section, listing everything from 10 Celebrity-Related Charities to 10 Inefficient Fundraisers.
GuideStar offers members access to annual reports, tax forms, revenue and expense data, listings of CEOs and board members, and contact information for organizations.
Is it worth it to pay to volunteer abroad?
Volunteering abroad gives you the opportunity to become part of a community that shares the same values and interest in helping others, while also pushing you to leave your personal comfort zone and experience new cultures and traditions.
So as you research and look into different volunteer programs, don't let program fees intimidate you. Many of the best volunteer programs come with a price tag, and depending on what the fee covers, it can help you budget for the trip and provide you with a sense of peace and security, especially if you're traveling on your own for the first time, or in a country you aren't familiar with.
There's also a ton of ways to fundraise to volunteer abroad, as well as scholarships and grants you can apply for. Virtual volunteer programs can also be an awesome, budget-friendly option.
Good luck future volunteers!
Explore volunteer programs and read reviews from our global community of travelers. ✈️