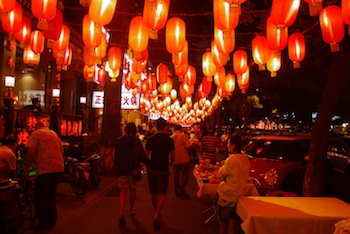 Why did you decide to study abroad with Hutong School?
Malte: Because they have very friendly, encouraging and committed staff. It was always fun to come to the school and take Mandarin lessons there. You are always welcomed with a smile and they really care about how you are doing in China. Before classes you are already making some small talk to practice your newly learned Mandarin or just to catch up in English what is currently going on. And we also laughed a lot during classes. Their teachers are really friendly and flexible in their teaching so you can ask a lot of questions and really learn what you are interested in. I also think that their Sanlitun location is great. It is really close to the business district so you have a short way if you come straight from the office. And you can grab a drink with friends in one of the many bars around Sanlitun after class.
I decided to study abroad at Hutong School because I was looking for an adventure in an international environment and a professional school where I could learn Mandarin. I graduated from university and wanted to get out and see something new of the world. At the same time I wanted to gain job experience and have some time to plan what I would like to do in the future. Therefore I decided to work in China because it had already been my dream to live in an Asian culture for several years. Hutong School had excellent references from their former students so I knew in advance that they offer high quality courses and I don't need to be worried about being scammed somehow.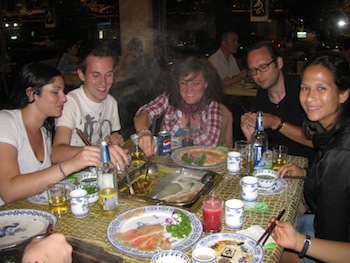 Favorite food you tried abroad?
Malte: That is a tough question! I still don't know all the things I ate or the names of all the dishes. Therefore it is hard to name my favorite. If you go to China you just have to be extremely open minded and try everything you come across. Chinese food is completely different from the dishes you know from your Chinese restaurant back home. Just have always dinner in a group so you can order many different dishes and have a try of everything. For me it was also part of the China experience to try more extreme dishes like scorpion kebab, 1000 year old eggs or pig intestines. Many dishes I tried were delicious so I have lots of favorites like Kung Pao chicken, Szechuan stir-fried green beans or Beijing duck.
What advice would you give to future CIEE-China teachers?
Malte: Don't be afraid! China can be intimidating sometimes. When I arrived I didn't speak a word of Mandarin. I didn't know anyone in Beijing. And I often got lost in the first days. And everything was just so different from what I was used to. But you meet new people so quickly - your roommates, your classmates, all the other HS students from around the world – that you make new friends instantly. Together you will have an amazing time in a great city. I just fell in love with Beijing! The mix between the traditional China with the Great Wall, temples and the street life in the hutongs and the modern China with skyscrapers, shopping malls and nightclubs is an intriguing mix. So my advice would be: don't be afraid, don't have prejudice & be open minded, and just enjoy a great time!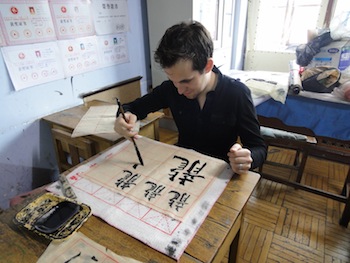 What was the highlight of your trip?
Malte: I think there is not just one highlight. The true highlight is that living in China gives you the chance to truly immerse yourself in a completely different world. As a tourist you are always rushed and you only see the top attractions. Living in China gives you the chance to see the places off the beaten track, use your newly learned Mandarin to interact with locals and experience the culture every single day. So the true highlight is that you wake up in the morning and you can discover the Chinese culture over and over again. I would also recommend students to travel a lot. I was amazed by the diversity across different parts of China. So discovering these cultural differences during my trips throughout China was a highlight as well.