View Other Details

Program Details

Housing

Apartment

Host Family

Hotel

Pricing

Price Details

Airport pick-up

Program and safety orientation

Walking tour

Official TEFL Certificate

Letter of recommendation

Lifetime job-finding assistance

Tandem Conversation Program

Office-wide WiFi and computer lab

Salsa dance classes

Cooking classes

Free coffee and tea and on-site snack bar

Institute is open 7 days/week

Emergency contact number 24/7

What's Included

Activities

Airport Transfers

Wifi

What's Not Included

Airfare

Travel Insurance
26 travelers are looking at this program
Become a certified English teacher by earning a TEFL certification with Maximo Nivel in Cusco, Peru. TEFL Certification is your passport to living and working as English teacher anywhere else in the world! The 4-week/150-hour certification program includes more than 15 hours of practical English teaching and observation of experienced teachers.
The TEFL Program consists of 14 modules:
1. Approaches to Learning & Teaching
2. Critical ESL Techniques
3. Class Management
4. Lesson Planning
5. English Grammar Review 1
6. English Grammar Review 2
7. Teaching Grammar
8. Teaching Vocabulary
9. Teaching English with Games
10. Teaching Speaking & Writing
11. Teaching Listening & Reading
12. Assessing Learners
13. Introduction to International English Exams
14. Practical Teaching
Maximo Nivel is internationally accredited and the Maximo Nivel TEFL Certificate is accepted by institutes, language schools, and universities around the world.
Program Highlights
Accredited certification accepted worldwide
15 hours of practical teaching and observation
Teach real ESL classes
Continuous coaching during TEFL course
Lifetime job-finding assistance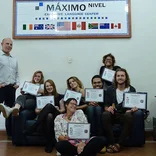 The Hybrid TEFL certification program is perfect for people who have less time to travel, but still want the benefit of onsite coaching and in-person practical teaching experience. The Hybrid TEFL is a thorough introduction to Teaching English as a Foreign Language (TEFL). During the 150-hour course you study the same modules as the standard, onsite, 4-week TEFL program. You complete the first half of the course through guided self-study online and the second part on site in Cusco.