View Other Details

Program Details

Certifications

Online TEFL

Online TESOL

TEFL

TEFL Masters

TESOL

Pricing

Price Details

Starting at $499 USD for TESOL Diploma without tutor support; $599 USD for Diploma course with full tutor support.
1 traveler is looking at this program
Our online TESOL Diploma is an advanced level training course that is aimed at practicing teachers who have already completed a standard TEFL/TESOL qualification. The course appeals to a wide range of applicants, especially those who want to enhance their teaching knowledge and qualifications in order to gain an advantage when applying for higher level teaching positions.
The course requires a large amount of research, utilizing the internet and other resources to examine and develop your own understanding of a variety of relevant topics. The course modules cover a range of subjects including the historical development of English language teaching, different approaches to course syllabus design, designing classroom materials, student assessment strategies, and classroom management.
Program Highlights
Internationally accredited TEFL/TESOL certification by the Online TESOL and TEFL Standards Agency (OTTSA)
Access to a vast network of schools worldwide
TEFL courses for native and fluent English speakers
More than 25 Years in the Teacher Training Industry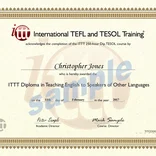 The TESOL/TEFL Diploma is the most advanced online TESOL/TEFL certification that we offer. The course is specifically designed for TEFL/TESOL certified teachers who are looking to further their training and knowledge by completing a high level qualification.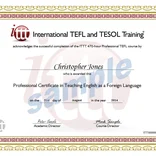 ITTT's 470-hour Professional Package with tutor support offers a broad spectrum of TESOL skills that teachers of English as a foreign language can use in a variety of classroom situations. Having multiple qualifications under your belt will fully prepare you for the vast majority of teaching roles that are available in schools and language centers worldwide.
The most comprehensive course option offered by ITTT is the 550-hour Expert Package with tutor support. It covers a complete spectrum of TEFL skills that teachers of English as a foreign language can use in most classroom situations. The 550-hour Expert Package fully prepares course graduates so they are ready to tackle a wide range of future teaching and management roles at home or overseas.