Gap Year
5 Reasons to Au Pair in Australia on Your Gap Year
If you want to take a gap year but aren't quite sure what you can do on your gap year in Australia, consider applying for a working holiday visa and taking a job as an au pair abroad. Being an au pair means you provide full-time childcare for a family in exchange for room and board and a small weekly salary. You can become an au pair in a number of countries, but a great place to consider is Australia. Here's our five favorite reasons why you should be an au pair in Australia:
1. There will be no language barrier
It's a relief when traveling to the other side of the world, especially for work, to not worry about learning a new language. Living in someone's home and taking care of their children means you will want to have a thorough understanding of what is expected of you and any important details about your host family's lifestyle.
It will be easier to build rapport with the parents, communicate issues and concerns, and you won't have the added responsibility of helping the children learn your language - unless, of course, they're toddlers.
Developing relationships like this will make you look back on your time in Oz and remember the people you got to know, not just the things you did.
That being said, Australia will still feel foreign in many ways. Just because we speak the same language does not mean our cultures are identical. You're going to be hearing and, most likely, picking up many new and unfamiliar phrases - and g'donya if you bring home some new slang to impress your friends!
Australians follow many aspects of British and American entertainment but they have plenty of their own that you might never have heard of (for example, I have my time in Australia to thank for discovering the comedic genius of Chris Lilley).
2. You won't experience Australia as a typical tourist
Sticking to major cities, staying in hotels or hostels, trekking from one 'must-see' or 'must-do' to the next, or eating only in restaurants are all things you will not be doing on a daily basis as an au pair. Australia is an extremely large country - it could easily contain all of Europe - and even in a year you wouldn't see it all! More importantly, you wouldn't learn as much about what it means to be an Australian. Not true as an au pair.
Instead, you'll be living day-to-day life there, becoming familiar with local shops, brands, foods, and people. Eventually you'll find yourself walking your host family's roads as if it were your own neighborhood, meeting new people and developing relationships as you go along. Your role as an au pair in Australia allows you to become a much more active participant in its culture than by simply visiting it.
Keep in mind though living with a host family will shape your experience enormously. For whatever length of time you're spending with them, you will become part of their family. You will give the children comfort when they need it, be proud of their achievements, teach them, learn with them, and see them grow.
Developing relationships like this will make you look back on your time in Oz and remember the people you got to know, not just the things you did. Being an au pair also means that you'll get to see snippets of Aussie culture that no tourist would typically see. After all, few tourists can say they've been to an elementary school play, dance class, cricket practice while in Australia, now can they?
3. Working holiday visas & online resources make it easy to do
You will need to apply for a Working Holiday visa in order to legally become an au pair in Australia. You should check for the specific requirements of your home country to be eligible for a Working Holiday visa, but generally the following conditions will apply:
You must be single and childless
You must be between the ages of 18 and 30
You must speak English
You must be able to prove that you have at least $5000 (AUD) in the bank and can pay for your travel expenses
You cannot have ever previously held this visa for Australia (though if you have, you may be able to apply for a second Working Holiday visa).
If you are a citizen of Canada, the UK, or select European countries, your Working Holiday visa allows you to spend 6 months maximum working for each individual host family.
You will also need to do research to decide how you will be connected with a host family. You can either go through an agency, such as AIFS or GeoVisions or find a family on your own. If you go through an agency it will cost you money but comes with certain guarantees and offers a little more security. For the first-timer, going through an agency might feel easier because it is less work on your end and if anything should go wrong with your placement you can contact the agency for support. This can also be preferable if you're traveling alone for the first time and feel you would need extra support finding a family and securing a visa.
Alternately, there are a number of websites, such as Au Pair World, and Family Match, you can use that are less formal where you can post an ad or browse through families looking for an au pair and contact them independently. If you're choosing this route, be sure to do research and know what you'd like to agree upon before you begin working like your accommodation, schedule, responsibilities, and pay. Don't feel pressured to agree to something that seems less than desirable. If you're a more seasoned traveler, have been a nanny or au pair before, or don't want to spend the money of going through an agency this option may be for you. Again, sharing a common language will make this process easier from the outset.
Botttom Line: Do plenty of online research before jumping in. Au Pair World is an agency but also has some very useful information about becoming an au pair in Australia, including visa requirements. Search the internet and social media for blogs written by people who were au pairs in Australia for a more personal take on the experience (and try to find more than one for a balanced perspective).
4. So many opportunities to explore and make friends!
You can be proactive and try to join groups on Facebook or other social media platforms to find au pairs in your area to spend time with. This way you will have potential travel companions in your same situation - or at the very least you can plan play dates and socialize. It's also totally safe to fly solo if you prefer being independent.
One thing I liked about Australia, especially Melbourne, was being able to easily use public transport to get anywhere within the city. There are also inter-city trains that can bring you from one city to another. Finally, you can always check for deals with budget airlines to take a quick domestic flight for a weekend trip. I flew from Melbourne to Sydney for under $50, which was even cheaper than taking a train and a much shorter journey. It's no surprise so many people choose Australia for their gap years!
Some of the biggest cities in Australia that draw tourism are Sydney, Melbourne, Brisbane, Adelaide, Gold Coast, Perth, and Hobart. There is a huge variety of activities you can do in your free time: check out the beautiful beaches, learn to surf, go bushwalking, see the national parks, enjoy urban experiences in the city centers. There are hostels all over the country where you can meet other travelers to get advice and recommendations for your time off.
One thing you should absolutely take advantage of is your free time. If you are taking care of school-aged children and have time to yourself during the day where your responsibilities are taken care of, go out! Whether you're laying on a pristine beach in Perth, walking through Sydney's Botanical Gardens, or hanging out in Federation Square in Melbourne (to name a few), take every opportunity to see more of Australia when you're not working.
5. Free room, board, and an incredibly rewarding job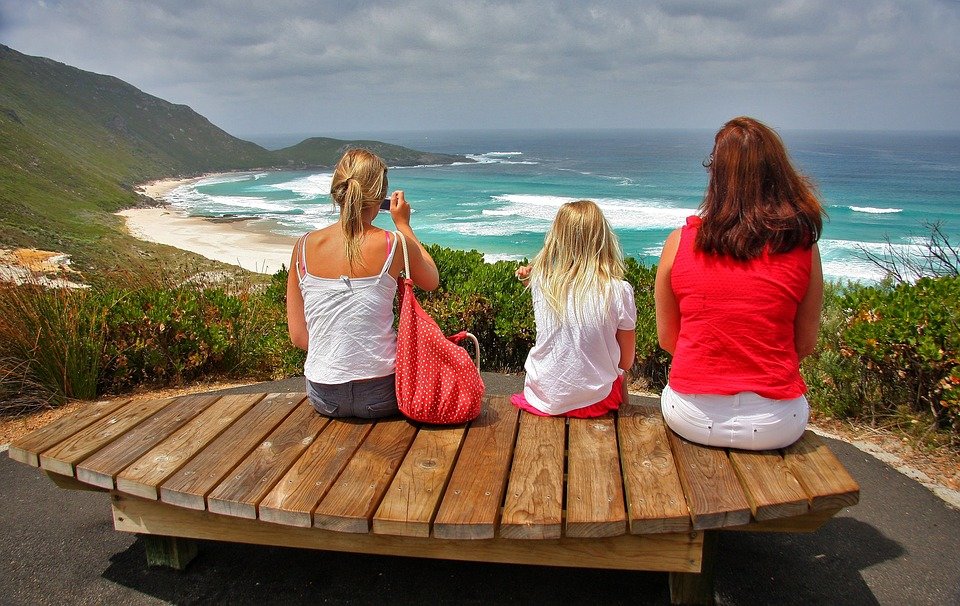 No, being an au pair isn't a glamorous job and you won't leave as a millionaire. But if you're wise about your spending you'll be able to take your earnings and put it towards different excursions while you're in Australia in order to make the most out of your time there.
The most major expense most long-term travelers face is room and board, simply having somewhere to sleep and food each day. With that already taken care of, whatever you are making can go to doing extra activities on your time off. The last thing you'd want is to look back on your time in Australia and think that you spent 99% of it working and go to see only a few interesting things.
If you decide to become an au pair in Australia you may spend additional time in the country after you've finished working to travel. You could also take some time off between families and use that for traveling. Go to surf school, spend New Years on Bondi Beach, ride a quad around Alice Springs and visit Uluru, see the wildlife up close, go to museums - whatever floats your boat! Who knows? You might even end up splurging on a trip to Fiji before heading home.
Is Au Pairing the Job For You?
There is so much to do in Australia and if you spend the majority of your working time banking your income you won't feel limited in your travels afterward or on your free time. You're going to see wildlife you have never dreamed of seeing outside a zoo. I doubt you'll ever forget the first time you had to brake for a crossing wallaby. You're going to try new foods - an array of glorious meat-filled pastries, lamingtons, the infamous vegemite, pickled beets, maybe even kangaroo - among many others.
In short, you're going to have an amazing time as an au pair in Australia! Not many people get to travel there, and even fewer can say they have lived and worked in Australia. If you feel qualified to work as an au pair, Australia might be the perfect place to spend your gap year.