Study Abroad
Should I Study Abroad in the Fall or Spring?
Should you study abroad in the fall or spring? It's an exciting question, and it deserves a thoughtful answer. Let's look at some of the arguments for both.
TL;DR 👀
Learning your preferences for seasons can help you plan accordingly for what you wish to experience when you study abroad.
Consider your academic schedule, the location of your program, vacation plans, and what you're looking to get out of your semester abroad.
Both seasons have their benefits and drawbacks, and it's up to you to decide which ones are most important to you.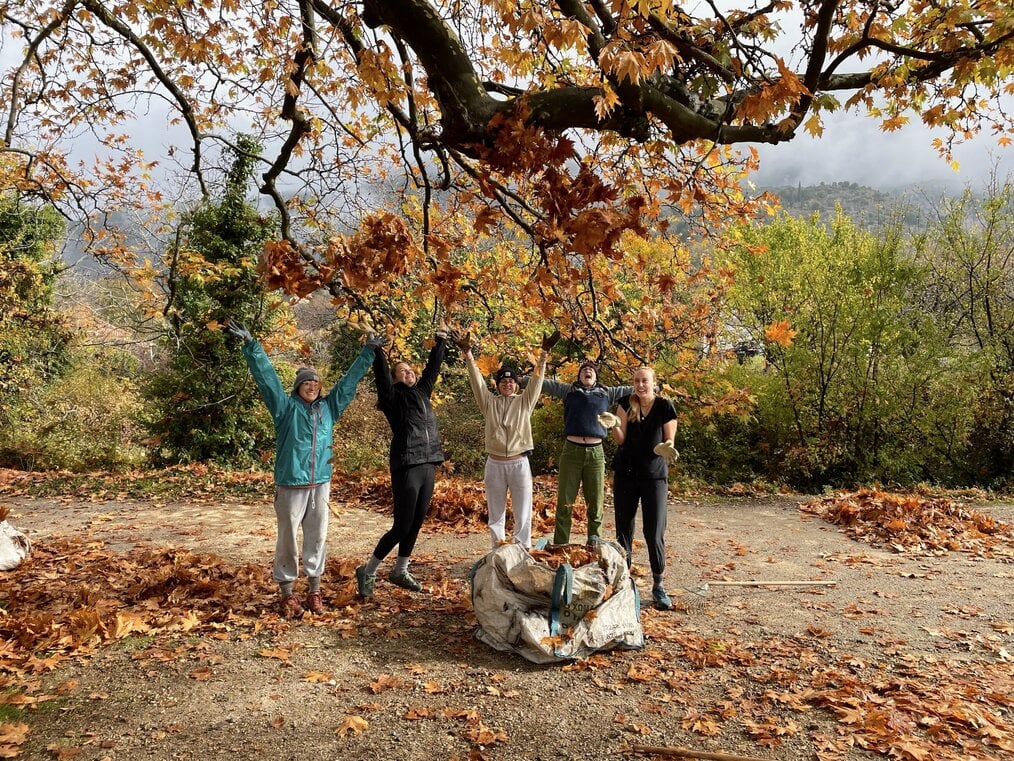 If you've decided to study abroad, you've probably also asked yourself if it would be better to study abroad in the fall or spring? The answer is: it depends!
For some schools, the fall and spring semesters are pretty much interchangeable. For others, however, there are significant differences between the two. Though there is no perfect answer to this question, we're here to help you make an informed decision so you can find what fits best for your personal, academic, and career goals.
Read on to explore the pros and cons of both options to help you decide which semester you should study abroad.
When is the best time to study abroad?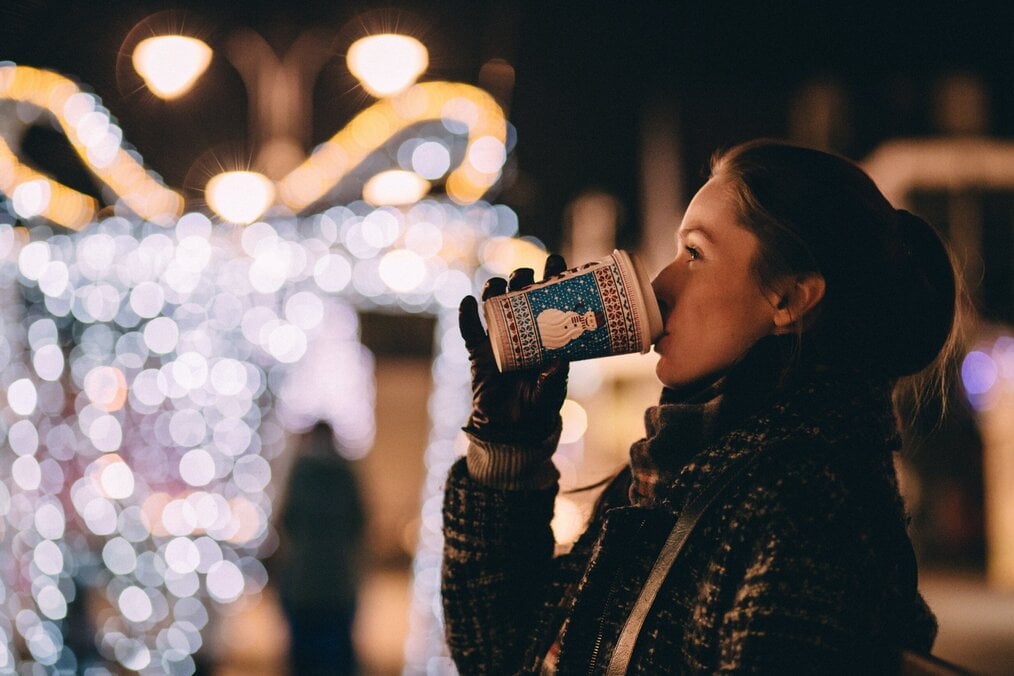 While there are pros and cons for each time of year, the best time to study abroad is when it fits your academic goals, graduation requirements, and personal travel preferences. Of course, some people are better suited to one season than another, but the decision may be made for you by your major or the program you choose. If you're lucky enough to have options, here are some things to think about:
1. Check your graduation requirements
Talk with your academic advisor to see how studying abroad can fit into your degree program. Depending on your major, you may need to take specific courses that aren't offered at other times of the year.
2. Look for special programs & opportunities
Is the program you want to apply for offered during both fall and spring? Or is there a specific program that only goes in the spring? Alternatively, there could be a study abroad program that only runs in the fall.
Some universities even have particular "Focus on Fall Study Abroad" programs for which fall study abroad students could apply. Not only do some offer scholarships, but these unique programs can sometimes offer students to live together in one dorm after returning from study abroad. As a result, they can participate in fun events and have the opportunity to discuss their meaningful experiences abroad with each other.
It's also possible that your university offers grants and scholarships for students who apply for semester-specific study abroad programs. Again, check with your institution's finance and study abroad offices for details.
3. Understand scheduling for graduation as a senior
Some upper-division courses are only available in spring semesters or fall semesters. So make sure it won't only be available when away from campus. Since some courses aren't offered every semester, it might be best to review course scheduling information to ensure this isn't an issue for you!
4. Consider your institution's semester or quarter system
There are two main types of academic calendars in the United States: a semester system and a quarter system. If your college operates on a quarter system, it might make more sense to study abroad during the fall if you want your program to line up with your fall quarter. Alternatively, if you wish to spend two quarters abroad, choosing a spring start date would benefit you.
It's important to consider the start dates in your study abroad destination as well. For example, there are later spring start dates in Asia and Australia. Conversely, there's a later September start date in Europe. A later starting date can be an advantage for study abroad students to settle in before beginning their semesters abroad.
5. Take into account campus life
Is your home campus notably beautiful or preferable during a particular time of year? Are there campus traditions that happen during a specific semester that you don't want to miss out on? If you're a part of student organizations on campus, what are the most important dates to be present for leadership positions? Some students find it necessary to be on their home campus to campaign for a leadership role in the fall, while others find it essential to return to receive their due accolades during the spring.
Read more: The Most Important Questions Students Ask About Study Abroad
6. Consider your seasonal preferences
Weather can play an important factor when deciding when to study abroad. What weather do you prefer to experience in your selected destination? What time of year do you favor the most, and why?
Learning your preferences for seasons can help you plan accordingly for what you wish to experience when you study abroad. Are you tired of the constant sun, blistering hot days, and have always wanted to experience a snow-covered town? Or is it vice versa? Are you looking to avoid those dreaded Boston winters? Spring semester it is then. Do you want to be on campus when the flowers bloom? Then study abroad in the fall so you won't miss out on your home university's best time of year.
Your seasonal preferences can have a sizable impact on deciding where you want to spend a semester abroad.
Once you've selected your destination, learn the seasonal differences between your host country and where you live. For example, spring for North America is late autumn in the southern hemisphere - late March through late June. However, for upper regions in the northern hemisphere, winter weather arrives much earlier than back in North America.
Many northern and Scandinavian countries have significantly reduced daylight hours during the winter, sometimes as little as five and a half hours of daylight each day. Therefore, dealing with seasonal affective disorder (SAD) is something that can happen while studying abroad in the upper regions of the northern hemisphere. This might be an essential factor to consider if you've experienced or are prone to experiencing depression.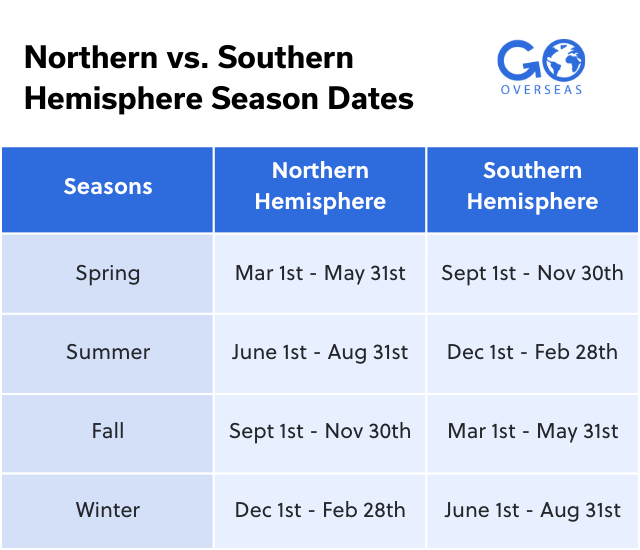 Pros of studying abroad in the fall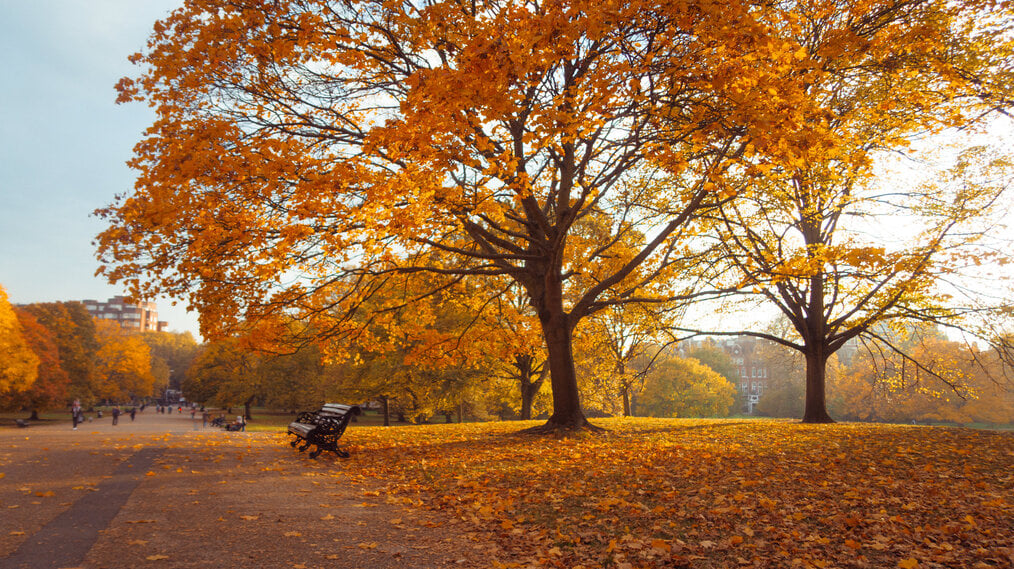 Studying abroad in the fall can be a magical time of year. From experiencing traditional celebrations, making fond memories, and seeing the colors change in the foliage, this time of year can be perfect to study abroad. Below are some of the best benefits of studying abroad in the fall.
More time to make new friends
Many students choose to study abroad during the fall semester because it's a great way to start your academic year on an exciting note. In addition, classes generally don't begin until early September, which allows you to have more time to make friends with local students before the start of term.
Fewer tourists in the fall
It's also a great time to experience your host country during its off-season, allowing time to enjoy the tail end of the country's summer weather sans all the crowds and the hiked-up tourist prices. Fewer crowds equal shorter lines. Many tourists go on vacation during the summer, meaning lines at museums and popular attractions will be shorter — and more affordable — in the fall. This can be an added perk if you're concerned with budgeting for studying abroad.
Great weather conditions
It's an excellent time for those who want to experience the change in seasons abroad but don't want to deal with the bitter cold that comes along with the winter. Studying abroad during the fall, you'll get to enjoy the festivals and winter markets that accompany most European cities during their autumn months. Of course, there's also the added benefit of opting to travel after your semester ends during winter break!
A wider selection of programs and classes
Fall is typically the less popular time to study abroad, so you'll most likely have more selection of your top choice program, smaller cohorts, and smaller classes. It's also easier to plan for a fall study abroad program because you can use all of your summer break for planning. If you're a senior graduating in May and want to study abroad before graduating, studying abroad in the fall will allow you to do this.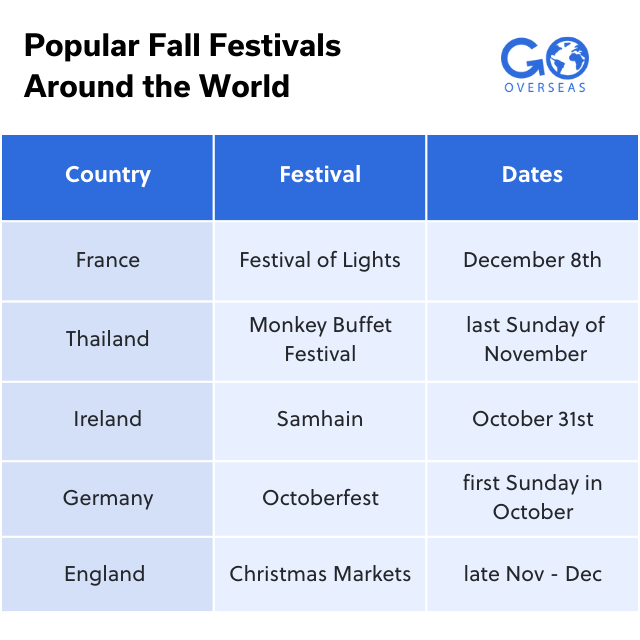 Cons of studying abroad in the fall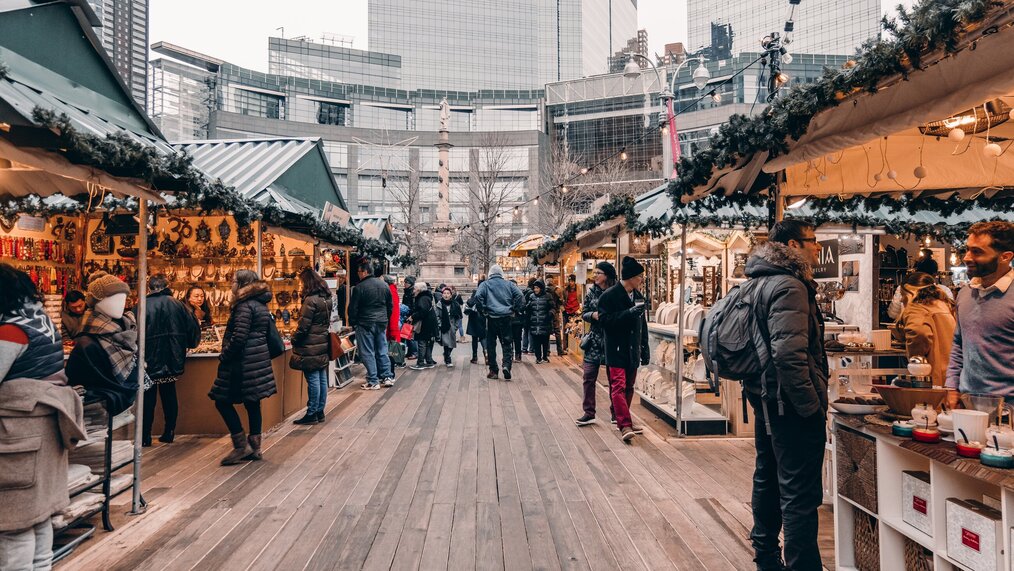 Like most things, there are two sides to the coin, and with studying abroad in the fall this is also true. While there are some significant benefits, there are also some drawbacks to be aware of if they are noteworthy problems for you. The main disadvantages to studying abroad in the fall include the following:
Challenges associated with planning and readjusting to life at home
It gets dark earlier, giving you less time to do things during the week. It can be difficult to plan to study overseas with faculty on summer break. And it can be challenging to have a short period of readjusting from reverse culture shock during winter break before starting your spring semester back home.
Less time
Fall semesters are typically shorter than spring semesters - four weeks long - so they feel like they fly by faster. On the other hand, spring semesters tend to be longer - six weeks long - so you might think that you'll be able to explore less of the country during your stay of a fall semester abroad.
In my case, I didn't find this to be true. I studied abroad during the fall semester and had plenty of time to travel around Europe. Choosing to study abroad in Paris situated me in a central location where I could easily visit many other cities in Europe during my weekends. I even took an eight-hour bus ride to London solo one weekend and spent it strolling through Hyde Park, enjoying the fall foliage and eating my way through Camden Market, one of London's many street markets.
Difficulties registering for next semester
One additional aspect that some students might find challenging about studying abroad during the fall versus the spring is having to register for the spring semester in a different time zone. For me, this looked like setting the alarm to wake me up at 2 am so that I could register for my next semester's courses. Some universities, like Brandeis University, combat this difficulty by allocating early registration times to fall study abroad students.
Pros of studying abroad in the spring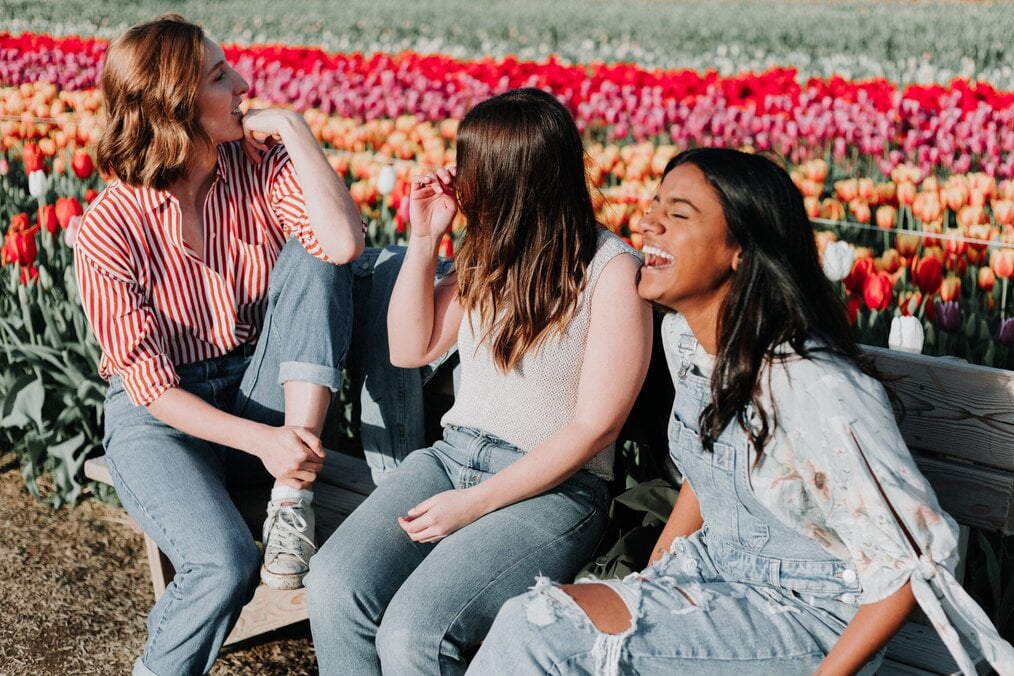 While I personally didn't have the experience to study abroad in the spring, I can see the advantages. It's popular between sophomores and juniors, although there's also been a significant increase in freshmen study abroad students in recent years. The main benefits of studying abroad in the spring are:
Spend spring break abroad
Spending a spring break abroad is a significant benefit for students who want a clear schedule reserved for time to travel. For example, if you are studying in Italy, you can go on a trip to Rome and Florence over spring break. If you are studying in Peru, you can go on a trip to Machu Picchu. In addition, spring break gives you an excellent opportunity to explore your host country with new friends from your study abroad program. If you're looking for a wholesome spring break while abroad, consider volunteering for the week!
Summer travel once the semester ends
The main advantage of studying abroad in the spring is exploring your host country during the summer break. For example, if you study abroad in Europe in the spring, you can spend the summer backpacking through Europe after your program ends. Extending your stay over summer will give you plenty of time to see all the famous tourist attractions in Paris, London, and Rome and still have enough time to enjoy each destination leisurely.
Warm weather
Additionally, if you study abroad in the spring, you can enjoy the summer weather and fun events once your study abroad program ends! Throughout Europe, this means street fairs and outdoor concerts. There are outdoor festivals and great hikes in places like China and Japan in the spring. You'll also have a chance to enjoy the beautiful flora in parks during the warm weather. Additionally, you can extend your stay for an internship or volunteer opportunity after the spring semester if you'd like to gain more experience while living abroad!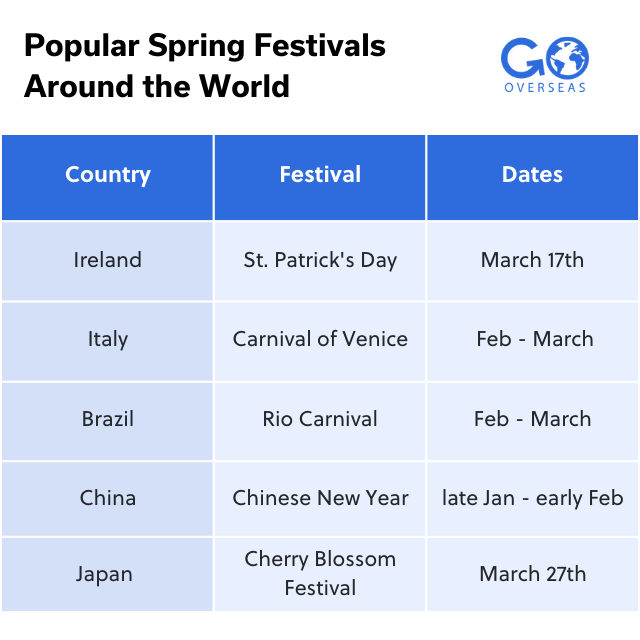 Cons of studying abroad in the spring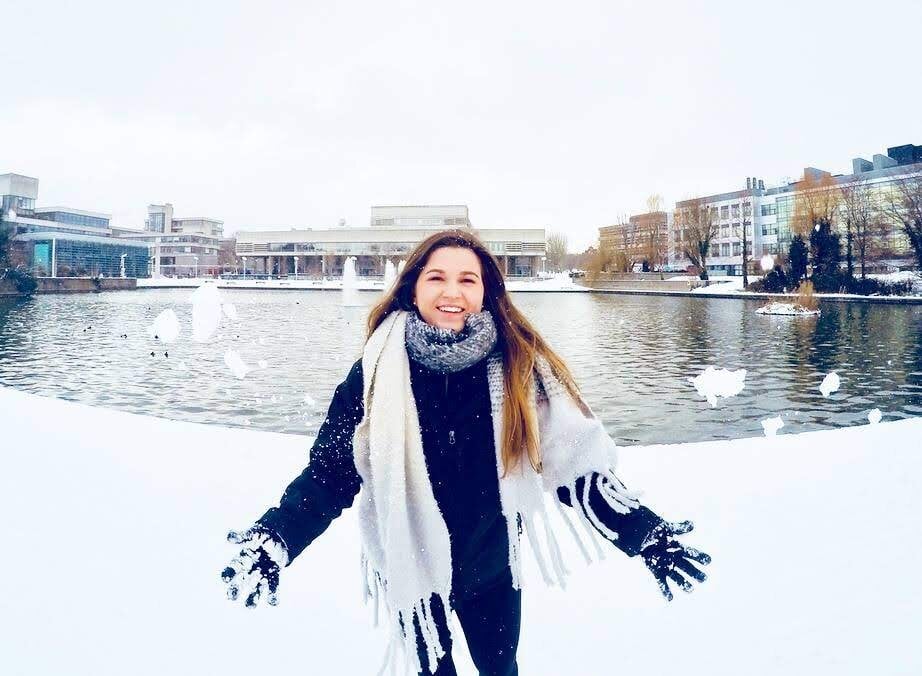 Students who opt out of studying abroad in the spring usually choose to do so for a couple of reasons. While the spring can be a fantastic time to study abroad, like everything, there are some potential cons. The following are a few drawbacks for students studying abroad in the spring:
Winter arrival
One drawback to studying abroad in the spring can be arriving at your host university halfway through the school year, making it more challenging to make friends with local students who have already formed their friendship groups for the year. You'll also arrive in your host country in the middle of winter (unless your destination is below the equator). However, the weather will begin to warm to more favorable temperatures throughout your semester.
Challenges setting up internships and summer jobs
If you want to try an internship abroad during your semester, it might be better to study abroad in the fall because more internship options would be available then. Similarly, summer internships or summer jobs back home can be challenging to line up during studying abroad in the spring because students will be out of the country when most openings are posted - February through March - and interviews are held.
It can be more expensive
The spring semester abroad can be around two weeks longer than the fall semester which means more time abroad. Great, right? Well, with that extended semester abroad also comes added costs for accommodations, food, and other incidentals. Additionally, it can be more expensive during the spring as it warms up during April, May, and June, and tourists begin visiting for their own spring breaks or summer vacations.
You'll also probably finish your school year later than most of your friends at home. But in my opinion, this is not that big of a deal since you'll likely be enjoying your time abroad so much that you won't even care!
So, fall or spring?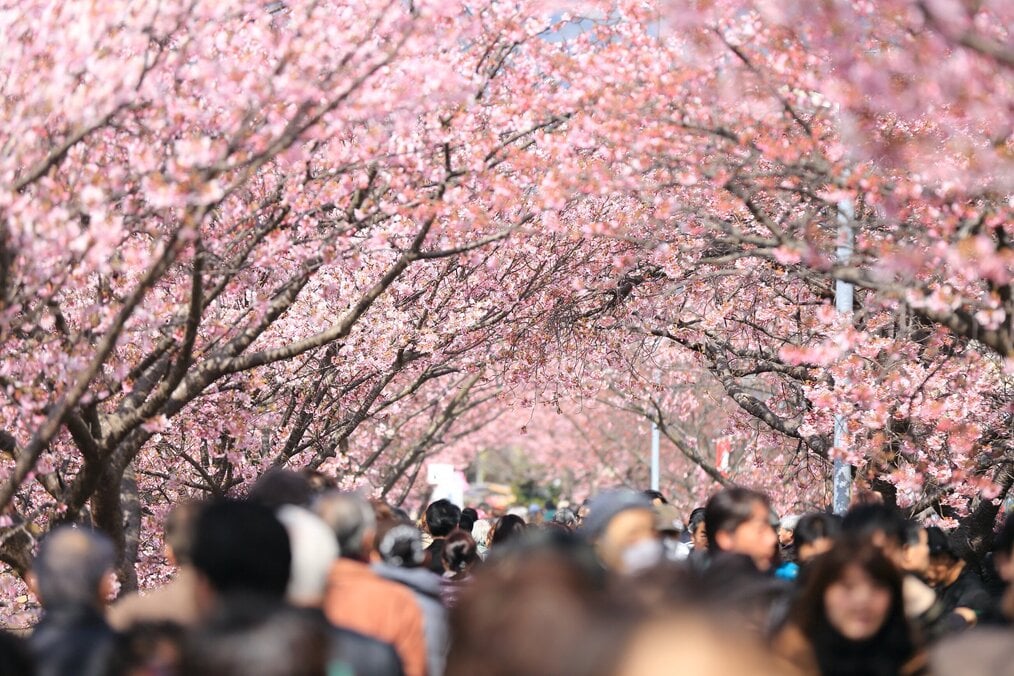 Both seasons have their benefits and drawbacks, and it's up to you to decide which deciding factors are most important to you. The answer depends on your schedule, the location of your program, vacation plans, etc. Whether you study abroad in the spring or fall, there are a few challenges you're likely to face in both semesters. You'll experience the beginnings or ends of winter and summer during both semesters (unless in year-round temperate locations). And subletting in the spring or finding housing over winter break can be a challenge.
Of course, there are a lot of other factors to consider, like the cost of airfare and housing, the location of your home campus and your destination country, and the number of prospective study abroad programs available. So whether you go for a fall or spring semester could end up just being a matter of what works best for you.
The secret is that there's no general, correct answer as to the best time of year is to study abroad. The pros and cons of each season balance each other out. Just make sure you have a plan in place or know the steps needed to care for your biggest concerns for whichever time of year you choose.
There are numerous benefits to studying abroad, and honestly, whether you study abroad in the fall or spring won't matter. It all comes down to your schedule, and what season fits more conveniently with your own preferences. But, ultimately, you should go for it!