Study Abroad
The 8 Best Day Trips to Take While Studying Abroad in Queensland
Queensland, Australia is too big to see in a day, but there are many fantastic day trip destinations you can check out in the state to get a break from your studies and make the most of your time Down Under.
When planning your study abroad experience in Queensland you probably didn't factor in a pandemic, lockdowns, and travel restrictions! But now that restrictions have eased, you can have a bit more fun and make the most of the amazing beaches, landscapes, Indigenous culture, and cuisine of the Sunshine State.
Queensland is enormous, stretching from the Cape York Peninsula in the tropical far north to the Gold Coast in the south, and all the way inland to the Red Centre at Munga-Thirri National Park. You'd need months to see it all, but if you're based in one of the popular study abroad destinations—Brisbane, Townsville, Cairns, the Gold Coast, the Sunshine Coast, or elsewhere—there are many fantastic day trip destinations you can check out to get a break from your studies and make the most of your time Down Under.
Gold Coast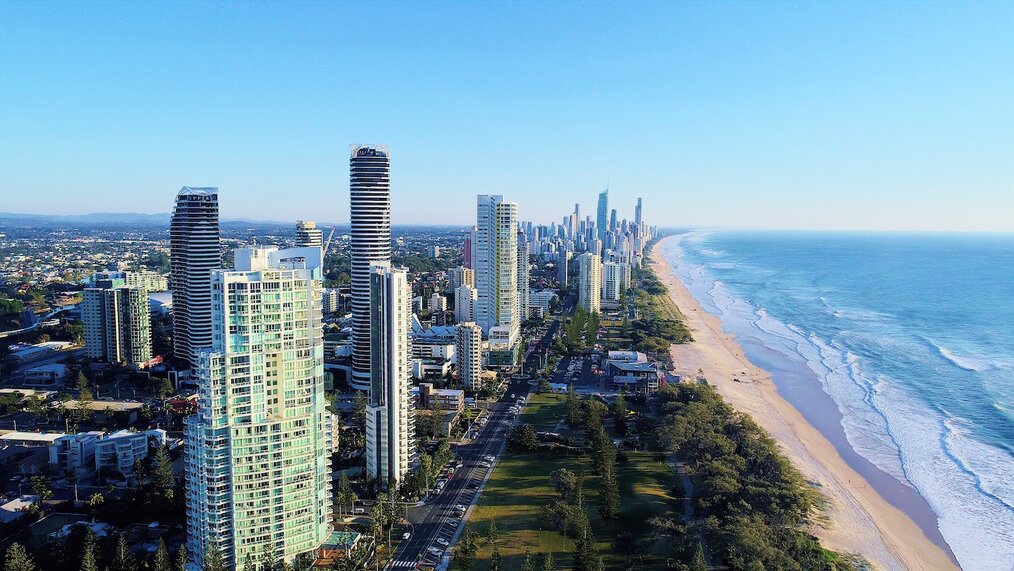 While the Gold Coast is home to many international students, if you're living further afield in Brisbane, it's easy to reach the Gold Coast on a day trip. It's just an hour south of the city.
The Gold Coast is famous as a beach playground, with many amusement parks, water parks, zoos and animal sanctuaries, restaurants, and water sports activities. The coastline is very developed, so forget solitary beach walks and embrace the range of activities you can do on the Gold Coast.
Best time to go: Anytime is a good time to go to the Gold Coast. Cool off at the beach in the summer, or enjoy the amusement parks and other activities when the weather's cooler.
How to get there from Brisbane: Direct bus and train services run from central Brisbane to the Gold Coast. Depending on the route, you may need to change services at Beenleigh or elsewhere en route.
Noosa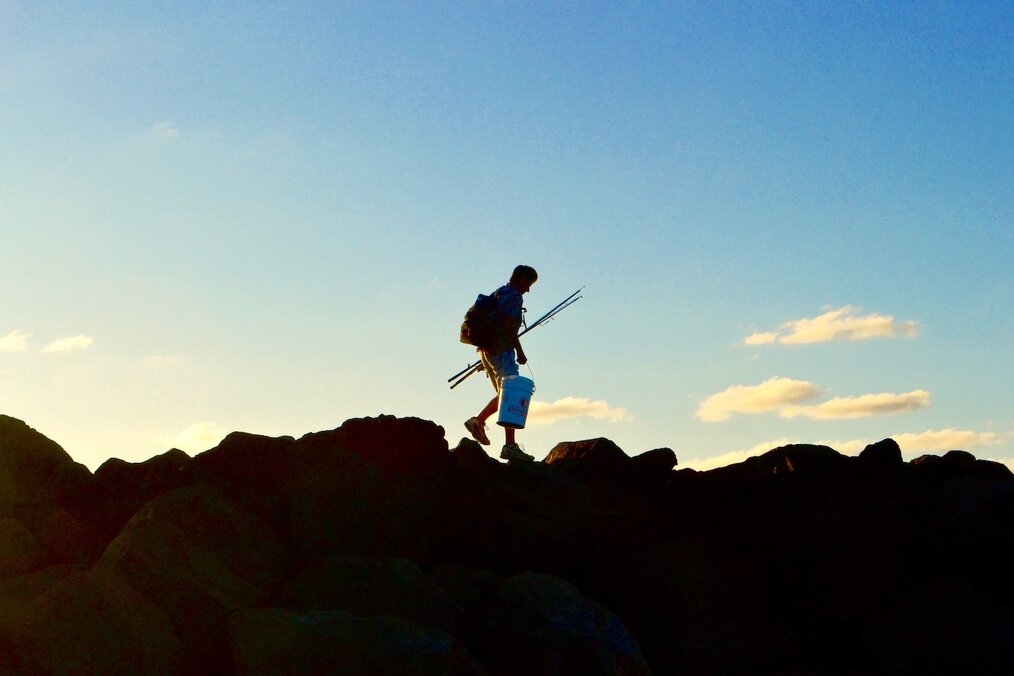 North of Brisbane, at the northern end of the Sunshine Coast, is lovely Noosa, a favorite beach destination to surf, swim, or to do nothing at all while relaxing on the beach.
The small Noosa National Park offers opportunities for more active pursuits, such as hiking to a hill summit and to remote beaches around the coast without road access. Wildlife enthusiasts will also enjoy Noosa as there are opportunities to see iconic Australian wildlife in the wild rather than in zoos and parks, such as koalas and turtles.
Best time to go: Spring (September to November) is the best time to go to Noosa if you want to enjoy the beaches and outdoors, as the skies are clear, humidity is low, but temperatures are warm.
How to get there from Brisbane: Noosa is about two hours' drive north of Brisbane, and is connected by bus.
Toowoomba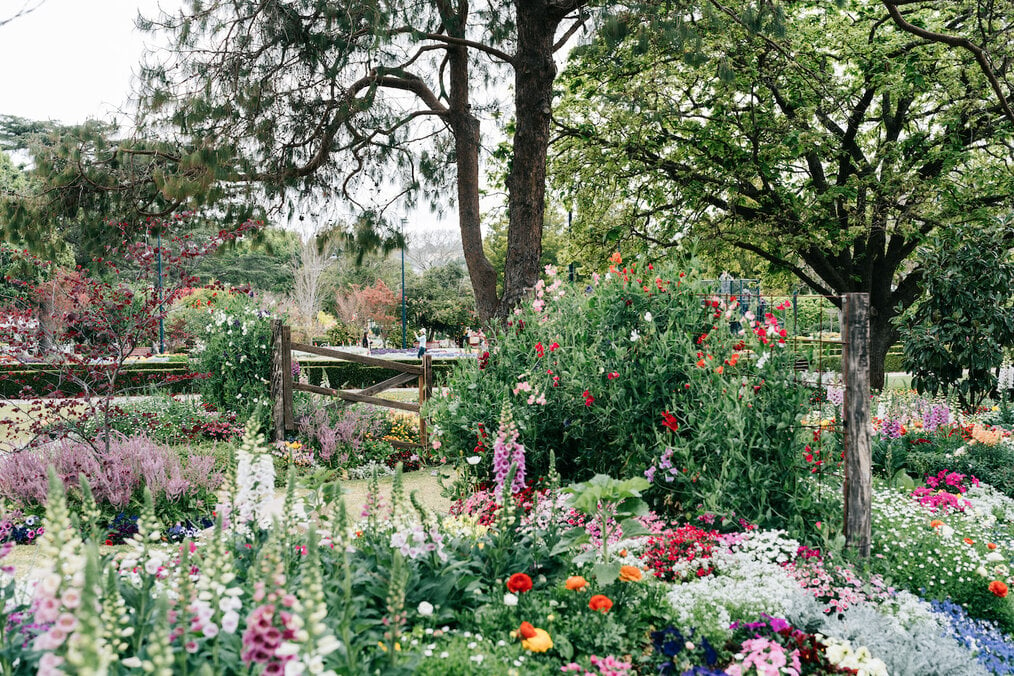 It would be easy to think that Queensland is all about the beaches, but the state actually stretches far (very far!) inland. The largest inland city is Toowoomba, 125 km (78 miles) due west of Brisbane. It's an easy day-trip destination from Brisbane.
Toowoomba is surrounded by mountains—on an Australian scale, so think hikeable hills rather than sky-scraping giants! A popular activity just outside the city is to hike to the top of Table Top Mountain. Toowoomba is nicknamed the Garden City, and an ideal time to visit is in the spring (September), when the Toowoomba Carnival of Flowers brings the city to life. A food and wine festival is held at the same time.
Best time to go: Spring (September) to catch the Carnival of Flowers.
How to get there from Brisbane: Self-driving is the quickest and easiest way, as Toowoomba is under two hours' drive from Brisbane on the A2. Greyhound and Murray's buses also drive the route.
North Stradbroke Island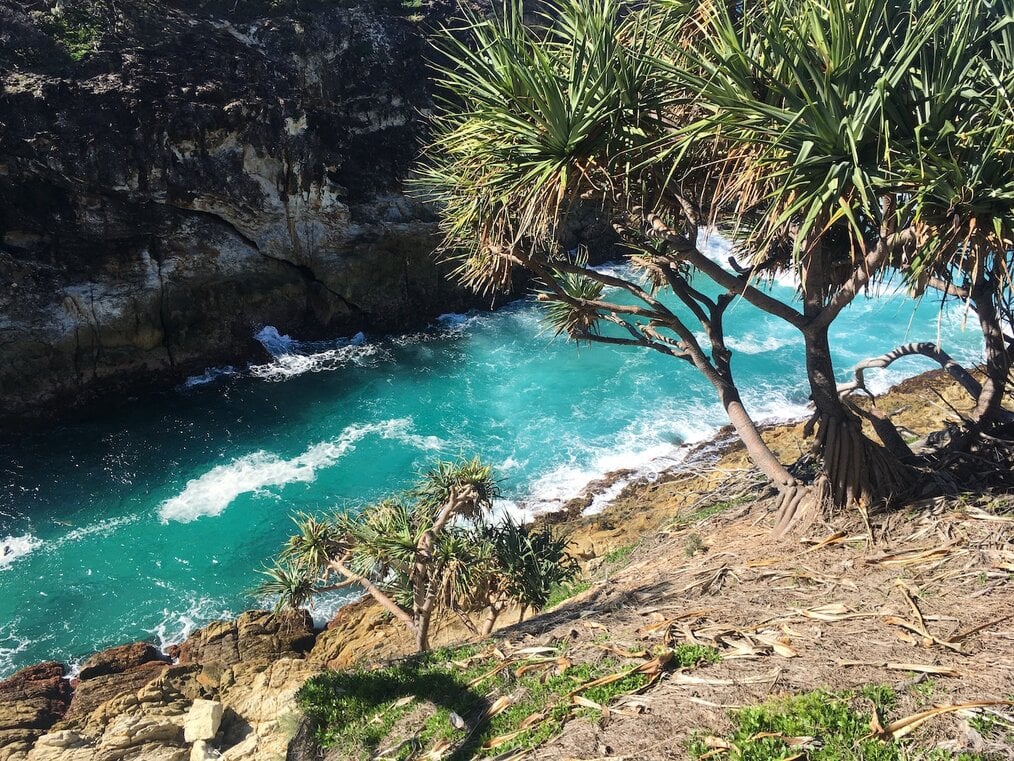 South-east of Brisbane, North Stradbroke Island ("Straddie") is a short ferry ride from the mainland. It's a year-round day-trip destination as there are many things to enjoy here, from the beautiful beaches and diving opportunities to hiking along Indigenous trails and spotting the migration of humpback whales in the winter.
If you visit on a day trip you can take the passenger ferry over and explore on foot or get around by local island bus. If you have a bit longer to spend there, you can also get a car ferry over from the mainland so you'll be able to venture further inland and check out Brown Lake, so named for the soothing tea tree oil in the water.
Best time to go: Year-round, depending on your activity.
How to get there from Brisbane: Passenger and vehicle ferries depart to North Stradbroke Island from Toondah Harbour in Cleveland, an outer south-eastern suburb of Brisbane.
Springbrook National Park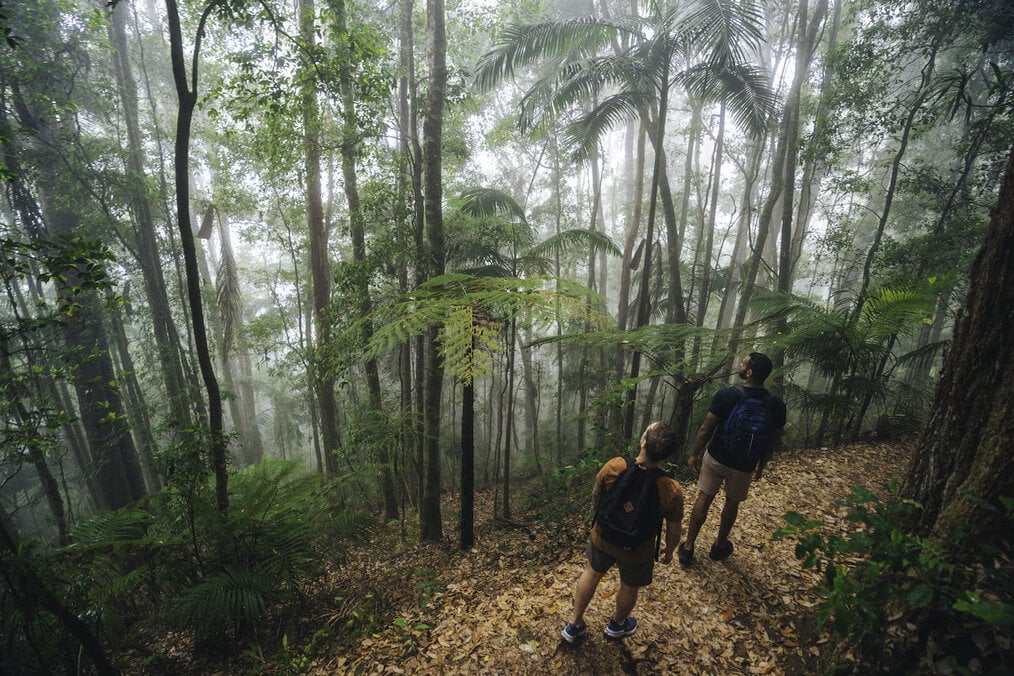 Southwest of the Gold Coast and just north of the New South Wales border, Springbrook National Park is part of the Gondwana Rainforests of Australia World Heritage Area, a collection of national parks in this part of Australia. They're significant for what the flora, fauna, and geology tell us about the early development of life on Earth. Springbrook is an ideal place to visit if you're studying the natural sciences, but anyone will enjoy it!
Waterfalls, numerous lookouts, glow worms, birdwatching, horseback riding, and hiking are just some of the activities you can enjoy in Springbrook. If you want to explore more of the Gondwana Rainforests, the Lamington National Park is just west of Springbrook.
Best time to go: Springbrook can be visited year-round, but as it's an inland park in the hills, it's pleasant in the summer (December to March) when other nearby coastal regions are scorching hot.
How to get there from the Gold Coast: Springbrook is about an hour's drive southwest of the Gold Coast. Having your own (rental) car is the easiest option, but some buses stop at the highway west of the park's boundary, requiring you to make your own way into the park.
Magnetic Island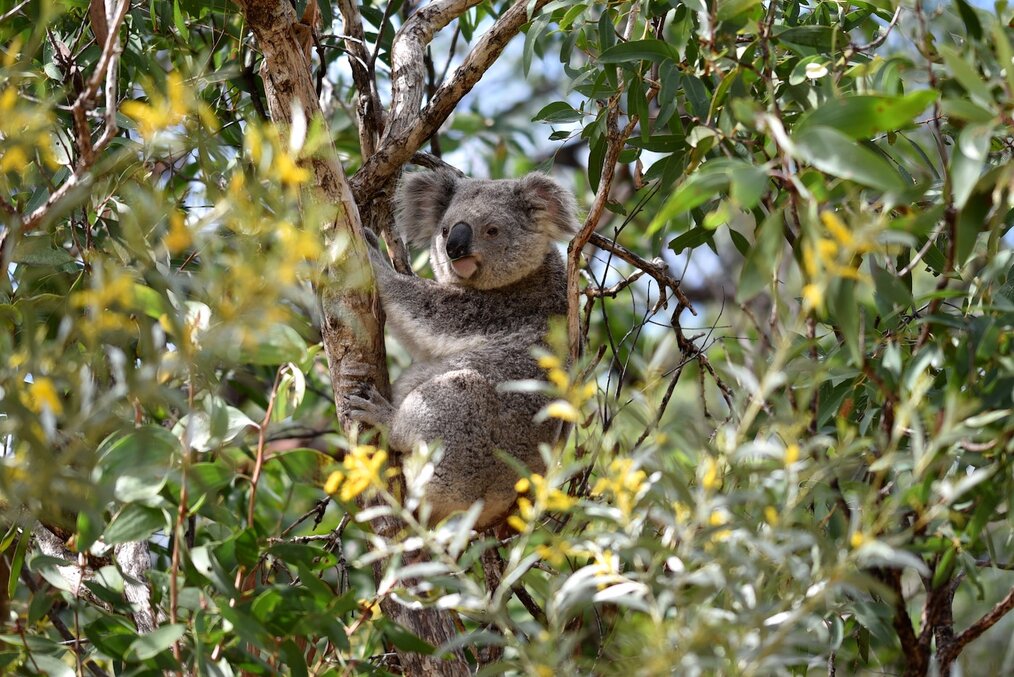 With regular ferry connections to Townsville, Magnetic Island is like an island extension of Townsville, making it a super easy day-trip destination. Part of the island is a national park, and only a couple of thousand people live there (many of those who do commute to Townsville for work).
Snorkeling, sea swimming, and sailing are popular activities on Magnetic Island, but hikers are especially in luck. The Forts Walk takes in World War II-era history, sweeping island and sea views, and it's also possible to spot koalas in the forests. If you're not into hiking, you can rent an open-topped convertible ("barbie car") to get around Magnetic Island!
Best time to go: You can visit Magnetic Island at any time, but the weather will be hottest and most humid between November and March. The Magnetic Island Festival, an arts festival, is held in September.
How to get there from Townsville: Regular ferries run between the Breakwater Terminal in Townsville and Magnetic Island. They take less than 30 minutes.
Airlie Beach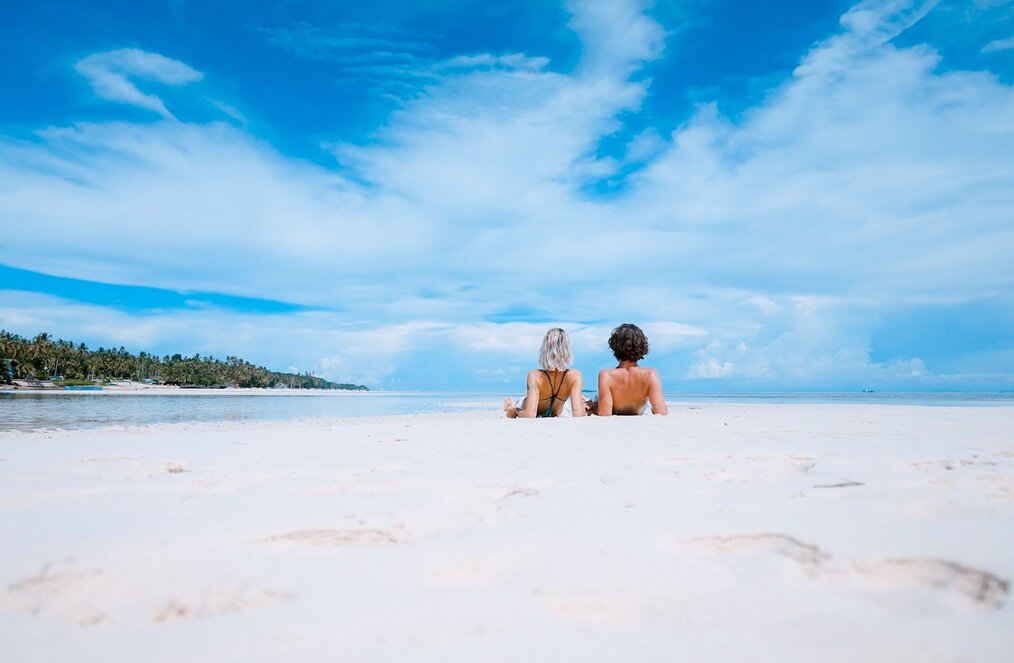 If you're based in the tropical north, in Townsville, Airlie Beach is a must-visit gateway to the Whitsunday Islands and the Great Barrier Reef. As it's about 3 hours from Townsville you might want to stay overnight, although you could make it a long day trip.
Airlie Beach is a hub of water sports and activities, including Whitsunday Island cruises, sailing lessons, scuba diving, and snorkeling. The town itself has a lovely stretch of white sand, beach-side markets, plenty of restaurants selling fresh Queensland seafood.
Best time to go: As Airlie Beach is in tropical North Queensland, it's a year-round destination, but January to March is best avoided as this is the rainy season and the weather is very humid.
How to get there from Townsville: Airlie Beach is an easy 3-hour drive south-east of Townsville along the A1. Long-distance buses operate once a day.
Daintree National Park and Port Douglas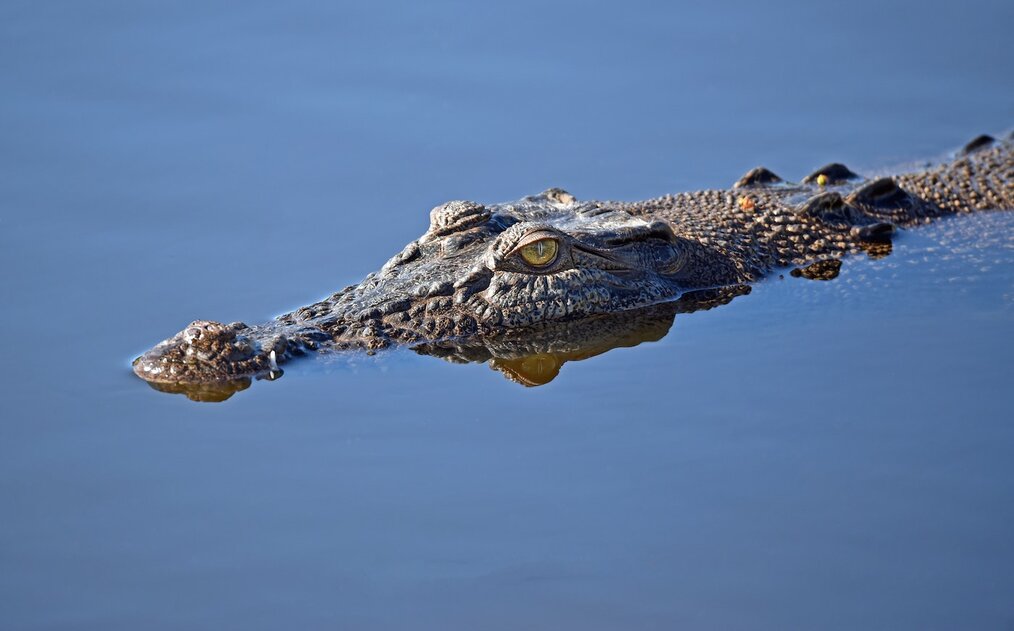 Just north of Cairns, along the stunningly beautiful Cook Highway, is the town of Port Douglas. Port Douglas' catchphrase is "where the rainforest meets the reef," and that sums up most of what you need to know about the natural beauty of this area.
Port Douglas is the gateway to the Daintree National Park. It's the oldest tropical rainforest in the world, and listed by UNESCO as a site of natural importance. Hike through the forest along easy boardwalk tracks and cruise along the Daintree River, keeping both eyes open for saltwater crocodiles.
Best time to go: The cooler, drier months of May to September are the most comfortable times to visit.
How to get there: Buses depart from Cairns to Port Douglas a few times per week, and private shuttles more often.
Get to Know your Backyard
As Queensland is so large and diverse, you'll find there are so many places worth visiting on day trips. And, if quick trips whet your curiosity about what lies further afield, some pretty epic longer-distance adventures can also be enjoyed throughout the state. Island hop in the Whitsundays, take the Spirit of Queensland train between Brisbane and Cairns, or enjoy an overlanding adventure through the Outback. Enjoy!
Read more: Best Places to Study Abroad in Queensland