Spain: San Sebastián - Spanish Language, Basque, Psychology, and European Studies
Term
Academic Year, Fall, Spring, Summer
Need-based funding, Merit-based funding, General grants/scholarships
View Other Details

Program Details

Housing

Apartment

Host Family
11 travelers are looking at this program
The San Sebastián program opens an academic window on the Spanish and Basque people, introducing you to the rich diversity of Spain and offering a truly multicultural experience. San Sebastián has the highest level of bilingualism of any of the area's cities: all of its inhabitants speak Spanish, and one third speak Basque as well. In addition to American students, European students also participate in the San Sebastián program.
Read more about our awesome program and sign up for the next available term on the USAC Study Abroad website today!
There are LGBTQIA+ friends, colleagues, and allies throughout the world. However, cultural understanding of gender identity and sexuality does vary from country to country. USAC has compiled a lot of resources to help you through that learning process.
USAC is dedicated to working closely with students with disabilities to ensure the best study abroad experience possible. You may request reasonable accommodations after your initial application is complete. We routinely receive requests for scheduling, material, and environmental accommodations for the classroom setting, which may include assistive technology, scribes and readers, printed material, and interpretation.
Environmentally-conscious students choose USAC because many of our programs are held in some of the most sustainable countries in the world. There are options to take coursework in sustainability and the environment, as well as field trips and studies where students can leave a lasting impact on their host country.
Program Highlights
Study Spanish and Basque language and culture while you live it in activities such as hiking, cultural events, and the conversation partner program with local students
Live in a stunning location on Spain's beautiful northern coast, twenty minutes from the border of France—with easy connections to Madrid, Bilbao, and major European cities
Benefit from San Sebastián's well-known, cuisine and beautiful beaches. Surf the Basque Country with locals to see why San Sebastián is known as one of the top destinations for surfing in Europe
Join excursions in Spain and the French Basque Country to prehistoric caves, mountains, and traditional fishing villages
Sign up for the optional Madrid Tour/Field Study and earn credit while exploring one of Europe's most exciting capital cities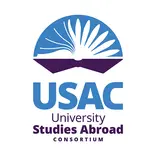 USAC Scholarships and Financial Aid
USAC awards over $2 million in scholarships and discounts each year to assist students with their study abroad expenses.