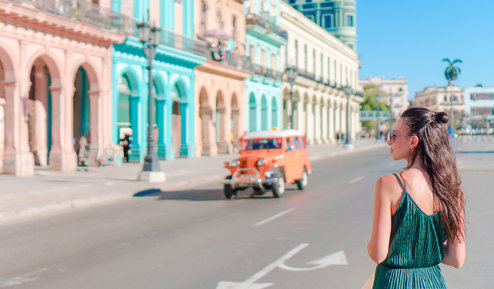 Study Abroad
The Ultimate Guide to Studying Abroad in Cuba
Imagine studying at a school surrounded by pastel homes of Spanish-colonial architecture, blonde beaches and 1950s-era cars cruising around emanating salsa, cha cha, mambo, and rumba music. Enter: Cuba, a Caribbean island nation unlike any other.
Studying abroad in Cuba isn't easy, relatively speaking. The country is under Communist rule, which means there are some cultural and country-specific differences you may not expect. For some students, however, the culture shock is part of the appeal.
If you have your heart set on studying abroad in Cuba, here's all you need to know to make it happen.
What to Know About Studying Abroad in Cuba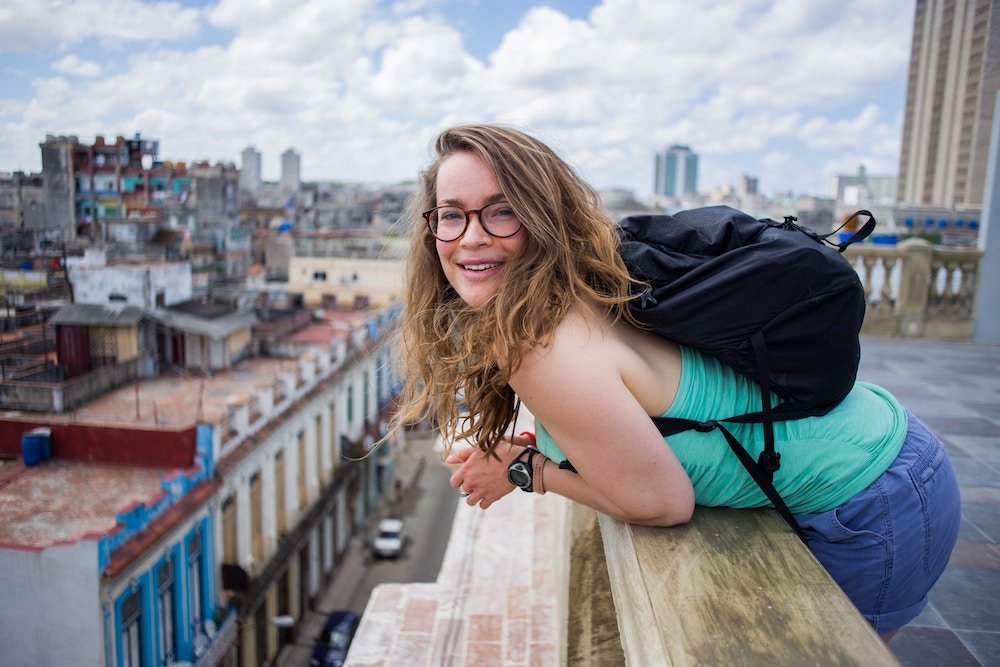 Like all countries, there are some specifics of which you should be aware while preparing for your semester, summer, or year abroad in Cuba.
You Will Need Travel Insurance to Enter Cuba
The first thing you should know about traveling to Cuba, whether as a student or a tourist, is that you will need travel insurance -- it's required to enter the country. When you reach Customs, you'll need to provide policy documentation or they'll make you buy insurance there. Otherwise, they could deny your entry.
You Can't Use U.S.-Based Credit or Debit Cards in Cuba
As of September 2015 and until 2017, Americans could not withdraw money or pay with a debit or credit card while in Cuba (Cuba is still largely a cash economy, anyway). While the US government now tentatively allows Americans to pay with credit cards in Cuba, finding merchants that accept them could be difficult.
For example, Mastercard lifted its block on card transactions in Cuba on March 1, 2017, but the country's outdated technology is not set up to accept it. Americans can now use their debit cards to withdraw funds from ATM, banks, and government exchange facilities, called Cadecas, but bringing cash with you is a wiser move. You can also wire money through the Western Union with fees dependent upon the amount, or obtain a TransCard, which allows ATM withdrawals but charges fees of up to 20 percent.
Cuba Actually Has Two Currencies
It may be confusing at first, but Cuba uses both the National Peso (CUP) and the Convertible Peso (CUC). The money for which you should exchange is the CUC since this one is used for almost everything, though it's valued less than the CUP. The CUP is only used for local transportation, to buy fresh fruits and vegetables on the street and in some local restaurants.
That all said, whatever the currency, Cubans call it all "pesos." Make sure to be aware of which "pesos" a salesman of which a salesman is speaking so you don't get ripped off.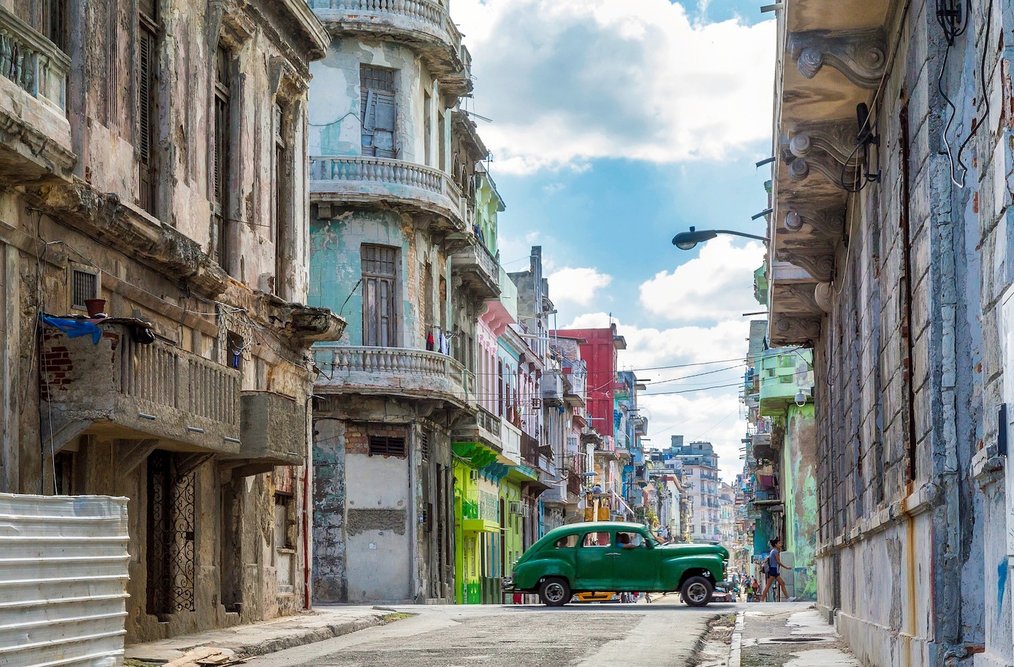 You Can Buy or Trade
In Cuba, you can sometimes get away with trading items for new ones instead of paying pesos. The barter system in Cuba is unlike any other, as items such as clothing with American brand names and American baseball paraphernalia can be traded when purchasing souvenirs. This is because Cubans don't have access to the same items that we do. School materials, old used phones and anything else they may get more out of selling may also be applicable.
There Are Two Types of Restaurants in Cuba
Since you'll be living in Cuba while studying abroad, you'll probably want to know that there are two types of restaurants serving up two different types of food -- there are state-run restaurants and privately run restaurants.
Essentially, state-run restaurants care less about the quality of food since the government funds them regardless of whether or not they make a profit. Privately owned restaurants (also known as paladar particulares) are typically more focused on the customer experience since they're dependent upon profits to keep in business. Most Cubans who can afford to do so eat at paladar particulares.
Wi-Fi Probably Won't Be Reliable
According to a World Bank estimate, seven out of 10 people in Cuba do not use the Internet. This means that the internet in Cuba is not necessarily reliable.
For students, this can be super disconcerting. You might want to consider investing in a portable Wi-Fi device prior to your travels to Cuba and/or getting yourself an international phone plan so you can hotspot your computer to do your work.
Top Cities to Study Abroad in Cuba
Cuba boasts tons of cities, both inland and along the coast, that are worth visiting. But these six are the best for students due to their international schools, ease of travel and tourist attractions.
Havana
Cuba's capital city, Havana, is lined with Spanish colonial architecture in its 16th-century Old Havana core. The city main attractions include the Castillo de la Real Fuerza, the National Capitol Building (an iconic 1920s landmark), the baroque Catedral de San Cristóbal and Plaza Vieja. Havana is also home to the University of Havana, which is the oldest in Cuba (and one of the first to be founded in the Americas in general). It enrolls more than 24,000 students, which means the city is teeming with young people.
This is the easiest place for students to travel, as it also attracts the most international travelers and, therefore, caters to Spanish learners who aren't yet fluent but studying.
Baracoa
On November 27, 1492, Christopher Columbus visited Baracoa, a municipality and city in Guantánamo Province near the eastern tip of Cuba. Then, on August 15, 1511, the first governor of Cuba, the Spanish conquistador Diego Velázquez de Cuéllar, founded the city. Therefore, it's the oldest Spanish settlement in Cuba and was the country's first capital.
The storied history is ideal for students looking to learn about Cuba's roots. An added bonus: Baracoa is also an ideal base for hiking up El Yunque, a mountain overlooking the city just 30 minutes from the beach.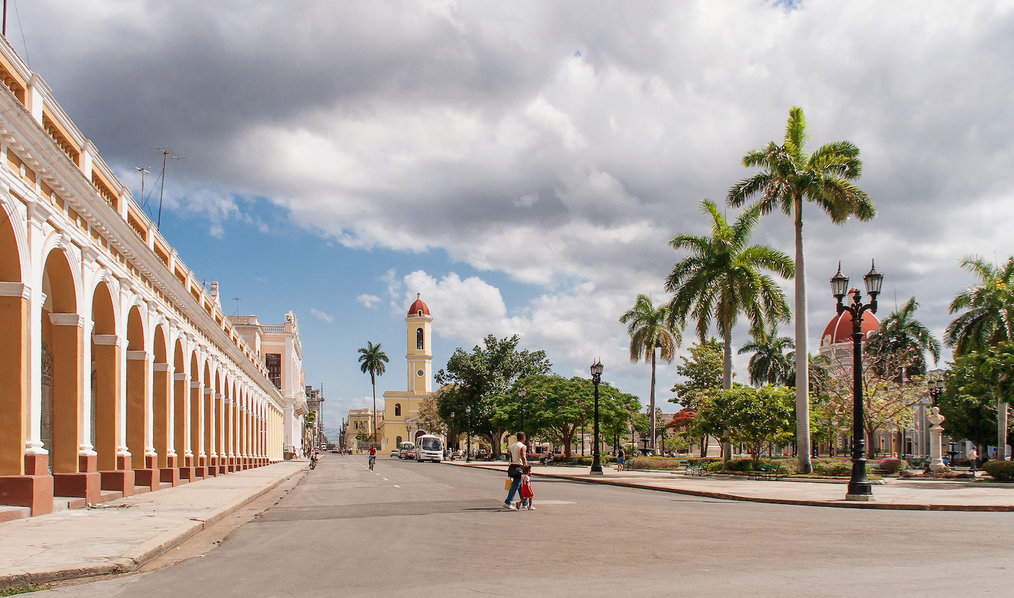 Cienfuegos
Cienfuegos, a city on the Bahía de Cienfuegos bay on Cuba's southern coast, is known for its colonial-era buildings that throng the central square, called Parque José Martí. It's home to the Arco de Triunfo that commemorates Cuban independence, which makes it worth a visit for students interested in Cuba's rich history. It's especially unique because it was founded by the French, rather than the Spanish. And Cienfuegos is also home to the University of Cienfuegos "Carlos Rafael Rodríguez," which means there are other students already flocking to the city.
Santiago de Cuba
If you came to Cuba to salsa as much as you did to study, Santiago de Cuba, the capital of Cuba's southeastern Santiago de Cuba Province, is where you need to visit. The city is recognized for its Afro-Cuban culture.
And, in more recent history (1959), the plaza Parque Cespedes, was where Fidel Castro famously declared the revolution a success. There is tons to explore, from the Castillo de San Pedro de la Roca, a 17th-century fortress overlooking the bay, to all the historical Spanish colonial structures around the plaza.
Again, Santiago de Cuba also welcomes a lot of students, as it's home to schools such as the Instituto Superior de Ciencias Médicas de Santiago de Cuba.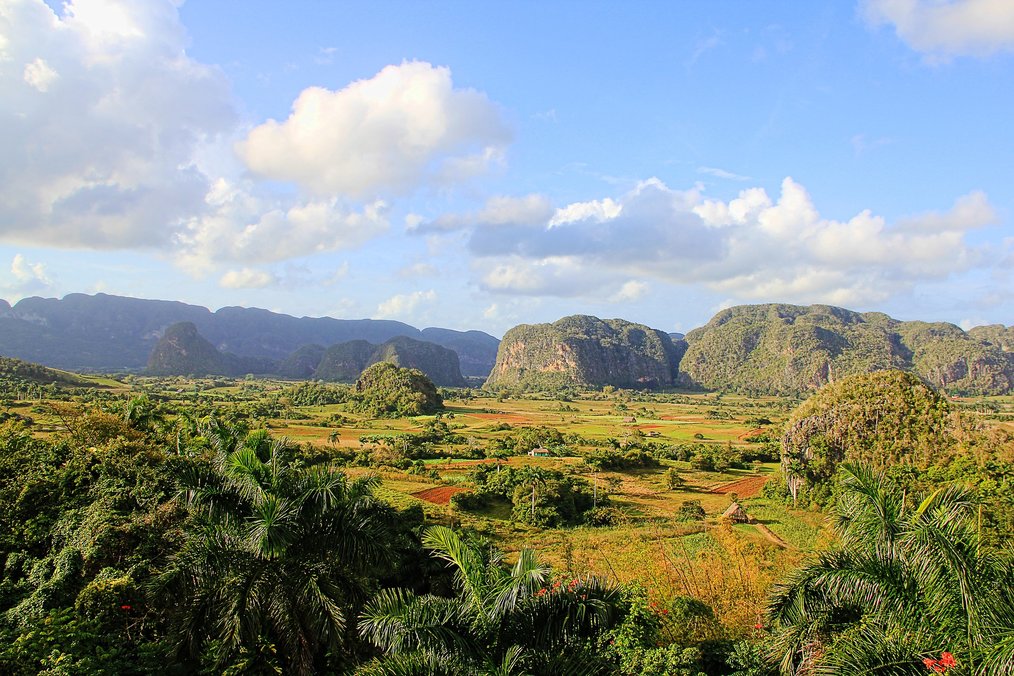 Viñales
For students looking to travel off the beaten path and get to know real daily life in a Cuban town, Viñales makes sense. Orchids and palm trees pepper the western town lined with colorful, colonial-era wooden homes and a Municipal Museum that tells the stories of the region's history. Viñales also serves as the gateway to the Sierra de los Organos mountains and the Viñales Valley, which offer students a nature-filled respite from city life.
Trinidad
Trinidad, a colonial old town in central Cuba, is recognizable by its cobblestone streets and Baroque Revival-style main square, Plaza Mayor, surrounded by grand colonial, Baroque Revival buildings. The town features many museums like the Museo Romántico, which has a collection of 19th-century art and antiques, and the Museo de Arquitectura Colonial, which has relics from Trinidad's sugar-producing era.
The Best Programs to Study Abroad in Cuba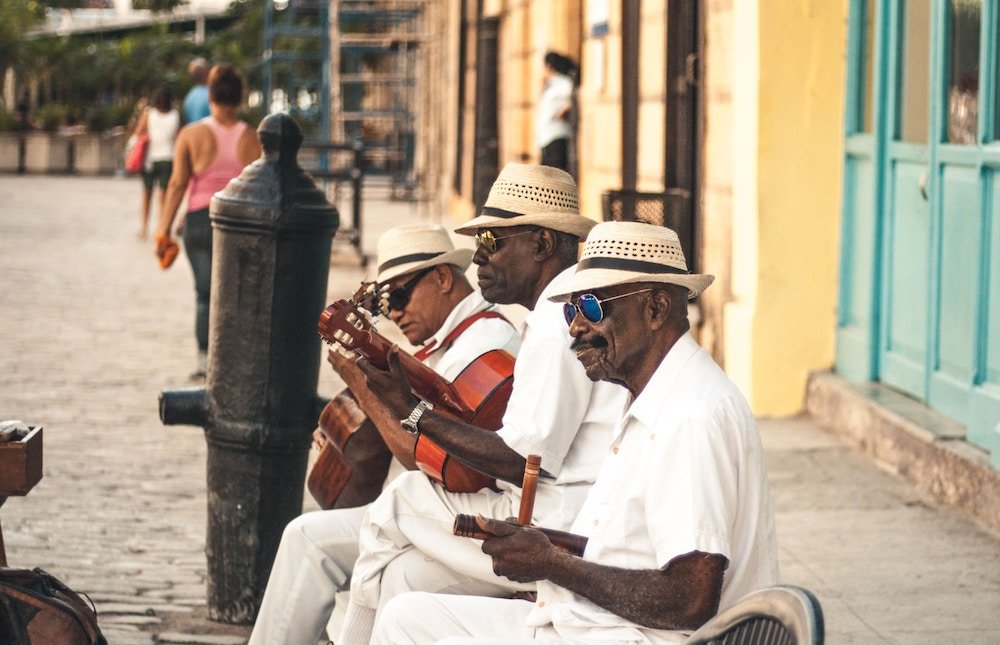 There's a myriad of study abroad programs in Cuba from which to choose. Here are some of the best options for all types of students at all levels of the Spanish language.
How Did We Pick These Programs?
In choosing the best study abroad programs in Cuba, we took into account two main factors: the review scores of each program, and the number of reviews that program had received.
For all study abroad programs on Go Overseas, we ask reviewers to rate five variables: (1) Academics, (2) Support, (3) Fun, (4) Housing, and (5) Safety. We average these scores, compare them to other Costa Rica programs, and take into account the total number of reviews each program has received. In total, we compared over 250 reviews to determine which programs should be included on this list.
From there, our goal is to choose those programs which are truly the best: They have more and better reviews than the average for similar programs and are verified by enough reviews for us to feel confident giving our stamp of approval.
1. The Cuba Fellowship
Get to know Cuba with classes in government, economics, and history through The Cuba Fellowship, touted as one of the best study abroad programs for students to explore the island that's been completely cut off from American influence for half a century.
You'll get to go on group excursions around the country, visit museums and still have the time after class every day to explore and practice your Spanish on your own, with classmates or with locals.
Here are some other highlights from alumni reviews of The Cuba Fellowship:
"My time Cuba was amazing! I am beyond grateful for the experience and the opportunity to go with The Cuba Fellowship (TCF). Going with an organization like TCF is something I recommend everyone to do. I maximized my experience in Cuba thanks to the educational structure that was put in place. I learned so much from class and also from locals. I was able to apply what I learned in class in my day to day activities." -- Jazzmina
"My trip to with The Cuba Fellowship was educational, safe and a whole lot of fun. The site directors do a great job of making sure all three of those are satisfied. The classes are super interesting and do a great job of outlining Cuba's history, U.S. Relations and the island's current state. Often times we would talk about a historical location then go see it in person right after class, this made the lessons very engaging." -- Ali
2. Documentary Film Short Course at EICTV Cuba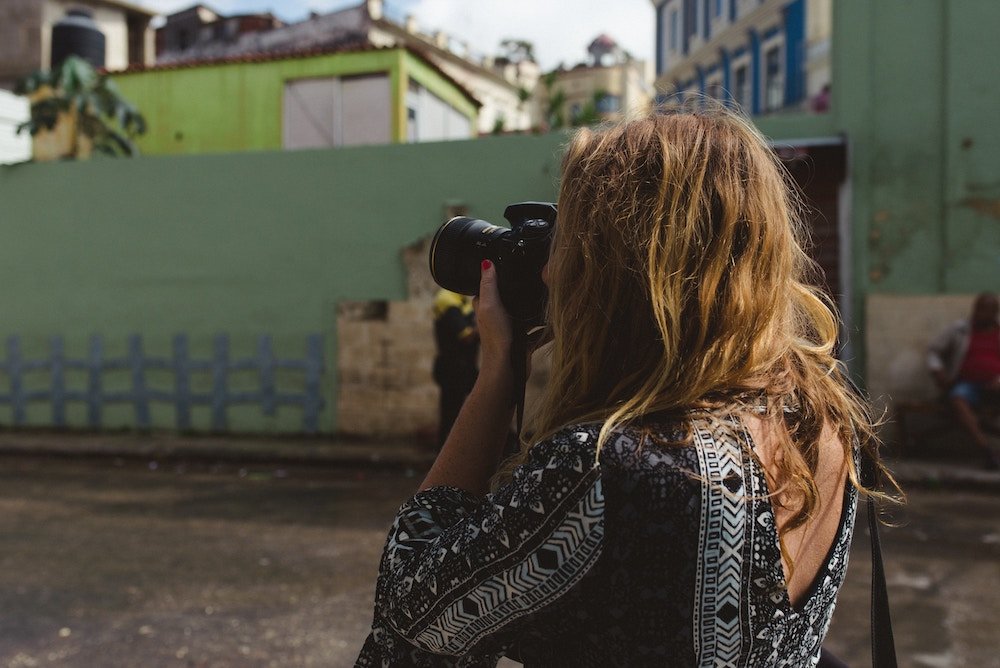 Study with the world-renowned International Film & Television School (EICTV), Cuba. This three- or four-week course runs during the summer and the winter in the new year. Areas of study for this intensive, hands-on documentary school include African-American studies, anthropology, cultural studies, film Hispanic studies, history, Latin American studies, photography, sociology and visual arts.2. Documentary Film Short Course at EICTV Cuba
During this course taught in English (with Spanish translators available) you will work with your co-directors and film crew to tell a story about Cuban society while learning about the country's people, history and culture.
Here is a highlight from alumni reviews of The Documentary Film Short Course at EICTV Cuba:
"Quite simply, the most comprehensive, all-round documentary-making course. A great crew of professionals, fellow student filmmakers, superb and material rich location! One can learn not only about filmmaking but about the world at large and delve into the deeper technical aspects of filmmaking on set. The skills acquired are broad and all encompassing." -- Anonymous
3. API Study Abroad Programs at the University of Havana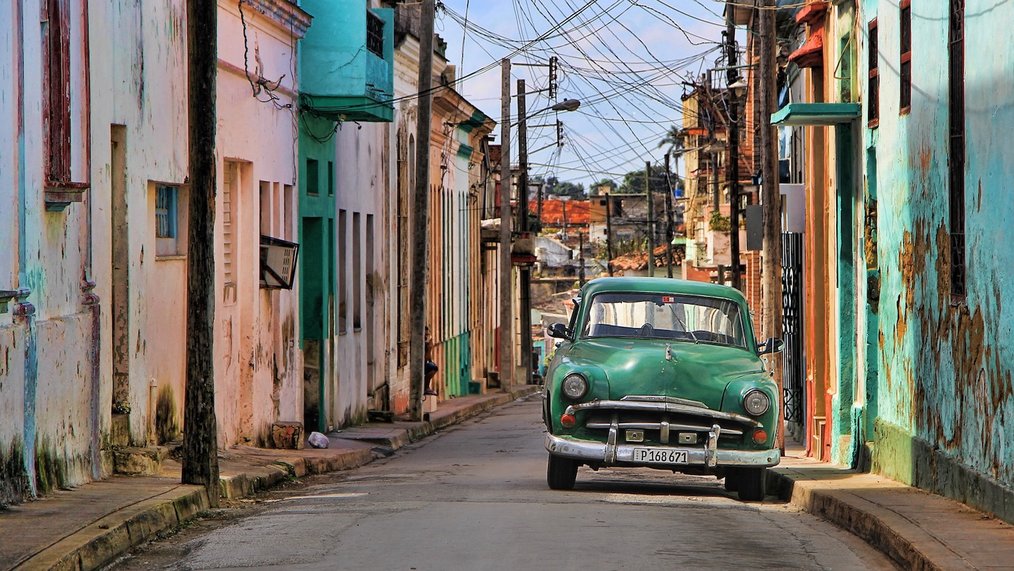 Study at the oldest university in Cuba, the University of Havana, through API. This program runs during the fall, the J-Term, and the spring and summer. Areas of study include art history, film history, Latin American studies and linguistics literature.
You'll have the option to choose between two different semester programs: the Cuban and Caribbean Studies program and the Spanish Language and Culture program.
Here is a highlight from alumni reviews of the API Study Abroad Programs at the University of Havana:
"Cuba can be complicated, but the resources API provided helped make things easier. The accommodations and meals provided were comfortable and safe. The excursions where unforgettable, and the people are very friendly." -- Erika
4. USAC Cuba: La Habana
The USAC Cuba: La Habana program means offers courses and your experiences outside the classroom that focus primarily on the history and society of Cuba and, particularly, the impact of slavery and Cuba's African roots on its culture and religions, as well as the present-day political and economic factors Cuba faces. This program runs for the J-Term and during the summer. Areas of study include cultural studies, history and political science.
Here are some other highlights from alumni reviews of the USAC Cuba: La Habana:
"I was pushed outside my comfort zone by going 'alone' meaning that I didn't have any friends or family that went with me. I made friends in the same group as me and we all looked out for each other and had an amazing trip." -- Brianne
"This program is incredibly affordable and a memorable experience. I recommend staying with a host family (although they can't technically call the accommodations such)." -- Kara
"I had the time of my life on this trip. Havana is beautiful, and there's a lot of fun things to do and see. USAC does a great job organizing fun and educational experiences, and they find relatively great housing for students." -- Karyssa
5. University of Albany: History, Politics, & Culture of Cuba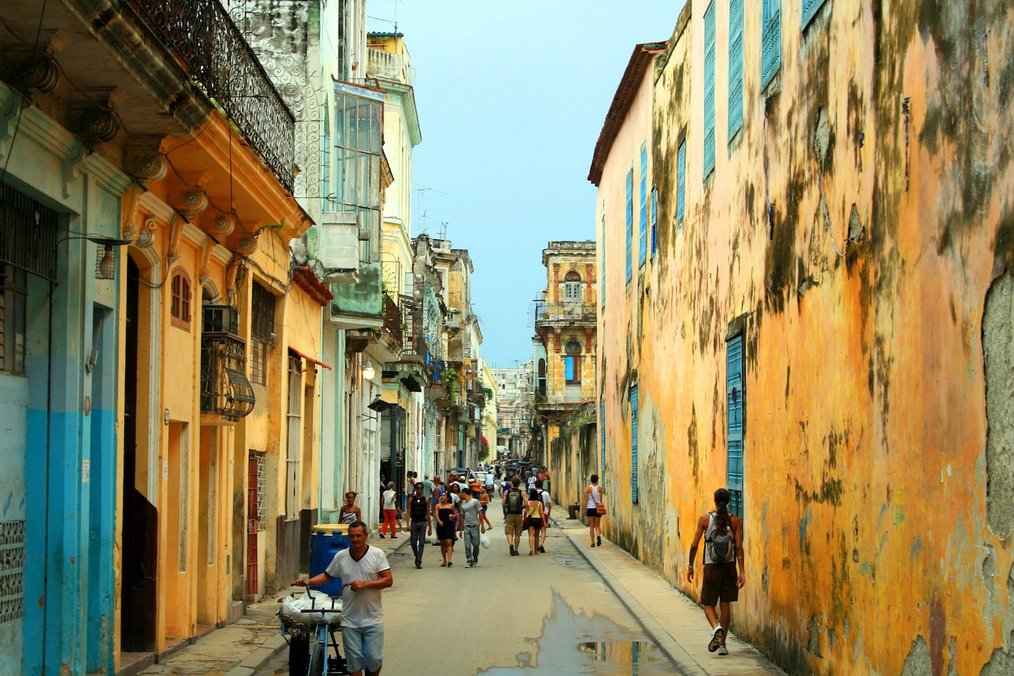 Learn from some of Cuba's leading intellectuals, political figures, and cultural icons both in the classroom and outside of school during experiential programs and events. While the program is based in Havana, you'll be taken on frequent trips to visit farming and fishing cooperatives, historic sites, environmental projects, and tourist centers outside of the capital city.
This program through University at Albany Education Abroad runs during the fall, spring and summer. Areas of study include anthropology, conflict studies, economics, history, political science and service learning.
Here are some other highlights from alumni reviews of the University of Albany's History, Politics, and Culture of Cuba:
"The classes were very informative and taught by some of the top professors in Cuba. But I also learned just as much by living with my host-family, who were so nice, loving, and welcoming...The whole trip was balanced with plenty of learning and plenty of fun." -- Jesse
"If I had to design my ideal study abroad program, the end result couldn't be better than this program in Cuba. This program brings together diverse, passionate students from around the nation and gives them an unparalleled opportunity to immerse themselves in Cuban culture." -- Deanna
"My absolute favorite part was being able to stay with a host family, and truly grasp the Cuban experience. The families were very friendly and accommodating. Most people in the neighborhood are aware of the program and recognize the students, receiving them with open arms." -- Lyam
6. IFSA: Universidad de la Habana Partnership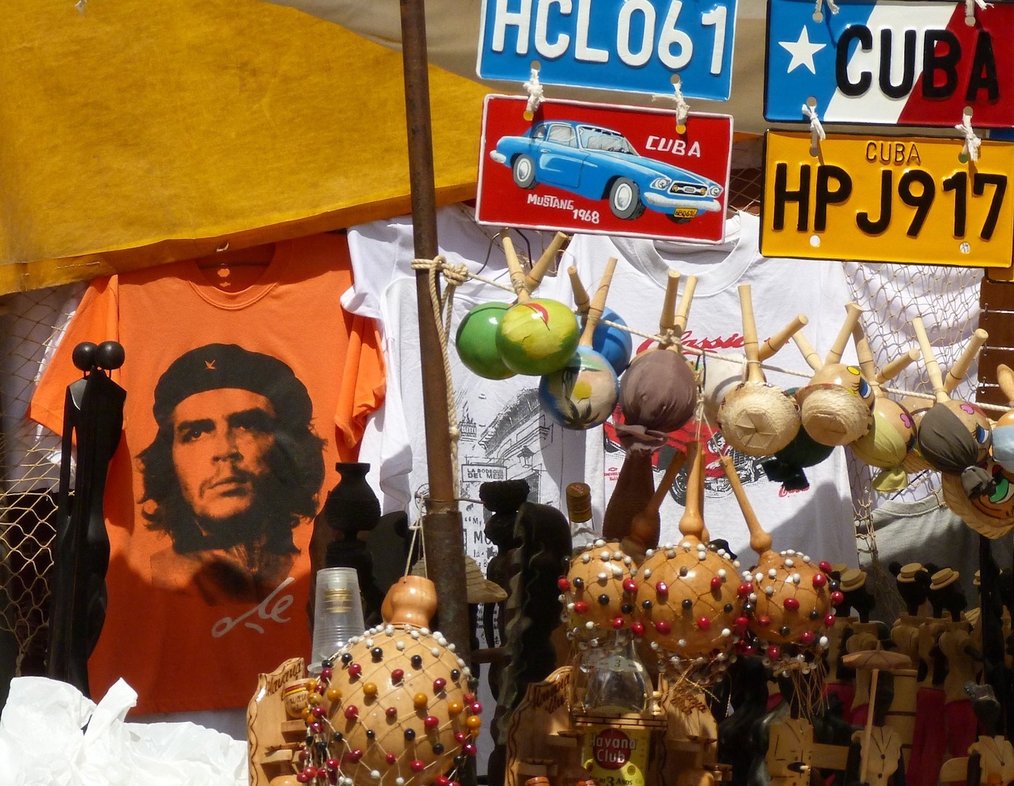 Study in Cuba's oldest university, the University of Havana, but without spending all of your time in the classroom -- you'll be exposed to a renaissance of arts, music, cinema and much more with trips around the country.
This program with the Institute for Study Abroad (IFSA) runs during the fall and spring. Areas of study include accounting, art history, biochemistry, biology, chemistry, communications, film, finance, food science and nutrition, geography, history, journalism, Latin American studies, library sciences, linguistics, literature, mathematics, philosophy, physics, psychology, religious studies, sociology, theater, theology and tourism.
Here are some other highlights from alumni reviews of the IFSA: Universidad de la Habana Partnership:
"IFSA is incredible. They process all the visa paperwork, etc. And, they prepare you with weekly newsletters with great reading materials etc. Once you are there, you live with a host-family (all incredible people!)." -- Alexandra
"I had an incredible experience studying abroad in Cuba through IFSA-Butler. I met new people every day and had the chance to explore new academic, artistic, athletic and personal interests. I really enjoyed my homestay experience because I lived with interesting and unique people." -- Dylan
7. SIT Nicaragua & Cuba: Youth Culture, Literacy, and Media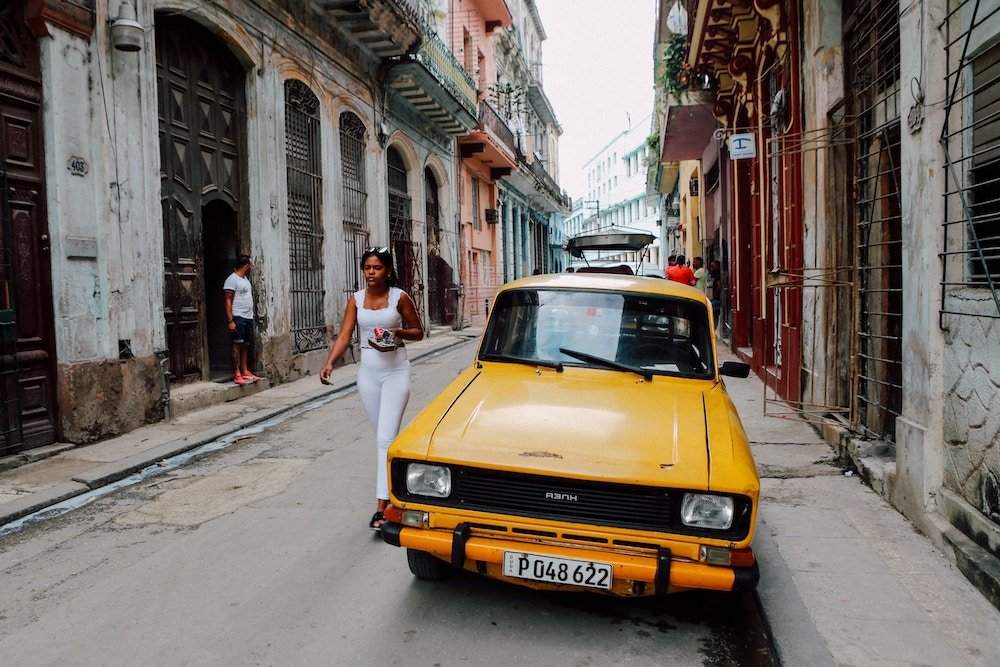 A generation after the revolution, students who choose this program from SIT can explore Nicaragua and Cuba, and investigating how young people are creatively advocating for change. You will be able to meet Nicaraguan and Cuban youth who are political protagonists, artists, writers and media producers in their countries, and you'll learn from outside of the classroom. You'll also have the opportunity to participate in digital literacy workshops with community members, work with local radio stations in rural and urban settings, visit indigenous and Afro-Nicaraguan communities on the Caribbean Coast and spend 10 days in Cuba.
This program runs during the fall and spring. Areas of study include anthropology, communications, cultural studies, Latin American Studies, media relations, political science and social sciences.
Here are some other highlights from alumni reviews of the SIT Nicaragua & Cuba: Youth, Culture, Literacy, and Media:
"My Spanish improved by leaps and bounds, and I formed friendships and relationships all over the country." -- Eli
"I highly recommend this program. I am a native Spanish speaker, and a Latin American studies major. However, this program accommodates anyone who wants to learn or improve their Spanish, as there are three different sections into which language classes are divided in order to provide helpful learning environments." -- Phee
"My experience with SIT Nicaragua was holistic, eye-opening, and intense. On an academic level, my classes were immediately relevant to my homework and day-to-day life, which made it easy to learn. The program gives students incredible academic freedom to demonstrate what we learn in creative formats, which allowed me to create a lot of art and media for my classes." -- Jordan
The Costs to Study Abroad in Cuba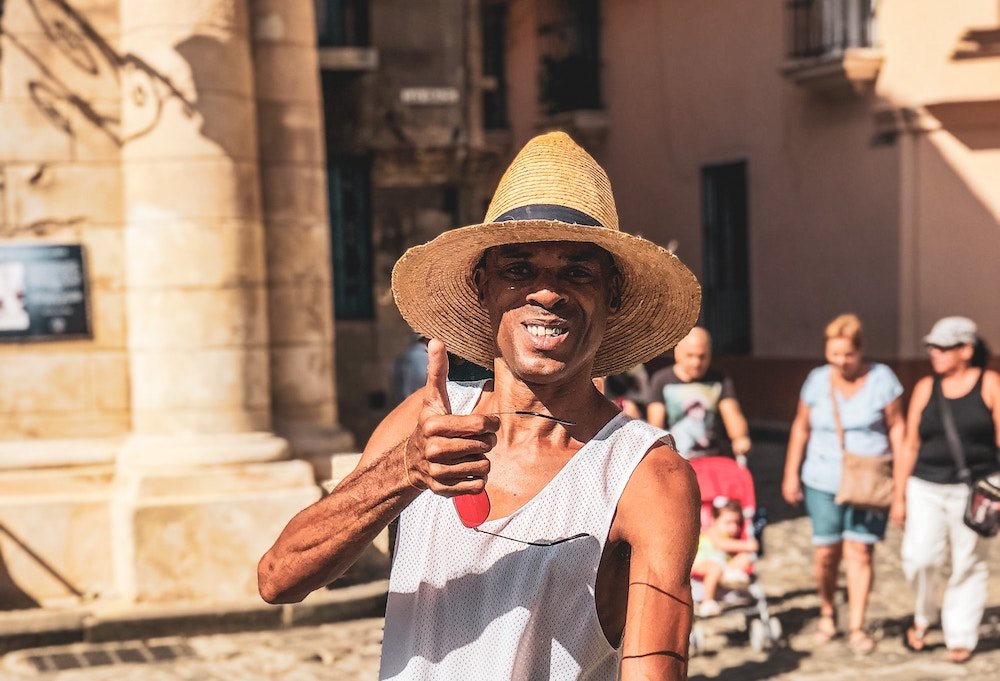 The costs of studying abroad in Cuba vary depending on where and what you're studying. That's because there are more than 60 universities in the country, all of which are public, split into three stages -- roughly corresponding to the bachelor's, master's, and doctoral system in the States. A number of American universities and colleges also offer opportunities for students to study in Cuba for part of their degree.
Average Tuition Cost for a Semester in Cuba
On average, tuition fees at Cuban universities vary between $20,000 and $40,000 USD for the whole course depending on school and the course of study, according to Top University.
Tuition Cost for Direct Enrollment for a Semester at:
Tuition Cost for Direct Enrollment for a Semester with a Third-Party Provider:
Average Cost of Living in Cuba
According to Numbeo, here are the average costs for living in Cuba:
EXPENSE
ESTIMATED COST
Meals

$5 for an inexpensive meal
$25 for two at a mid-range restaurant
$40 for an average weekly grocery bill

Monthly rent
$600 for a for a one-bedroom apartment in Havana city center
Utilities
$200 per month
Cell phone
$0.38 for one minute of a Prepaid Mobile Tariff Local
Local transportation
$7 for a monthly pass
Personal expenses

Pair of jeans: $31
0.5L of domestic beer: $1.14
Cappuccino: $1.44
Movie ticket: $0.40

Total
Expect to spend about $1,000 for one semester in Cuba after airfare and program fees, assuming they including housing.
Average Airfare & Travel Costs While in Cuba
Traveling around once you're in Cuba is easy. Here are some of the best ways to get around the country and the average costs of each.
Colectivos
These are also known locally as almendrones, which are shared taxis (usually colorful 1950s-era cars with taxi signs in the window) that travel along fixed routes. The standard cost of a colectivo is CUP$10, which is about $0.50. You only need to wave one down to hop in, but they'll only let you in if they've enough room. Because people hop in and out all along the route, you may need to wait for a few tries before you can catch an open seat.
Private Taxis
There are a few types of private taxis in Cuba. Let's spell them out.
Coco Taxi: Yellow coco taxis are for tourists (paid in CUC), and black and yellow are for locals (paid in CUP). While you'll spend $5 for most trips within the city, you can negotiate before hopping in.
Cuba Taxi: Cuba taxis are state-run, which means you can ask them to use the meter. That said, negotiating before hopping in may be cheaper.
Grancar: These old, yellow-painted Chevy's will cost anywhere between $30 and $50CUC per hour.
Intercity Buses
To make it simpler for you, buses between cities are run by just two companies: Viazul and Astro. Travelers usually go with Viazul, as they're more reliable and air-conditioned, and you can check schedules and make reservations ahead of time online. Locals tend to take Astro buses more because they're cheaper (partially because they're not air-conditioned) -- but finding a seat is difficult and they often break down. They cost about $10CUC for a three-hour journey, so a 15-hour journey will cost you about $50CUC.
Intracity Buses
These buses, known as Gua guas (public buses) travel around major Cuba cities. In Havana, for example, there are 17 main routes and run about every 10 minutes. They only cost $1CUP (about $.05).
Camiones (Trucks)
Trucks are a popular method of travel around Cuba, though they're often stuffy and crowded. Each city has a provincial and municipal bus stop with camiones departures, which run on a loose schedule. You pay as you board the bus, and prices vary -- for example, a trip from Santiago de Cuba to Guantánamo will cost about $0.20CUC.
Flying
You can fly in between cities in Cuba, too. Aerocaribbean, for example, is a domestic airline that flies between Havana and most other cities throughout the island -- almost all flight routes depart or arrive in Havana. For example, if you're flying between Santa Clara and Baracoa, you cannot do so without a transfer in Havana. Flights will run you anywhere from about $90CUC to $300CUC.
Other Costs to Keep in Mind While Studying in Cuba
Other costs to keep in mind while studying in Cuba are ATM fees, which usually charge a three percent fee, as well as the 10 percent conversion fee for converting American dollars.
Also, getting around via taxi is cheap, if you're ever not keen on taking public transportation. For example, fares start at a flat rate of CUC$1 and cost an additional CUC$1 for each kilometer.
How to Study Abroad in Cuba in English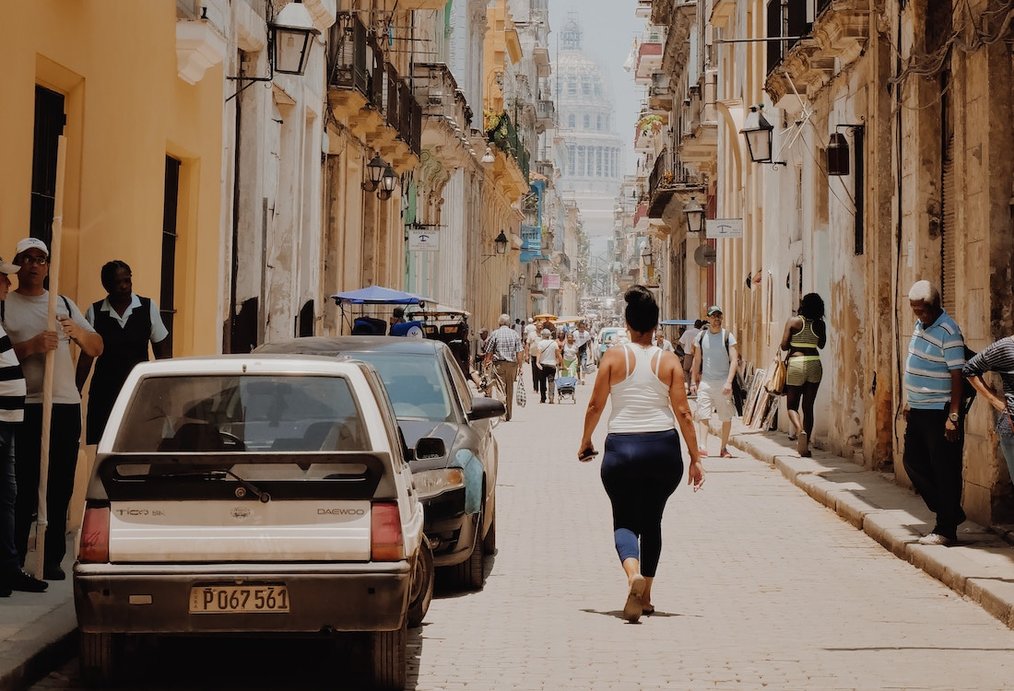 Depending on the program you choose, you may be studying in either English or in Spanish. Most programs are in English with Spanish as a language course within the program. That said, you may need to navigate Cuba on your own before you actually start learning the language enough to get by.
Here are some English resources and cities that cater best to non-Spanish speakers.
English Housing Resources in Cuba
Most of the housing in Cuba are casas particulares, a system of Cuban guesthouses in which Cubans can rent out a few of their rooms to guests. Most casa particulares charge from CUC$15 to CUC$25 in the low season and CUC$20 to CUC$35 in the high season. You can find these guesthouses via a number of sites:
Note that an official casa particular should display a small plaque or sticker that suggests that it's indeed a government sanctioned casa. The symbol is a blue capital "H" set on its side—the top horizontal line is longer than the bottom one, both of which are slightly bent like an anchor. The plaque or sticker should also read, "Arrendador Divisa," which means that the owner of the house can rent rooms to anyone, while houses with red symbols can only rent to Cubans.
The rooms for rent will either have their own private bathroom or a shared bathroom with other visitors, but it will not be shared with the family -- these are not traditional "homestays."
Beware that some taxi drivers and jineteros will recommend casa particulares because they'll make a commission of between CUC$1 and CUC$5, which will likely be added onto the bill at the end of your stay. Do your research ahead of time, because they may try to tell you that your casa particular is all booked up even if you have a reservation.
The Best Cities in Cuba for Non-Spanish Speakers
The best cities in Cuba for non-Spanish speakers are the touristy cities, as these are the cities that speak the most English and are the friendliest to English speakers.
Havana is an obvious choice for non-Spanish speakers, as the capital city lures tons of international travelers each year and caters to visitors. There are also a number of schools in Havana, and most abroad programs are situated in Havana, which means that a wealth of world travelers come to study there, all of whom speak different languages. Likewise, residents of Trinidad and Baracoa, two historical cities that house a number of Cuban relics, are used to non-Spanish speakers visiting.
Learning Spanish While Studying Abroad in Cuba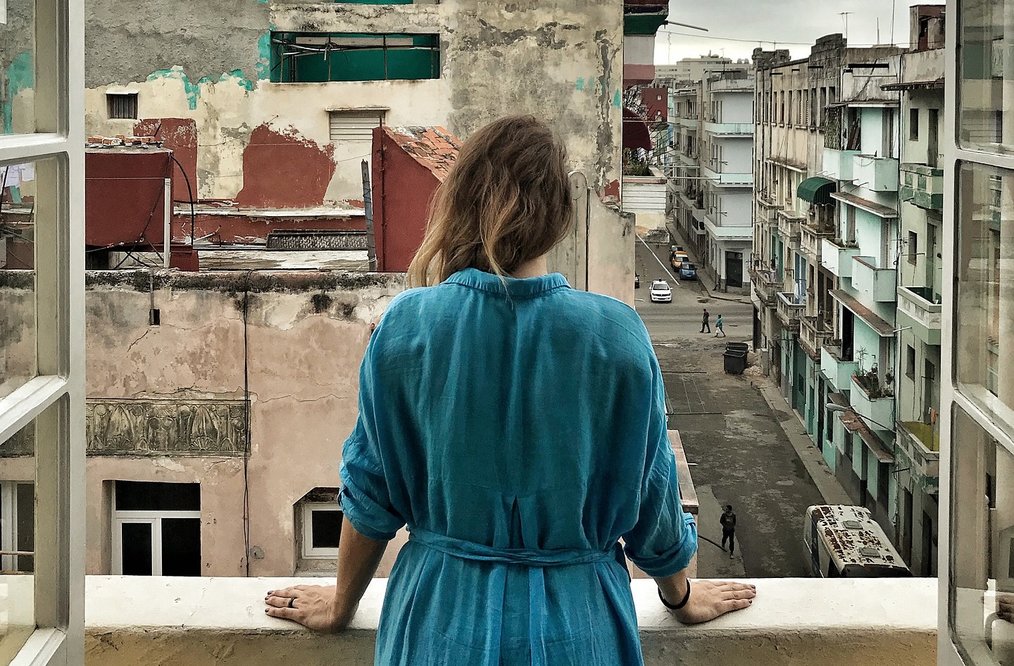 Remember that just because you're learning Spanish in school doesn't mean that it'll 100 percent help you in the real world. Talking with locals is key to learning Cuban Spanish while studying in Cuba because much of Cuban speech can be seen as informal, like most Caribbean Spanish varieties.
The main difference between Cuban Spanish and general Latin American Spanish, for example, is the nasal accent and rhythmic intonation. Plus, Cuba has 16 provinces, and all of them have their own slang words and phrases and regional twists.
Be sure to study your Spanish and practice with locals to learn the ways they speak to become fluent and not just textbook. After all, the perk to studying abroad is getting to immerse yourself with the culture and its people.
Studying abroad in Cuba is sure to come with a hefty dose of culture shock -- that said, culture shock is all part of your learning experience. If you're thinking about semester or summer programs in Cuba, make sure you do your research and prepare before you go. While your experience will be what you make of it, there's one thing for sure: You'll come home a more cultured student and a far better Spanish speaker.