TEFL Courses
Should I Get TEFL Certified Online or in a Classroom?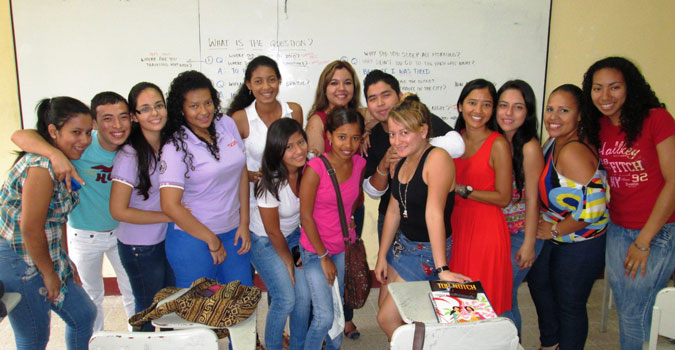 If you're considering teaching English abroad (or even at home!), you've probably heard that you need a TEFL certification to do it.
Getting TEFL certified will help you with the job search, better salary options, and help make you a more prepared teacher.
While this isn't 100 percent true, getting TEFL certified will help you with the job search, better salary options, and help make you a more prepared teacher -- especially if you've never taught before. But where to do it? Online or in a classroom?
As you start researching different certification courses, one of your first decisions will have to be whether you choose to do your certification online, or take the plunge and decided to pick up the skills abroad instead. There's pros and cons to both, so hear us out.
Back up a Minute. Why Should I Get Certified?
To get a job, of course! Like any other field, English teaching jobs are flooded with applications from people who want to do it (or think it's easy -- the fools!), and it's important to distinguish yourself.
One of the best and most straightforward ways to do so is to get a TEFL certification. Many schools won't even look at candidates who aren't certified, so it increases your chances of getting hired and makes you appear much more serious and professional -- plus you might actually learn something in the process!
Having a TEFL certification can help you apply for more competitive jobs and can even boost your salary, especially if you're looking at international schools.
The Difference Between Online and In-Classroom TEFL Courses
If both types of courses involve the same kind of instruction and end with the same certificate, what's the big difference anyways?
There are actually a number of differences between an online and in-country course, with advantages and disadvantages to both. One may be a much better fit for you than the other, though, so here's an outline of some of those pros and cons to help you decide.
Online TEFL Certification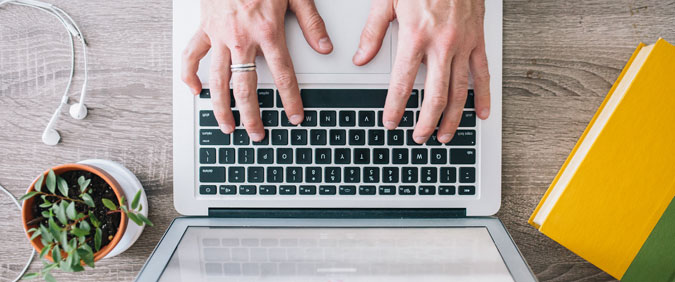 Some of the most respected online TEFL course providers, like the ones offered by International TEFL Academy, the University of Toronto, and ITTT* can give you a certification that's worth just as much -- if not more -- than one from a local institution. Just be prepared to spend a long time in front of your laptop!
* Editor's Note: All three TEFL institutions mentioned have business affiliations with Go Overseas. However, it was the author's unbiased choice to include them in this post.
Pros of Online TEFL Courses
1. Overall course cost
Since online courses don't need to provide students with anything but the information and instruction, the cost for this kind of program tends to be far lower than that of an in-country training, especially when you factor in the price of plane tickets, housing and other living expenses.
Courses can be as cheap as $500 or so, but if you're looking at a higher-quality course of at least 120 hours, it will likely be somewhere between $1,200 and $1,800 (beware: anything drastically cheaper probably has something wrong with it).
This is still a pretty hefty investment, of course, but if you're trying to watch your spending or already have teaching experience, an online course can be a much more cost-effective option for you.
2. Location and flexibility
As long as you have a functional internet connection, you can do an online course from almost anywhere. It will help, of course, if you live in an area where you can do some practical teaching and observation, but many public institutions or schools, even those in small towns, offer some kind of English courses, so even that shouldn't be too limiting.
As long as you have a functional internet connection, you can do an online course from almost anywhere.
Being able to stay in your current location means your TEFL learning process will be much less of an interruption of your life – even if it takes over your daily schedule, at least you're still living in the same room.
3. Help with job-hunting
Some of the better online programs recognize that it's harder for you to find a job from far away, so they use their resources and connections to help you find a job in your chosen location.
Of course, some have stronger networks (and try harder) than others, but it can be helpful having some guidance and advice after finishing your certification, especially if you're about to move to another country on your own. Check reviews from former teachers to get a good feel of your online course's job placement services.
4. Good theory if you don't have a lot of teaching experience
Understandably, online courses tend to be heavier on theoretical instruction, since both students and instructors are fairly limited in how much classroom time is actually available. While it's vital to make sure you do get classroom and observation time, the extra theory can be extremely helpful for newer teachers, who may not have lots of background and experience to draw upon when creating lesson plans and managing classrooms.
Cons of Online TEFL Courses
1. You don't get immersed in the local culture
This might be the single biggest drawback to an online course -- the fact that you're sitting by yourself in your room or a café, learning plenty about teaching but not much about the country where you want to go. If you've decided you want to teach in South Korea, for example, why would you spend two more months at home when you could be there learning about the culture and educational system firsthand?
2. Doesn't help you as much with networking
Though online course companies can and do help you with job placement, nothing is as good as in-person networking. In fact, in some countries -- like most of Latin America -- it's necessary to already be in the country to find a job.
Doing your practice teaching and searching for a job from afar are all much more challenging than being able to go to meetings in person.
Completing a course, doing your practice teaching and searching for a job from afar are all much more challenging than being able to go to meetings in person. You may find that it takes you longer than you expected to find a job after finishing an online certification – and a lot of that may have to do with you just being so far away.
One way to try to get around this is through international school fairs, which are often there specifically to recruit teachers and can be a great way to connect with potential employers. Still, it's not a complete substitute for actually living in the country where you want to work.
3. It's not as hands-on
Even if your course does have a practical and observation session, it will by nature be more digital and involve less actual face-to-face interaction with students and other instructors. This is more important for some people than others, but if you're the kind of person that likes to learn by doing, an online course may be pretty challenging for you.
Summary
An online TEFL certification course may be for you if you:
Want something affordable
Don't know where you want to teach yet
In country networking isn't a priority
Need flexibility with location and / or schedule
Are looking to focus more on theory than hands on experience (i.e. if you've taught before, but other subjects)
If you're thinking about taking an online TEFL course, I'd recommend reading Are Online TEFL Certificates Recognized by Recruiters?.
In-Country / Onsite TEFL Certification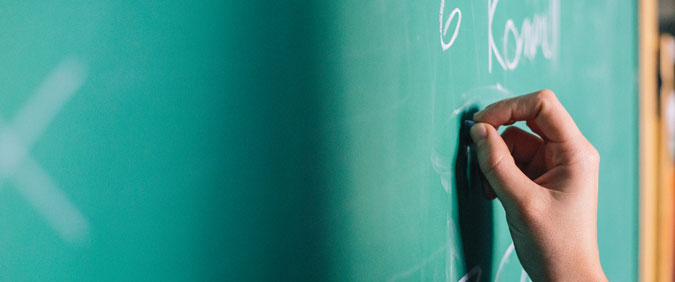 Getting certified on site, in the country you want to teach, sends you a bit (or a lot) farther afield, but with the same goal: get an English teaching job.
Ideally, you'll find a program or school in your region of choice and get accepted before you head out -- its much better to have your place already confirmed when you arrive to make sure you'll actually be enrolled. Fortunately, it's much easier to find a TEFL course abroad from home than it is a teaching job!
As with online courses, it's vital to make sure that your chosen institution is accredited and offers legitimate certifications, or all of that time, money and energy will be for naught. Here are a few of the other benefits that make this option worthwhile:
Pros of In-Country TEFL Certification
1. Better for connections
If your goal is to get a job in the country where you're studying, you couldn't be in a better place. In most countries applying for jobs, especially teaching jobs, is almost impossible to do if not in person, so you'll have a huge advantage just by being there.
Schools offering ESL teaching certificates also often have connections and relationships with nearby language schools which you can leverage when it comes time to job hunt.
You'll also have the opportunity to meet other people that work in the same system and fields who might be able to help direct you toward job leads and work. The expat network is a magical thing -- don't be afraid to use it!
2. Helps you understand what the classrooms/system are actually like
Anyone that has ever taught understands that no two classrooms are born alike -- and they're even more different in another country.
Observation hours and actually teaching are two of most important methods that will help you learn and grow as a teacher.
Each country (and sometimes city) has its own distinctive system and structure, and it's really difficult to truly get a grasp on how things work without being there. An in-country program will give you a firsthand crash course in all of the idiosyncrasies of the educational system where you are, and practicum classes with real students from that country.
3. More practicum opportunity
Many programs and organizations have already established partnerships with local schools or institutions, giving you more opportunity to put your new knowledge to the test.
Observation hours and actually teaching are two of most important methods that will help you learn and grow as a teacher, so having more time and opportunities to keep improving will help you gain more skill and confidence more quickly.
4. Language courses in the local language
Often, TEFL certification courses abroad will include classes in the local language -- a pretty sweet bonus to prepare you for your eventual expat life there!
Cons of In-Country TEFL Certification
1. Overall cost of living and course
Probably the single biggest determining factor, there's no getting around the fact that an in-country course is going to run you more than one online. Even if the instruction itself costs basically the same, you'll be spending a lot more money on housing, food, and other expenses that you might not normally have -- especially if you're planning on staying for a while.
Depending on where you go, the additional cost will vary wildly, but keep in mind that you'll be paying for airfare, housing, food, transportation and other costs – on top of the more than $1,500 you're paying for the TEFL course. Some programs do offer homestays and other benefits that can help cut your costs significantly, but there's no getting around the fact that going abroad is just more expensive than staying home.
On the upside, you may have to pay for these expenses anyway when you ultimately move abroad to teach.
2. More difficult to confirm quality
It's relatively easy to find information and feedback about online programs -- you can read reviews of the program, try to contact alumni or just do some intensive Googling.
These strategies all apply to programs in other countries, too, but it can sometimes be harder to find information about them, which makes it more difficult to know if it's a legitimate program and a good fit for you. You don't want to sign up for something a whole continent away just to show up and find out the program closed four months ago, but you may have to be willing to live with a little more uncertainty if you're headed abroad.
Fortunately, Go Overseas recently launched a TEFL courses section where both online and in-country courses are listed and reviewed. If possible, try and get in contact with an alumni as well as the school you're interested in to verify their quality!
3. Not good if you don't know where you want to teach yet
Of course, if you don't know where you want to teach abroad yet, getting TEFL certified abroad may be a pricey and time consuming way to test the waters.
Try and get in contact with an alumni as well as the school you're interested in to verify their quality!
If you get TEFL certified in Prague, for example, but end up deciding you want to teach in Indonesia, most of the main advantages of an in-country course are rendered moot. A free course in Czech and connections with the expats in Prague won't do you much good for getting a gig in Bali. Sure it may be an adventure, but generally it's best to be sure about where you want to teach before committing to a TEFL course abroad.
4. Less flexible schedule
Of course, with any course that takes place in a classroom, you won't be making your own hours. You'll also likely be treating this course like a full time job, going to class from 9-5 for a full month. There are part time course options, if you have other responsibilities that won't allow you to dedicate yourself full time to this, but expect that to be stretched out over 2 - 6 months.
Summary
An in-country / onsite TEFL certification course may be for you if:
You already know where you want to teach
Making connections and networking is important to you
You need more hands-on practice teaching
You can afford to front the initial costs of living abroad (which you may have to pay anyway)
You can commit to taking the course full time
You don't need a flexible schedule
What Should You Look for in a TEFL Course?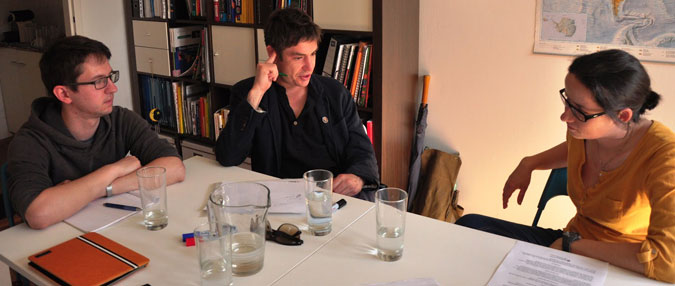 Differences aside, there are some important commonalities between both. This isn't the kind of thing where you can be a self-taught genius. In order to get legitimately certified, you need to complete an accredited course that will grant you certification upon completion.
"Accredited" is a crucial word here – places that say they'll certify you are a dime a dozen, but that document will do you no good if the person hiring you doesn't recognize the organization written there. Although there are hundreds of TEFL schools out there, there are essentially three accrediting bodies, which your school of choice should have backing them:
CELTA (a course designed and accredited by the University of Cambridge in the UK)
CertTESOL
TEFL (synonymous with TESOL -- another term you'll see thrown around)
As long as your chosen course meets the credentials of one of these three bodies, you're on the right track. If the information isn't readily available, ask the school before applying "who are you accredited by?"
There's also the question of hours. Courses are typically determined by the number of hours required, from very short 40-hour crash courses to longer sessions that can be up to 170 or even 250 hours over several weeks.
One of the most standard formats is a 120-hour course, with 100 hours devoted to classroom/theory instruction, and 20 hours for practicum and observation.
You should really be looking at TEFL certification courses that are at least 100 hours.
Generally, longer courses are better, as they allow you to get more in-depth and have more of that all-important classroom time, so unless you're a very experienced teacher, you should really be looking at TEFL certification courses that are at least 100 hours. Some schools won't even acknowledge certifications that are less than 120 hours, so that's something else to keep in mind when choosing a course.
With on site courses, you'll definitely get practicum and observation hours built into the program, but that's not a given when it comes to online courses. Some of the best online courses do partner with local organizations or schools to ensure that you get hands-on hours in addition to the online instruction, but not all programs do so, so if you choose to go the online route, make sure it isn't just homework and instructions on a screen.
Recommended Programs
Need some direction? There are so many TEFL programs out there that it can be hard to figure out which ones are best for you. Here's a list of on-site and online courses that are Go Overseas approved -- but you can always read the reviews to learn more.
The Most Important Thing: Get TEFL Certified!
Getting TEFL certified is a vital step on the way to being a good English teacher, and there are several ways to do it. Both have their benefits and drawbacks, but as long as you end up with a TEFL certificate and the confidence that you'll be a great English instructor, you've made the right choice!
Ready to start searching for TEFL courses and Teaching jobs abroad? Photo Credits: Prinda Mulpramook, Death to the Stock Photo, and Sean Eshoo.