Study Abroad in Rome at John Cabot University
Term
Academic Year, Fall, Spring, Summer
Need-based funding, Merit-based funding, General grants/scholarships
View Other Details

Program Details

Program Type

Direct Enrollment

Housing

Apartment

Dormitory

Pricing

What's Included

Accommodation

Activities

Airport Transfers

Classes

Meals
63 travelers are looking at this program
Study abroad in the fall, spring, or summer at John Cabot University. As an American university abroad, JCU allows your credits to transfer easily to your home institution. With small, discussion-based classes and students from all over the world, you will learn about the Italian way of life as well as other cultures.
Our services include a comprehensive orientation program with airport pick-up, nearby housing options with resident assistants, and a health and wellbeing office. Get involved in our clubs, organizations, community service programs, and athletics. Be sure to take advantage of the wide variety of trips and activities JCU offers to complement your studies!
The Queer Alliance is a JCU student club founded by members of the student body who identify as either LGBTQIA+ (lesbian, gay, bisexual, transgendered) or straight. Its goal is to foster a supportive academic, professional, and personal, environment for both degree-seeking and study-abroad students while attending JCU and living in Rome.
John Cabot University is committed to building a more sustainable world. By leveraging its liberal arts tradition, JCU aims to create a leadership hub that connects academic excellence and innovation to provide solutions to real-world problems on sustainability.
Program Highlights
John Cabot University's student body represents over 70 countries, so your university experience will be truly international. Explore different perspectives in the classroom and learn more about other cultures just by spending time with your new friends.
Our campuses in the historic center of Rome are beautiful, and our central location provides easy access to Rome's train stations and airports, facilitating weekend trips throughout Italy and Europe.
JCU's professors are international experts in their fields who hold advanced degrees from the world's top institutions, and continue to work and conduct research while teaching. Our small class sizes allow professors to get to know students individually.
Our comprehensive student life program includes clubs, community service, athletics, performing arts, cultural activities, and trips throughout Italy, which allow you to make friends while you gain leadership and team-building skills.
Rome is Italy's capital, home to government institutions, embassies, multinational corporations, museums, etc. so you will be able to partake in internships that would impress any employer.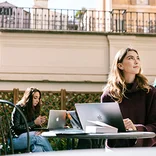 Enrich your resume by obtaining an internship through JCU's Center for Career Services. Get valuable experience and develop your professional skills while you study abroad. This is a great opportunity for students to get hands-on experience in a professional field. Make your study abroad experience one to remember.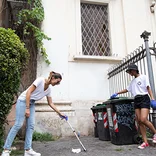 Make the most out of your study abroad adventures by participating in JCU's Community Service Program. There are various volunteering opportunities for students who wish to give back to the community. Not only do they become responsible and global citizens but they also have the possibility to be awarded with official Certificate of Participation.