Gap Year
How to Make the Most of Your Gap Year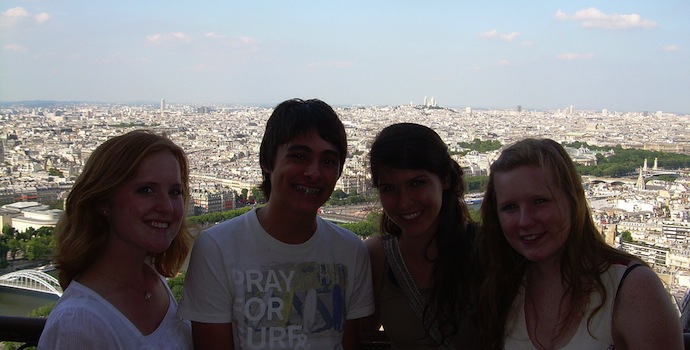 Photo Credit: Greenheart Travel
After months, even years, of saving up and several conversations with family and friends to assure them you're not crazy, you've started planning a gap year. Whether it's a year after high school or college, or even a one-year career break, you've taken this year to explore the world and learn more about yourself.
Pause and give yourself a pat on the back before continuing this piece.
It takes a lot to break away from the norms of life and try something that a lot of people always say they'll do "some day" or "maybe one day." But you're embracing the day now, and whether you're taking that year to travel or to settle down in one place, we have some great tips for either option. This is the travel edition, so if you want to find out how to not waste time during your gap year spent traveling, take a gander at this article. If you decide you want to settle down in one place for your gap year, read our expat edition from Cecilia!
It takes a lot to break away from the norms of life and try something that a lot of people always say they'll do "some day" or "maybe one day." But you're embracing the day now.
Okay, so you've made the choice to take advantage of travel now and even given yourself an entire year to explore. Now all that's left to do is make the most of that one special year of travel. From cutting out your internet and TV time for a year to spending months prior to that year planning your route - there are a number of ways to make sure you don't waste any time during your gap year. These tips will help you spend less time doing work or wasting time on the road and more time getting to know fellow travelers and locals, trying different foods, and seeing things you might never have the chance to experience again.
1. Plan & Research Ahead
Once you make the decision to take a gap year - planning and research almost becomes therapy to hold you over until your departure date, but doing researching prior to your trip will also allow you to minimize the amount of time you'll be doing it on the road.

Photo Credit: Greenheart Travel
Remember that not all gap years are alike. Some people like to spend every single day of their gap year traveling. Others prefer to spend this year working, learning or volunteering abroad. While this year should be open for spontaneity, it would be a good idea to research a few different traditional gap year options or itineraries and have an idea of how you want to spend at least the first three months.
On the other hand, one could literally plan their entire gap year - whether that means mapping out a route, booking transportation and accommodation and creating a list of things to see and do in each city or booking an entire year working as a volunteer nurse in Tanzania. The point is that while there is no shame in just booking a ticket and seeing how things go, that method requires you to take time from the touring part of your gap year to research and decide what's next. If you don't want take time from your trip to do that - you'll want to get as much of the planning as you can done prior to starting your trip.
In addition to the fun type of planning, there's also lots of logistical details. The last thing you want to be doing when laying on a beach in Rio with a hot Brazilian is worrying about paying off this month's credit card bill or car payment. Schedule any bill payments via direct deposit from your bank or Paypal account. If you have any medical needs, including birth control, talk to your doctor ahead about getting a bulk prescription before your trip. It might also be a good idea to give power of attorney to someone you trust so that if something does pop up at home, you won't be spending hours trying to find internet or cell phone coverage in a jungle somewhere.
2. Book a Gap Year Program or Tour
No matter what sort of gap year you're planning, doing so from your home country can be frustrating and sometimes even impossible. For this reason, booking yourself on a tour or program will take a lot of stress out the the planning process and allow you to do things right away, that you wouldn't have known about before spending a bit of time in a particular area.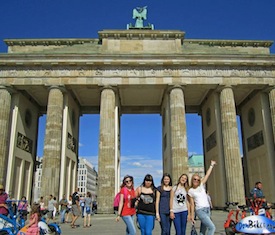 Photo Credit: Greenheart Travel
The tour option: Before dismissing tours as a tourist trap, consider this. Not all tours are alike and you can pick and choose which areas you feel you might need or want to go with a tour company. Companies like Real Gap Experience can help you plan a mix of travel and volunteering over an entire gap year. You could also plan just a few ten-day tours in specific regions with companies like Contiki between your own travel planning or between volunteer or internship stints with different gap year programs. Whether it's just a free day tour in a city or your entire gap year on tour, these trips are planned by people who know the country's best attractions and how to get to them - this saves you the time and trouble of trying to figure this out on your own.
The program option: If you want to travel for your entire gap year, you can plan it on your own before arriving. However, if you're interesting in volunteering, interning or working, it will be necessary to either search for opportunities in country or book your experience through a program prior to departing. Using programs like Carpe Diem Education, Aspire by API and Gap Year Diver allow you to start your gap year off interning, working or volunteering immediately upon arriving in a foreign land. Read reviews of gap year programs to chose your best fit and help prepare for your trip.
3. Use Guidebooks
Treat your guidebook like a Bible while traveling. Whether you go for Lonely Planet or Frommer's, guidebooks will save you a lot of time, money, and hassle. Not only do they list restaurants, accommodations, and more, which will save you time searching on your own, but they also have helpful itineraries and tips to help you make the most of your time abroad. Further, helpful maps as well as information on scams, language, and the local currency will save readers a lot of worry and often money. Keep in mind there are guidebooks geared towards specific audiences, so whether you're looking to travel on the cheap, partake in some adventure travel, or perhaps you want to travel at a leisurely pace, pick up a guidebook that suits your particular travel interests, needs, and preferences.
Treat your guidebook like a Bible while traveling...They have helpful itineraries and tips to help you make the most of your time abroad.
If you're thinking, "But guidebooks are so five minutes ago, keep in mind that many guidebooks are now offered digitally, which means you can easily store them onto your phone, tablet, computer, and other technological wonders of the digital age. You don't need to carry around a load of guidebooks - no heavy books to weigh down your bag! - while enjoying the comforts and ease of having all the travel information you could ever want to know at your fingertips. So download away and save yourself a lot of trouble along the way!
4. Stick to a Schedule
Take this suggestion with a grain of salt, because finding your own personal paradise and throwing away a schedule for a few months to just become apart of something is one very spectacular aspect of travel. If you find a place that you'd be crazy to leave - don't. However, sticking to some sort of schedule can keep the momentum of your trip going and reduces the risk of pushing off long travel days or harsh hikes due to laziness.
Don't procrastinate aspects of your trip. If you're ready to move on to somewhere new, don't keep hanging around because you're dreading an eight-hour train journey. And definitely don't put off activities just because they require a bit of energy and hard work. Remember, this is your one year to see all those things you always wanted. Machu Picchu might be exhausting, but you'll regret missing it.
5. Plan Your Exit Upon Arrival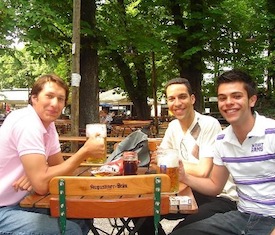 Photo Credit: Greenheart Travel
If you want to keep the schedule rolling and make sure you don't get stuck in one place for too long, plan your escape before you even arrive. Book a train, bus or plane ticket out of your current destination on day one. This will ensure that you know the schedule and are booked for your desired date. Further, it forces you to see as much as possible in a specific area when you know you're on countdown.
However, this is another suggestion to take with a grain of salt. You might find that the three days you originally planned for a place isn't nearly enough, in which case you'll either have to leave earlier than you want or will be out a bit of money if you decide to stay. A nice compromise to just be aware of the transportation schedule available on your desired departure day, so you'll at least know when you will have to be ready to leave by if you are planning to do so on a specific day.
6. Travel Offline
You know how it goes. You're looking at a friend's Facebook page, just to see what he or she has been up. You find an interesting Buzzfeed article there. One thing leads to another and before you know it you're on some random sight looking at photos of cats in awkward positions. Don't get sucked into the internet at any point of your gap year. Sure, you'll want to Skype a few family members and friends at home, maybe check out what's happening with everyone on Facebook as well as share photos, but set yourself a daily time limit and stick to it.
On top of that - detach yourself from your smartphone or pad. Instead of constantly sharing photos of what you're eating in Italy, put all electronics away and just savor the taste. Instead of only looking at sights through a lens, just put everything in your hands away and see what's in front of you with your own two eyes. Soak up the scene and the feeling of being in that place. These memories and emotions will stick in your senses far longer than any epic photo you took.
One thing leads to another and before you know it you're on some random sight looking at photos of cats in awkward positions. Don't get sucked into the internet at any point of your gap year.
7. Take a Year Off TV
While it's understandable that you might want to check in on the internet from time to time to catch up with people at home or at least let them know you're safe, there is literally no excuse for watching TV during your gap year. While you'll notice a lot of people spending their days in the TV area of a hostel glued to the tube, you should not be one of them. Don't worry. Your favorite shows will be available when you get back. Uluru, on the other hand, will not.
However, entertainment is an aspect of every culture that should be looked into and embraced by visitors. So if you do want to spend some time watching TV, maybe try to watch local channels or films. Take part in group film nights at your hostel, as they're a bonding experience, and go to film festivals available in the places you visit.
8. Moderate Your drinking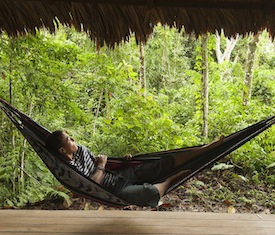 Photo Credit: Greenheart Travel
Of course you're going to want to let loose a bit on this one year break. But if your partying is affecting your touring, then there's a problem. There's nothing wrong with late nights and endless bottles of wine with friends, but we all know where these things lead. You, sick, in a single bed in an eight-person dorm room all day or worse. A lot of the problems amongst travelers often have something to do with alcohol, whether it be getting into a fight because you had a few too many or ending up in the hospital because you're dehydrated.
You're going to party and you're probably going to be hungover at least a few times on your gap year, but don't make it a regular thing. Remember to see and do all the things you've been dreaming of in a certain country before hitting the bottle. Just like TV, boozy nights are the same in every country and most of us don't even remember them. Spend your time creating memories instead of blacking them out while on your gap year.
9. Know When to Take a Areak
While you'll want to make the most of your gap year, we all need a day to just relax. Plan them wisely. Instead of going, going, going until you burn out in Bangkok where the only relaxing place you know of is your hotel room, plan a beach break in Phuket after a few days in the city. There - your priorities will shift from Grand Palace tours and Temple-hopping to clear waters, clean sands, and a good book. Know your limits and plan ahead to make sure you don't hit them in the wrong place.
10. Make Friends with the Locals
It may be very tempting for you to want to escape into familiarity as soon as you are surrounded by constant newness. Finding fellow travelers from your own country or other expats might be a comfortable place to start when exploring your new home, but this habit becomes a crutch all too easily. You may find at the end of your trip that you never once formed a meaningful relationship with the culture around you. Break out of that cocoon and rustle up a local buddy. You might want to try language exchange or even explore local groups that share your interests. Find some volunteers nearby or even take a class in order to expand your friendships.
You might be feeling anxious about how to maximize the time that you have. Do not worry...There is no single roadmap for how to make the most of this gap year experience.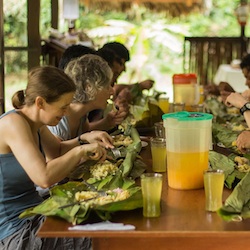 Photo Credit: Greenheart Travel
11. Eat Everything, Question Nothing
No matter where you are, food is one of the essential components of any culture. It is beyond rude to be openly picky or finicky. Throw yourself into the local food scene (cautiously…no one wants Delhi Belly/Montezuma's Revenge/Turkey Trots) and learn to control that gag reflex. If you are vegetarian, make this very clear from the onset and try your best not to offend. If you are in a vegan/vegetarian culture, then no excuses!
12. Jack/Jill of All Trades
Start a blog, take a ton of photographs, or even sketch. Record EVERYTHING and try your hand at improving your pre-existing talents. If you are on a grand adventure, then you will really want to be able to look back and reminisce fondly. Documenting your gap year has the added benefit of creating a portfolio or a piece of work that you can show to future employers. Seek professional development opportunities or do an activity that proves you did more than just bum on the beach. Consider volunteering with an organization or teaching english to children. You also might be able to really pad that resume with a list of all the various activities that you participated in. Make yourself desirable with this gap year.
13. Network
I know networking sounds like a boring corporate, nine-to-five, cubicle-ly word, but it can actually be very exciting when you are on your gap year. Think of the network of friends, colleagues, and random locals who will continue to impact your life in the future. They may help you find a job in a place you were not expecting. You might even be able to help a fellow traveler by setting them up with a few buddies that you made while abroad. Try to meet as many people as you can and keep up those contacts.
Think of the network of friends, colleagues, and random locals who will continue to impact your life in the future. They may help you find a job in a place you were not expecting.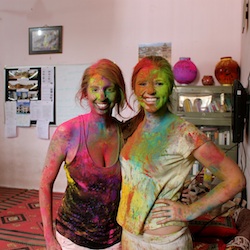 Photo Credit: Greenheart Travel
14. Research
Research can be thorough or superficial, it is up to you. However, wherever you end up, make sure to learn a bit about where you will be living, including the health standards and local customs. The element of surprise is a lot of fun, but it can be even better when you are exploring with a solid foundation of knowledge. If you hit the ground running, then who is to say where you will end up by the end of your trip?
15. Plan Side Trips
If you are living in one place for the full year, then you need to take the time to explore outside of your home city. See the rest of the country or go even further afield and visit a new culture. Weekend getaways are a must during your gap year, especially if you are spending the year rooted.
16. Immerse Yourself in the Local Language
Try to pick up the language. I know it is hard, but you will win so many points with the locals if you just try. Learn "hello" or "thank you" and watch as people light up with happiness and pride that you would take the time to try. Reiterating point number one, this will help you make friends. Plus, it is a healthy lesson in how to laugh at yourself whenever you make a mistake.
Great options to look into are programs through companies that are listed here. So take a Portuguese course in Brazil or take a fancy to taking a French course in the South of France.
Learn "hello" or "thank you" and watch as people light up with happiness and pride that you would take the time to try.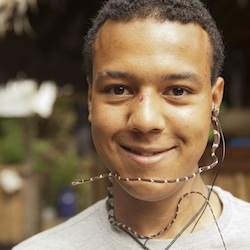 Photo Credit: Greenheart Travel
17. Do Something that Scares You
Do not go into an unlit alley in the middle of the night in a shady part of the city. What I mean is find an activity that challenges you. No one ever comes home after being abroad raving about their ability to fall asleep at 8PM every night. Go into a cage and swim with sharks. Hurl yourself off a bridge attached to a bungee cord. Stand in front of a crowd and belt out those Karaoke skills. Whatever you decide, you will be stronger for it.
18. Embrace Nature
Too often we hole ourselves up with technology in the comfort of our homes. Make an effort to get outside, preferably in some place with greenery, water, and/or rocks. There are plenty of opportunities around the world to go on a trek/safari/snowboarding/pirate ship extravaganza. Take advantage.
19. Celebrate
Every culture has their unique quirky holidays and festivals. Get out there and hurl tomatoes, soak people with water guns, and/or toss colored powder at strangers. Participating in these local festivals will give you a whole new appreciation for the people that you are living amongst and you might just come out with some fantastic stories/photographs. This is also a great way to immerse yourself and even find points of contact with other travelers who have had similar experiences.
Last Words of Advice
No matter what happens you are going to have a fantastic time. I hope that this list gives you a starting point from which to launch fully into your gap year. It will not always be an easy experience and you might feel a little lost at sea, but you will return aching to go back.