40 EFL Terms to Know Before Teaching Abroad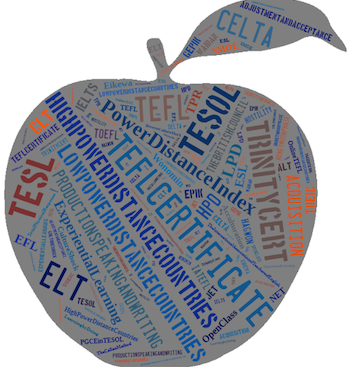 Preparing to teach abroad can turn your brain into an endless flowchart of questions:
"Do I need a CELTA or a DELTA if I want to teach at a hagwon?" (Actually, neither.)
"What is the difference between TESOL and TEFL? What does it mean for my teach abroad options?"
"What is accreditation and is it important?"
Like any industry, teaching abroad is full of jargon, and wading through the alphabet soup can be daunting. But fear not. Whether you're grappling with the nuances of TEFL certificates, just want an overview of teaching methods, or are looking to gain a deeper understanding of what it means to teach English abroad, take a look at this cheat sheet of common TEFL terminology.
(And when you're ready, be sure to check out our guide to TEFL certification!).
Vocabulary for Certificates and Training
TEFL certificate (Teaching English as a Foreign Language) Let's start off with the most popular word. This is a generic, industry term referring to any kind of certificate or program dealing with teaching English as a foreign language. When someone asks, "Do you have a TEFL", they want to know if you have completed a TEFL training program. It can be online, classroom-based, through a university, or not. There is no single, standard TEFL certificate.
ELT (English Language Teaching) This is what you're going to be doing. It refers to the entire industry.
TEFL/ TESL/TESOL (Teaching English to Speakers of Foreign/Second/Other Languages) These terms refer to both certificates and programs dealing with English language teaching. In terms of certificates, they are all equal qualifications, although different countries will use different terms. TEFL involves teaching students who are studying English in a country where English is not the main language. TESL involves teaching students who are living in an English-speaking country. TESOL is an umbrella term for both.
Cambridge CELTA (Certificate in English Language Teaching to Adults) This is the gold standard of English language teaching certificates. Developed by Cambridge University, the CELTA is the most widely recognized and prestigious TEFL certificate out there. This is a highly recommended program for those who plan on teaching abroad for a while.
TrinityCert TESOL Usually referred to as a "Trinity" in job ads, this is another UK-accredited TEFL certificate. Developed by Trinity College in London, the Trinity is highly respected and accepted around the world.
DELTA (Diploma in English Language Teaching to Adults) An even higher-end teaching certification from Cambridge University. This is the next step after the CETLA, and after one has been teaching for a few years.
PGCE in TESOL( Postgraduate Certification in Education) An internationally-recognized, teacher-training program offered by universities in England, Northern Ireland, and Wales.
Online TEFL Any TEFL course completed online. Online TEFL courses allow more flexibility and usually cost less than on-site courses. However, they lack substantial practical training, and some employers won't accept them. Learn more about the pros and cons of online TEFL programs.
Vocabulary Useful in the Classroom
Power Distance Index Knowing how your host country's culture will influence your classroom is extremely helpful. For example, are classroom discussions encouraged? Or are teachers expected to be strict and authoritative? The Power Distance Index, created by Geert Hofstede, measures a country's distribution of power and how citizens respond to hierarchy. Check out where your country stands, as it can help clue you into how your new classroom environment may be.
High Power Distance Countries (HPD) Japan, Taiwan, Hong Kong and South Korea are strong examples. These nations emphasize hierarchy, where obedience and respect for authority is paramount. Most students in these countries will be comfortable in lecture-based lessons, where the teacher is the formal figure of authority. It may more difficult to encourage students to speak up or participate in class in these countries.
Low Power Distance Countries (LPD) Denmark, Norway, the U.S., and Canada are very Low Power Distance regions. These countries stress equality and independence. The student-teacher relationship is more casual, and opinion sharing and discussions are common in the classroom.
Acquisition The process of learning a language.
Production Speaking and Writing These are the hardest parts of learning a language. A student may be able to read a poem, but not write an email.
Communicative Language Teaching (CLT) An approach that focuses on developing students' communication skills over grammar accuracy and drilling. The idea behind this is that students can acquire a language more easily when they're communicating in meaningful ways. Role-playing activities like ordering at a restaurant, giving directions, or preparing for a job interview, are some classroom activities that allow for authentic expression.
Experiential Learning / Learning by doing It can be listening to a song, reading an article, or leaving a phone message. Experiential activities help students learn English through real-life experiences and situations.
Total Physical Response (TPR) A very powerful method that uses physical movements to teach a language. Playing the game "Simon Says", or having students pass around an object as they respond to your questions, are a few great TPR activities.
Vocabulary to Describe Your Students
EFL (English as a Foreign Language) These are students who are learning English in a country where English is not a main language. For example, students who are studying English in China are EFL students.
ESL (English as a Second Language) Students who are learning English in an English-speaking country. This is mainly a U.S. word.
IELTS (The International English Language Testing System) The world's most popular test for measuring English language proficiency. Universities, government bodies, and companies all accept these scores for immigration, employment, or academic purposes. Many language schools abroad offer specific programs to help students prepare for this test.
TOEFL (Test of English as a Foreign Language) A language proficiency test that foreign students take if they want to study at a university in the U.S. The TOEFL iBT, the internet-based version of this test.
TOEIC (Test of English for International Communication) Mostly used for employment purposes, this standardized tests measures one's ability to use English in business settings.
Specific Vocabulary for Popular Teach Abroad Locations
EUROPE
The Callan Method A very precise teaching method that uses fast-paced lessons and verbal repetition as a way of developing students' speaking and comprehension skills. While the Callan Method originated in England in the 1960s, it now flourishes throughout the world. All Callan Method teachers are trained to teach this style's specific method.
The British Council This UK-based organization is one of the largest international education organizations in the world. Along with teacher training and programs, there are dozens of British Council centers around the world that hire TEFL teachers for their schools.
The International Association of Teachers of English as a Foreign Language (IATEFL) This UK-based organization is one of the world's largest EFL teaching communities. With a small, yearly fee, members can have access to scholarships, resources, and the opportunity to connect with associates from around the world.
SOUTH KOREA
Hagwon These private schools flourish throughout South Korea, catering to students of all ages. Along with providing a supplement education to Korea's public schools, hagwons also provide tutoring for students preparing to take South Korea's College Scholastic Ability Test, the Suneung. Hagwons frequently hire native English speakers from abroad.
Open Class If you're teaching in Korea's public school system, this will happen about once a semester. An open class is when teachers, parents, and administrators visit your classroom. Check out these tips on how to rock your open class.
Wonomin This will be your title. It means "teaching assistant" in Korean.
EPIK( English Program in Korea) A government program founded in 1995 that continues to place foreign teachers throughout the country's public schools, except in Seoul and the Gyeonggi-do province.
GEPIK (Gyeonggi English Program in Korea) This government program places foreign teachers in public schools in the Gyeonggi-do province.
SMOE (Seoul Metropolitan Office of Education) This competitive program places foreign teachers in public schools throughout Seoul, the country's urban, modern capital. Compare the pro's and con's of EPIK, GEPIK, and SMOE here.
JAPAN
Eikaiwa A Japanese "conversation" school. There are many different chains throughout the country that frequently hire native English speakers from abroad.
JET (The Japan Exchange and Teaching Program) It's Asia's oldest and most respected teacher exchange program. Founded in the 1980s, this competitive program places native English speakers in two-year stints throughout Japan's elementary, middle, and high schools. There are other alternatives to JET, be sure to know your options.
ALT (Assistant Language Teacher) A common teaching position throughout Japan, mostly through the JET program. ALTs work alongside a local teacher, but usually don't teach classes alone. Depending on the school and the teacher, classroom responsibilities will vary.
CHINA & HONG KONG
NETS (Native English Teacher Scheme) This is Hong Kong's government-run program that recruits native-English speakers to teach in the public schools.
Waiban The person in charge of all foreign teachers at schools in China. They will handle all visas and paperwork while your are employed at the school.
Vocabulary Useful for Life Abroad
Acculturation This is the process of adapting to the beliefs, habits, and general "thought-process" of a new society or country.
Culture Shock It's that feeling of confusion and uncertainty that comes with navigating an environment where the customs, language, and ways of doing things are very different from your own. There's no way to avoid it, so here is what to expect...
Honeymoon phase The phase when everything is new and exciting. You try every kind of new, strange food and revel in the feeling of being lost in the markets. (Living abroad is awesome!) This phase usually lasts for several weeks or months.
Hostility Suddenly, you miss comfort food from home. You're annoyed that you can't fully understand the language. You begin comparing things to back home. You may be feeling irritable, lonely, and homesick. This is a normal adjustment phase, so just remember: "If you're going through hell, keep going." – Winston Churchill.
Adjustment and acceptance You finally begin to feel comfortable. Little things don't bother you so much, and you have found a balance with your new life. You can function independently and feel stronger. This stage usually happens after many months.
Reverse culture shock Sometimes, coming home is harder than leaving. You will probably have new perspectives and values that will need to be integrated into your old life back home. You will have changed, and now need to find your new place in your home country. This can take time, so be patient.
Learn More…
As you prepare for your international adventure, remember that the best decisions are (usually) made when you're most informed. We hope this guide gave you a more solid understanding of the TEFL industry. Wherever you end up, teaching abroad is a rewarding experience you will not forget.
Photo Credits:
Tagxedo Word Cloud