Study Abroad
When is the Best Time to Study Abroad in College?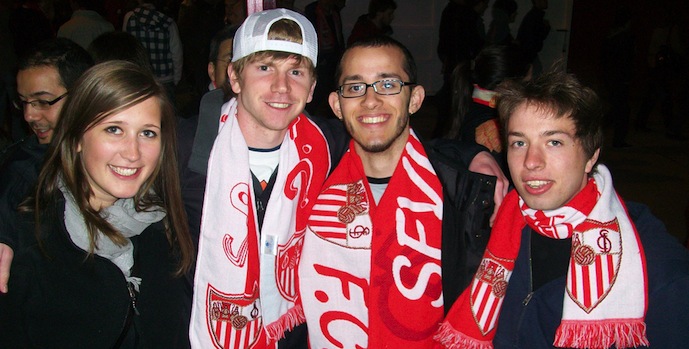 Like jeans, there is no one-size-fits-all when it comes to study abroad. Though you may have images in your head of a glamorous semester spent sipping wine in Italy, or a year babysitting koalas in Australia, the truth is that there are a head-spinning number of options out there for you to choose from.
While it used to be that everyone followed the cookie-cutter routine of taking one junior year semester to go practice flirting, reading train timetables and drinking in Europe, study abroad has become so much more than that. Like the evolution of the spaghetti sauce aisle at your local supermarket, the reality of today's study abroad world is that if you can imagine it, it's out there.
So considering your options, when's the best time to study abroad? And for how long? Let's break it down and look at the important factors that will help you determine how to make this study abroad experience the best semester, summer, or year ever!
The Cliff Notes
A lowdown of the most important things to keep in mind when choosing the best time to study abroad.
When: Study abroad is an amazing experience, but it's supposed to complement your time at college, not interfere with it. Make sure you plan your study abroad in a way that aligns with your other requirements and responsibilities.
How long: Study abroad programs vary from a few weeks to a year, so consider your goals for your experience when debating how long to go. If you just want to see a new place, maybe a winter term or short program is fine for you. If you're looking to do a research project or language immersion, a semester or even a year might be best.
Do what's best for you and your college goals.: No, not your best friend and no, not that awkward guy who sits in the corner of your History class. Only you can do you.
Don't Forget: If you're savvy and upfront with your planning, it's verrrrry possible you'll be able to study abroad more than once!
The Pros and Cons of Different Class Years
There's a reason that many students (about 34 percent of all study-abroaders) still choose to study abroad during junior year of college – because it's still usually the most convenient.
Many programs are set up to cater best to college juniors, but just because all of the cool kids are doing it doesn't mean you have to follow their lead. There are study abroad options for just about every year in college, so don't worry if you aren't eating your way through Spain at the same time as everyone else you know.
Freshman year
Pros: Why not start things off with a bang? If you're not in a hurry to get to campus, going abroad can be a great way to ease into things.
Potential Issues: There are very, very few universities that have provisions in place for freshman to study abroad, as most of them want you on campus for at least for the first year. Plus, do you really want to miss out on all the joy and horrifying awkwardness that comes with freshman year? If you have your heart set on traveling, you might be better off taking a gap year or starting school a semester late instead.
Read More: The Pros & Cons of Studying Abroad as a Freshman
Sophomore year
Pros: This is a great way to make sure you can fit your study abroad experience into college, especially if you don't think you'll have the opportunity later on. You're not into crazy thesis mode this early, so your schedule is likely more flexible and conducive to going abroad, particularly during the second semester.
Potential Issues: Many programs still require students to fulfill a number of classes during sophomore year, and these are often prerequisites for going abroad, so you have to make sure that you've done everything necessary before jetting off.
Junior year
Pros: The classic choice for a reason. By junior year, you've probably finished most of your required courses but haven't started the madness that is senior year and preparing for graduation. Many universities are structured in a way that encourages students to go abroad as a junior, so you'll probably get a lot of support from the study abroad office and other organizations. Plus, half of your friends will be away, so why not take a cue from them and leave campus for a little while?
Potential Issues: If you have a strict program or a planned working semester like a practicum or internship in the future, you may still be obligated to finish some courses before heading out, so make sure you know exactly how studying abroad now might affect your future schedule.
Senior year
Pros: It's senior year, and yes! You can absolutely still study abroad your senior year of college. Wooo! Fall semester of senior year can be a great time to study abroad if you've already finished most of your required courses – you have a fun semester, and then when you come back, it's already time to graduate. These are supposed to be the best years of your life, so why not make the best of them?
Potential Issues: Juggling study abroad and a big project like a thesis can be a bit much if you don't plan properly. Plus, this is the last year you have in college – do you really want to spend half of it far away from campus and all your friends?
The Pros and Cons of Different Program Lengths

When you think of study abroad, your mind may go straight to the five months of the typical international semester. But has your liberal arts education taught you nothing about thinking outside of the box?
Semesters can be a great choice if they work with your academic plans – and they do for just about half of all American undergrads who study abroad – but there are other options beyond the spring or fall. Summer, for example! Here, we've got all the seasons covered, and more.
Semester
Pros: The traditional length, a semester is just enough time to begin getting comfortable with a new language, feel immersed in your city or town and hopefully make some friends.
This time allows you to complete a normal course load and provides enough flexibility and free time to explore the exciting places around you. You probably won't have enough time to even start getting homesick! On the academic side, your home university is used to students taking a semester abroad, so this will be your easiest option from a scheduling perspective.
Potential Issues: Your home university's schedule may not always align with the semesters at universities abroad, which can lead to scheduling problems for you. Plus, there's always the possibility you'll end up loving where you are and won't be ready to come home in six months.
Summer programs
Pros: If you just don't have space in your academic schedule, a summer study abroad program is a great compromise. You can use the time you would otherwise spend doing an unpaid internship or watching too many Top Chef marathons to experience another culture and country.
Many foreign universities offer condensed summer courses, so it's possible you can even get course credits for a summer abroad program. Summer programs are growing in popularity, with almost 40 percent of study abroad students choosing to travel in the summer, so rest assured that you'll have plenty of options from which to choose.
Potential Issues: If you're in a field where you're expected to do research or get a particular internship over the summer, it may not be in your best interest to spend the summer abroad. Although summer vacations are relatively long, they're still shorter than the average college semester, which means you won't have as much time abroad as your friends who are studying elsewhere for an entire semester.
Year-long
Pros: The difference between six months and a year in one place is astronomical, so spending a year abroad will give you a completely different perspective on your location. Years are also a great option for the indecisive among us – you can choose to spend your fall semester in one place and spring in another, which will give you an even greater range of experiences and undoubtedly make everyone at home even more jealous.
Potential Issues: Is requires significantly more planning to spend a year away from campus than just one semester. You have to make sure that you have completed all of your requirements, or that you'll be able to take the courses you need when you're abroad. A year is also, after all, one quarter of a typical bachelor's degree; make sure you're prepared to spend a whole 12 months away from all your friends at home.
Short-term
Pros: Like a summer program, short-term study abroad options are a great way to squeeze some international experience into a packed academic schedule.
Whether you spend your January term studying history in England or squeeze a research project abroad into your spring break, short study abroad programs can be just as rewarding as their more lengthy counterparts.
They're also growing in popularity as students try to fit more activities into the already-busy college years, which has led to greater diversity in program offerings.
Potential Issues: Spending just a few weeks in one place can be great, but it might feel more like a vacation than an actual academic experience – or, you could end up so focused on your project that you don't have time to truly soak up the sights and sounds of where you are.
Short-term study abroad is a great option if you won't have any other opportunity to fit it into your schedule, but it won't be the same as spending six months somewhere, and might just leave you wanting more.

Students who don't study abroad almost always cite time and cost as the major factors preventing them from going - and they usually regret it! With so many options available throughout your college years, you can absolutely find something to work for your time and budget, even if it's not always the conventional junior year semester. And if anyone looks askance at your choice to head abroad for six months or a year, remind them that students who study abroad are actually more likely to graduate on time.
Photo Credits:
API Study Abroad
.