Study Abroad
How to Study in Spain in English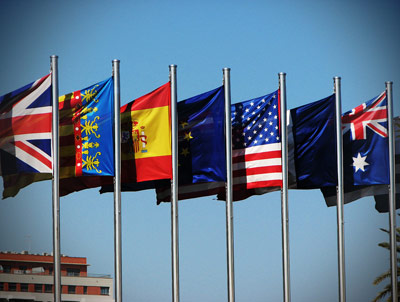 With rich culture, vibrant nightlife, and a thriving student scene, it is no wonder Spain is one of the most popular study abroad destinations in the world. While Spain is obviously a fantastic destination for students of the Spanish language, even non-Spanish speakers can enjoy all that Spain has to offer during a semester (or summer, or J-term) abroad.
If you want to study abroad in Spain, but you only speak English, don't despair – the language barrier will be difficult, to be sure, but not insurmountable. Keep the following guidelines in mind, do your research, and get ready to have the time of your life studying abroad in Spain!
1) Language of Instruction
"Study Abroad" inherently entails formal instruction, so finding a program with courses in English will be your first priority. Start with a visit your study abroad office and see if your home university offers a trip to Spain. Faculty-led programs are typically conducted in English, and offer the additional security blanket of some friendly faces from back home.
If you want to step further outside your comfort zone, consider enrolling with another university that offers a program in Spain conducted in English. Arcadia University's College of Global Studies runs well-known programs in Barcelona, Granada, and Toledo, including internship options. Boston University also offers an English-speaking study abroad program to Menorca, perfect for students interested in unearthing – literally – the connections between Spanish and Roman history, culture, and influence. Suffolk University actually operates a separate Madrid Campus, offering English instruction alongside Spanish culture and language classes and internship options.
Another popular option is to utilize experienced study abroad providers like CEA, a highly rated organization that offers English-based programs in Seville, Barcelona, Granada, Madrid, and Alicante. Further, ISA provides 15 different programs in 10 Spanish cities, many of which have no language requirement and are suitable for international students of all levels of Spanish. ISA also offers special experiential learning opportunities through their ELAP division, including a hospitality and tourism internship in Granada that's perfect for beginning Spanish speakers
2) Housing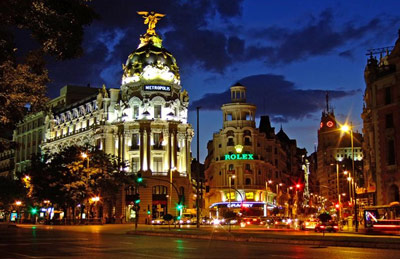 You may be tempted to stop your research once you find the perfect program during step one, but remember that the majority of your day will actually be spent outside of the classroom. The people you live with are often your first friends, so it's important to consider the language barrier in your home life as well. Most study abroad programs, including the aforementioned ISA and CEA, offer a multitude of options, from dorms to apartments to homestays. If you'd like your social network abroad to be comprised of mostly English-speakers, look for dorm options with other international students like yourself. If you are going through your home university or another English-speaking university, housing with other students is typically the norm as well.
If you'd like to push your comfort zone more, you can consider living in a Spanish University dorm. There's no guarantee your hall mates will speak English (most likely many, but not all, will), but local dorms are much less overwhelming than a homestay, while also offering more opportunities to pick up some Spanish than living with only English-speakers. Don't be afraid to ask questions of different program providers, and even ask to speak with a current or former student about your questions and concerns about the housing situation. In the end, most non-speakers of Spanish choose to live in international dorms with other English speakers, but know your options, and pick the one that's best for you.
3) Location, location, location
While you're researching programs, pay attention to where the program is located. Even if all of your classes are in English, you'll still need to figure out food, transportation, sight-seeing, and nightlife in a foreign city. Larger cities are, in general, easier to navigate in English than smaller cities and rural areas. Salamanca is widely known as an international student-friendly city, making it the perfect place to meet new friends and explore Spain, even if you don't speak Spanish. International Madrid is another great choice, where you're more likely to run into other students, and Spaniards are more likely to speak English. Barcelona, too, boasts a large English-speaking population and student-friendly reputation. Even smaller cities like Sevilla, Cordova, and Granada are relatively easy to navigate in English; not everyone may speak English, but you're likely to find at least one person when you're in need of directions to a new tapas bar!
If you've been taking another foreign language and have only recently just discovered your unstoppable love of Spain, don't worry – your second language could actually help you in Spain. Catalan, the official language of Barcelona and its surrounding area, combines typical Castillian Spanish with French, making Barcelona a great location for French speakers. Arabic is commonly heard in the South of Spain, and Portuguese is a common second language all along Spain's Western border. You might be able to put your foreign language to good use in Spain, but resist the temptation to use it as a crutch or security blanket – Spanish is going to be the most prevalent language no matter what, so it will still help to pick up a few Spanish phrases.
As you search for the perfect study abroad program, always keep in mind your preferred balance between challenge and comfort, and don't forget to consider the language of instruction in the classroom, your housing situation, and the ease of exploring your new home in English. Wherever you choose to go, remember it's not just in your classes that you'll need to communicate, but also in cafes and tapas bars, lush gardens and bustling squares, train stations and night clubs. Bueno suerte, as they say in España, or, good luck!
Read Next: The Best Cities to Study Abroad in Spain
Free & Easy Online Spanish Language Resources
If you're still feeling a bit nervous about studying abroad in Spain without knowing any Spanish, try brushing up on the basics with these free, online programs: