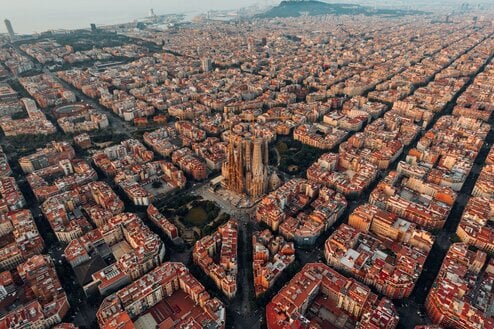 TEFL Courses
The 6 Best TEFL Courses in Spain in 2024
If you're a first-time ESL teacher interested in teaching in Spain, getting TEFL certified is a must. Find the perfect program for your teaching goals by comparing the 6 best TEFL courses in Spain in 2024!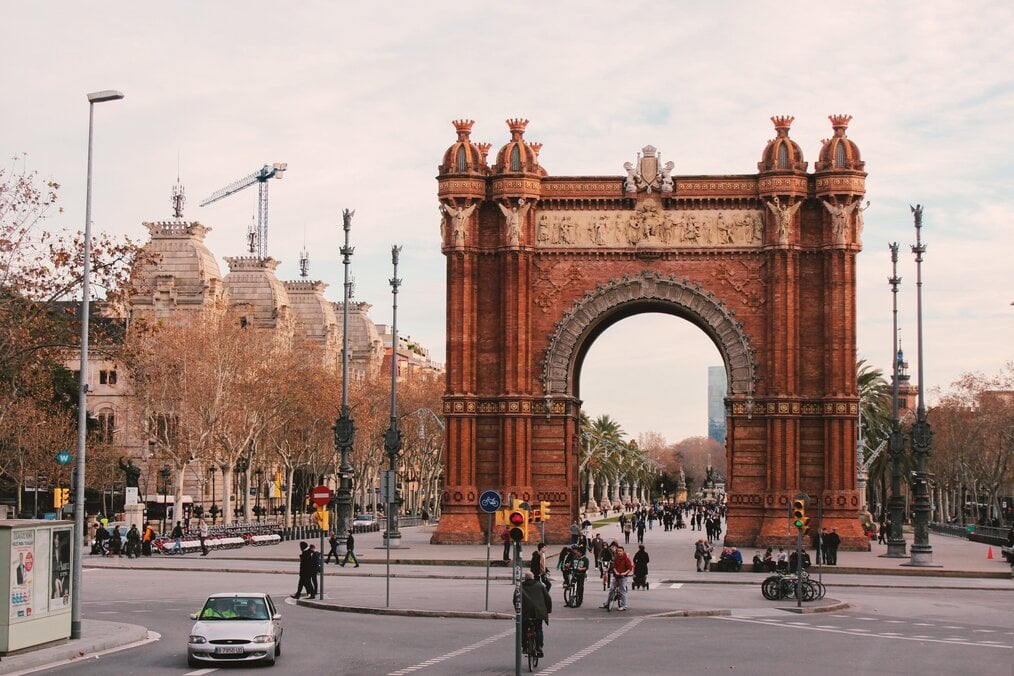 People from all over the world are drawn to Spain's relaxed lifestyle, lively nightlife, delicious food, and sunny skies. These qualities, combined with the low cost of living, make Spain a top destination for those who want to work overseas. If you're interested in jumping into a career teaching English as a second language, Spain is a great place to start.
Anyone serious about teaching English in Spain needs the right preparation and qualifications. That's where TEFL courses come in. TEFL certificates show employers that you're a well-trained teacher and prepare you to help learners of all backgrounds improve their English.
Go Overseas has crunched the numbers, and the following TEFL trainers are the cream of the crop. Most of these courses are located in Madrid or Barcelona, two of the most fun and energetic cities in Europe with booming TEFL job markets. Read on to make an informed choice before you earn your TEFL certificate in Spain!
How did we pick these programs?
At Go Overseas, we want our community members to have the resources they need to find the program that best fits their travel goals! To determine the best programs, we considered the overall rating of each program and compared the verified, recent reviews left by community members. The more positive, highly-rated reviews there are, the more confident we feel to give our stamp of approval!
Lastly, we used our own industry knowledge to ensure we're recommending programs that are vetted both by you, the community members, and us, the experts, so that we feel confident the programs included are the best of the best!
1. Oxford TEFL
Best for CELTA training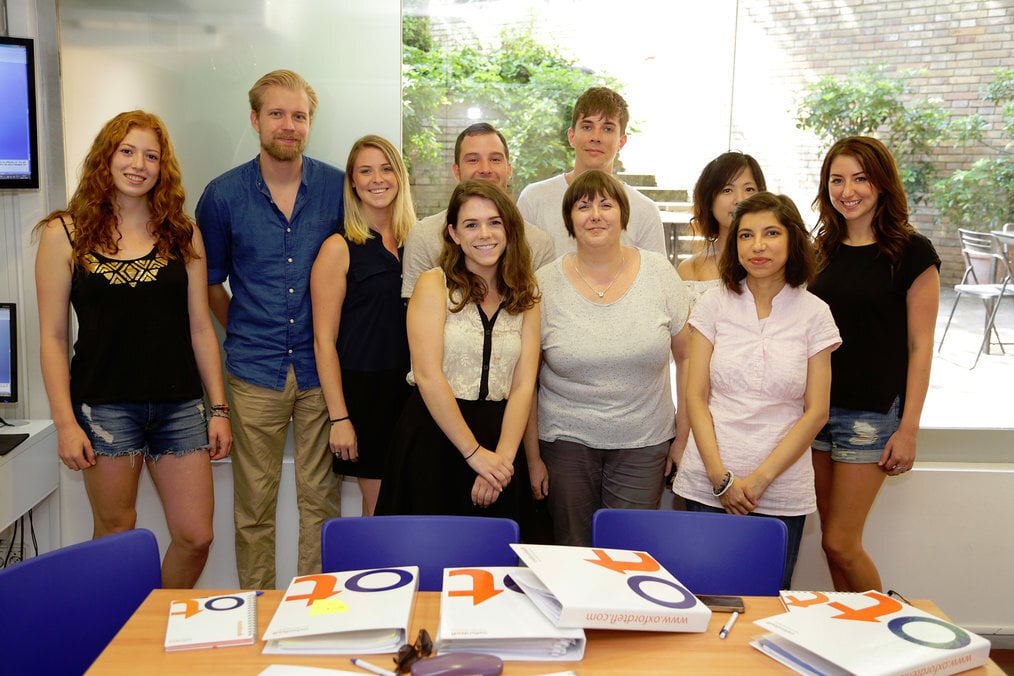 Program length: 4 weeks
Price point: $$
What's included: access to Facebook and Linkedin networking communities, career services, Cambridge exam fees, online learning platform
✅ Pros:
The CELTA qualification is a requirement for many jobs across Europe.
Oxford TEFL will help you arrange accommodation if you need assistance.
❌ Cons:
The add-on option for non-EU students to secure a year student visa to work is a bit pricey.
The super intensive nature of the course doesn't allow much time for sightseeing or travel during the month-long course.
Oxford House in Barcelona is one of the most intense courses available, lasting 4 weeks and resulting in the prestigious and internationally recognized CELTA qualification. As a trainee, you'll teach real students by the end of the first week, which gives you plenty of time to improve your actual classroom skills. Graduates generally find jobs within the first 21 days of finishing the course and have access to Oxford TEFL's global database of teaching jobs for the rest of their lives.
According to one recent graduate Oxford House goes "above and beyond", with on-the-ground support services that make transitioning to a new country smooth sailing. Oxford House also provides extended visa support, which comes in the form of a visa service and an ongoing student visa option for non-EU citizens.
Their Developing Teacher Program consists of Spanish classes taught at the onsite language school and ongoing teacher training. Not only will you be legally allowed to work in Barcelona, but you'll also have a supportive network behind you to help you succeed.
"Having never taught before, the CELTA at Oxford TEFL really taught me the skills required of a TEFL teacher, while also boosting my confidence and my belief in myself. All the staff at Oxford House were approachable, helpful, full of advice and encouragement, while also coming across as human and fun."
Program Details
Program:
World Recognized CELTA (TEFL/TESOL) Course in Barcelona
Starting Price:
$1,600.00 USD
separator_solid
---
2. TEFL Iberia
Best for long-term teacher development
Program length: 4 weeks
Price point: $$
What's included: 160-hour course, access to materials library and computers at the school, examination and certificate fees for the Trinity CertTESOL, student visa with Developing Teacher Course
✅ Pros:
TEFL Iberia offers price discounts for paying early and in full.
Graduates of the Trinity CertTESOL are recruited by TEFL Iberia's host academy for teaching positions.
❌ Cons:
Be ready to work hard -- past students say the workload was intense.
Housing is not included and the option offered by the school is pricey.
TEFL Iberia is a 160-hour TEFL program located in Barcelona, one of the most vibrant and charming cities in Spain. This course culminates in a Trinity CertTESOL qualification, which was developed by Trinity College London and is recognized worldwide.
You will receive support and guidance throughout your program, including help with job placement. TEFL Iberia provides support to non-EU citizens in the form of an ongoing, year-long teacher development program that allows students to apply for a student visa. Most of the additional professional development coursework is online to accommodate working teachers.
Past TEFL Iberia participants found the organization extremely helpful not only through the duration of the course but afterward, helping graduates craft a teaching CV and connecting them with a network of English teachers around Barcelona.
"The staff are SO friendly and helpful, they are always on hand to guide you through the course and create a relaxing atmosphere for you to learn. The course has a mix of input tutorials and teaching practice. What I loved about the course is that you practice your teaching skills from week 1."
Program Details
Program:
Trinity CertTESOL Course in Barcelona or Seville
Starting Price:
$1,700.00 USD
Students, Building your resume, Solo Travelers
Good for
separator_solid
---
3. TtMadrid
Best for 100% job placement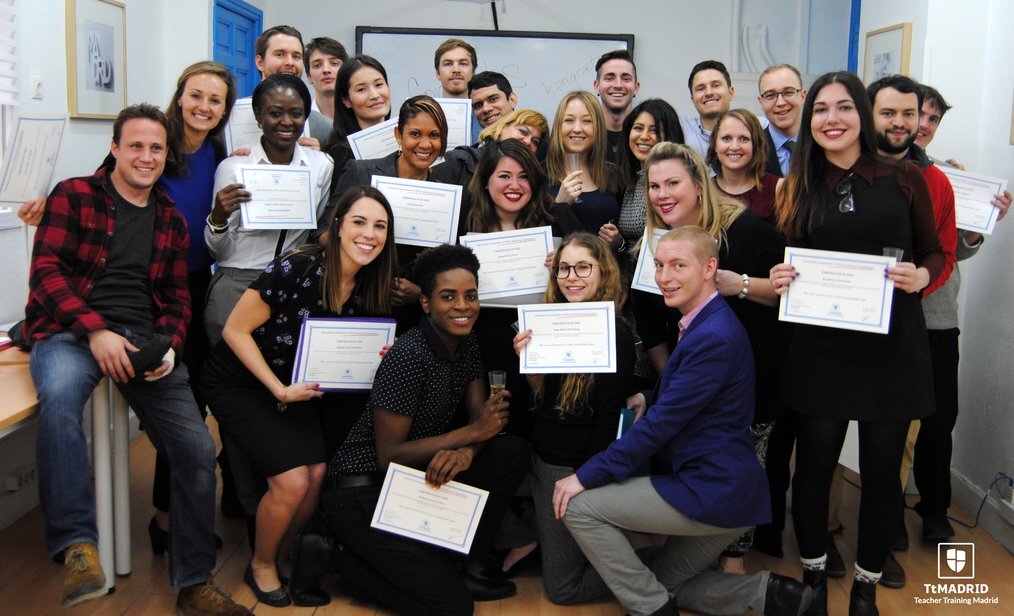 Program length: 4 weeks
Price point: $$
What's included: teaching practice, all course materials, up to 400 photocopies, guaranteed paid teaching placement and visa support (for the Advanced TEFL course)
✅ Pros:
The extended option offers both intensive and evening Spanish classes.
TtMadrid helps you open a bank account and provides resources to find housing.
❌ Cons:
Both the 4-week and long-term programs are intensive and require additional hours outside of class for study and practice.
Housing isn't included so you will need to secure that upon arrival.
TtMadrid offers two different courses for prospective TEFL teachers. Their standard TEFL certificate-only option is for non-EU citizens who don't plan to stay in Spain and work after completing their course. This is a great choice if you are looking to teach in another country but want to spend a month living in Madrid.
If you do want to teach English in Spain though, they have another course at a higher price point that includes both the 4-week 120-hour TEFL certification as well as a year student visa that allows you to work up to 20 hours a week. This course also provides you with ongoing professional development which will lead to an advanced TEFL certificate through the Universidad Europea del Atlántico.
TtMadrid has connections with over 300 academies and agencies across the city and can help you land a job, whether you want to work with children or adults. Their daily job alerts will be delivered to your inbox for as long as you choose, even after you complete your training.
"It was an amazing experience because I got to meet a lot of people who became my friends. Studying at Tt madrid was like learning with a family because you will enjoy every minute of it. Great course, intensive but definitely a different taste of experience."
Program Details
Program:
TtMadrid TEFL Certification Course in the Center of Madrid
Provider:
TtMadrid TEFL Certification Course
Location:
Multiple Countries
separator_solid
---
4. Canterbury TEFL
Best for free visa renewal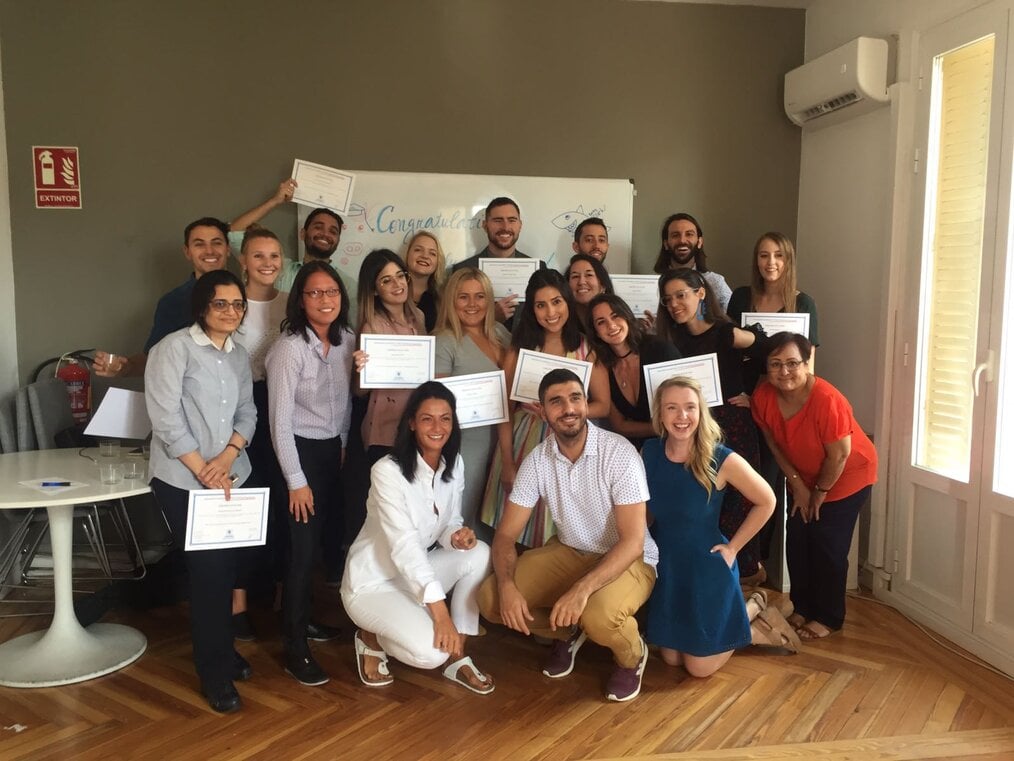 Program length: 4 weeks
Price point: $$
What's included: Spanish classes, paid teaching practice, guaranteed teaching job, optional summer camp job, access to internet and photocopying, teaching children and adults added modules (20 hours each)
✅ Pros:
Paid teaching practice helps defray the cost of the TEFL course.
The option to obtain a student visa allows you to work for 20 hours a week.
❌ Cons:
The included Spanish lessons only go to A2 so if you have a higher level they may not be for you.
Housing isn't included and must be arranged separately.
Canterbury TEFL's mantra is that participants in the four-week course become family. They arrange various outings and social events around Madrid for students and also include Spanish classes in the course fee. Canterbury TEFL wants its students to not just learn and teach in Madrid but become immersed in the language and culture while meeting new friends.
If you have big dreams of legally teaching in Madrid after earning your TEFL certificate, Canterbury TEFL provides assistance with visas and job placement. In fact, they offer job placement for life after completing the program. You can choose from a 6-month or year program with the option to renew your visa for free if you want to stay longer!
"The TEFL course was extremely well organized and the teacher John's expertise is invaluable. The director, James, was always available to answer my questions and helped make my transition to Madrid very smooth. He took great care in pairing me with students when I began teaching English."
Program Details
Program:
TEFL Certification Programs and Teaching Jobs in Madrid, Spain
Building your resume, Students
Good for
separator_solid
---
5. TEFL Heaven
Best for job search assistance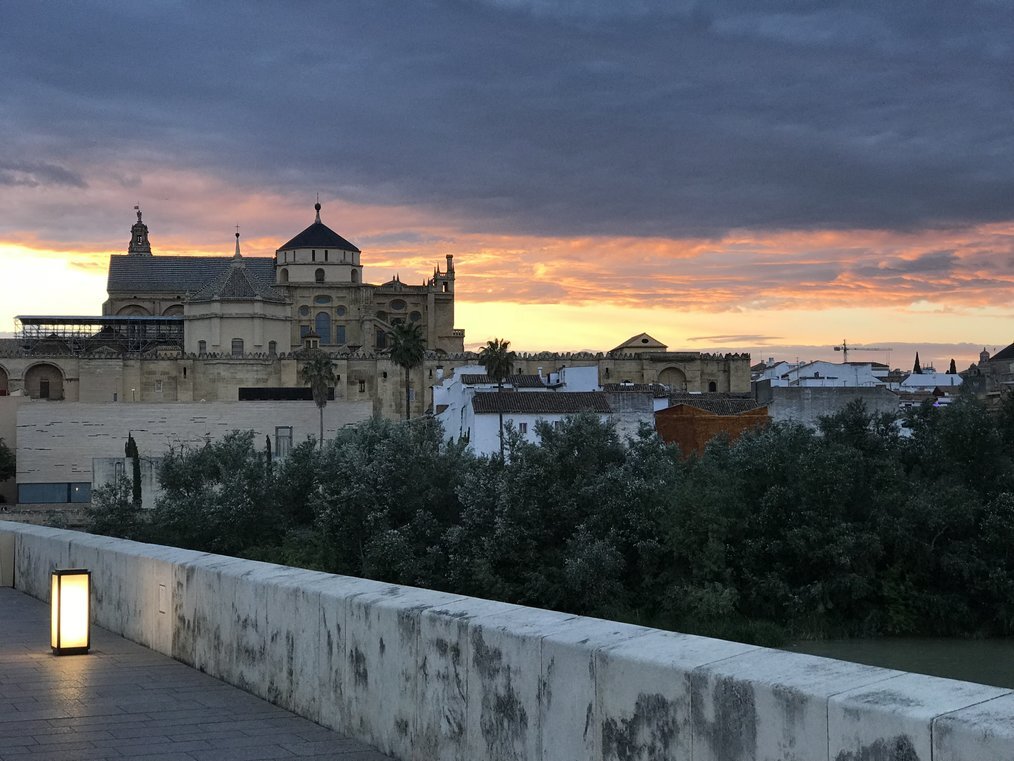 Program length: 4 weeks
Price point: $
What's included: visa support, lifetime job assistance, job support after course, 3 hours of Spanish classes a week
✅ Pros:
Non-native speakers with a good level of English are welcome to apply.
Past participants felt the course instructors were extremely knowledgeable and supportive.
❌ Cons:
The cost of the course is a bit pricey.
Aspiring teachers without a bachelor's degree can't participate.
TEFL Heaven's Make it in Madrid program is for non-EU citizens who want to legally live and teach in Spain. By taking language classes on the side, you're entitled to work up to 30 hours outside of your studies (which is more than the average 20-25 hours). It's the perfect way to grow your teaching career while improving your Spanish.
TEFL Heaven's course is praised by past participants who thought it was rigorous while not being too overwhelming. Staff is professional and supportive, equipping you with the knowledge to be successful as an English teacher after you finish your 120-hour TEFL certificate.
After you complete your teacher training, TEFL Heaven has a 30-day job guarantee. You'll receive help crafting your CV and you'll get access to job opportunities both in Spain and worldwide.
"Finding a job was also very easy, at the school they helped me with my CV and I also looked for work online. By the second week of graduating I had already began teaching."
Program Details
Program:
TEFL Heaven Spain | TEFL/TESOL & Placement Program
separator_solid
---
6. ITTT TEFL
Best for teaching practice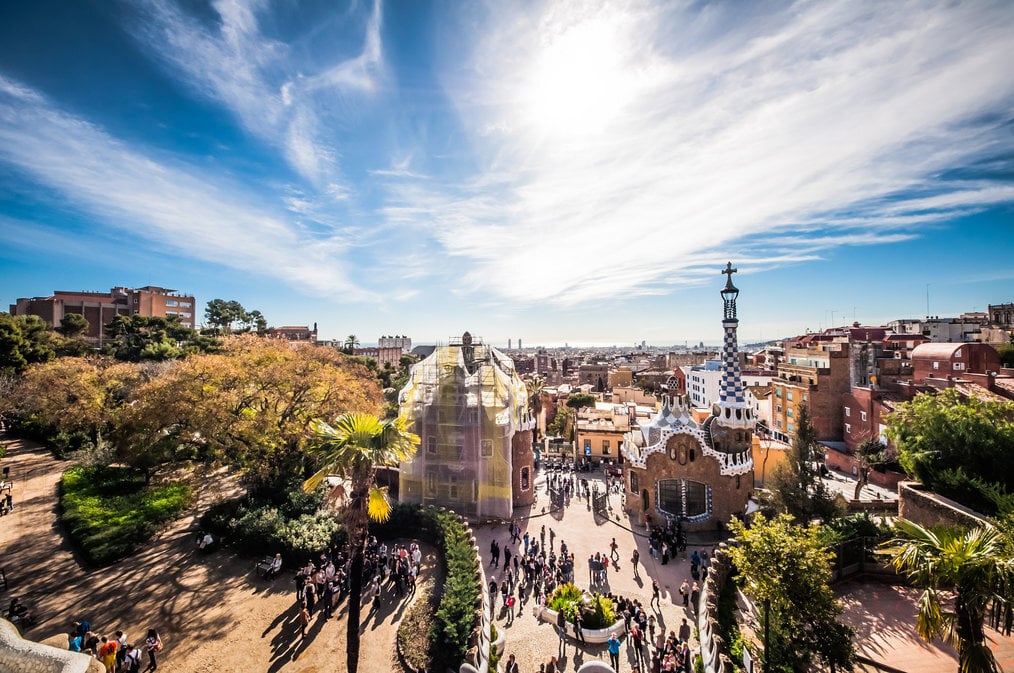 Program length: 4 weeks
Price point: $$
What's included: course materials, observed teaching practice, access to teaching materials at the training center, optional arranged accommodation at an additional cost
✅ Pros:
ITTT has modern and well-equipped facilities, even a rooftop terrace to relax, study, and lesson plan on.
Trainees are guaranteed 6-8 hours of observed teaching practice with real local students.
❌ Cons:
ITTT does not offer programs that grant long-term student visas to non-EU citizens -- you won't be able to work in Spain after your TEFL program.
You will need to bring formal clothes for your observed teaching practice hours.
ITTT TEFL could be just the program for you if you want to enjoy the beaches and nightlife of Barcelona while earning your accredited TEFL certificate. The training center, located in the city center, has everything you need to succeed on your course and prepare yourself for a great career.
Central to the ITTT experience is the observed teaching practice. Trainees will teach both large and small groups with a variety of students. This diverse teaching practice is key to feeling confident in a range of settings. After every session, you'll receive constructive feedback from professional course leaders.
Note that ITTT's program doesn't include a student visa which will allow you to stay and teach after your course. If you're interested in teaching in Spain following your qualification, there are programs like the language and culture assistant program through the Spanish government.
"Through out the course the instructors gave me the tools and knowledge that helped me to become a good English teacher. They provided great feedback from the observed practice classes that I taught. At times the class did feel a bit overwhelming like having to prepare for the final test but overall it helped me become more prepared in my future teaching job."
Program Details
Program:
ITTT TEFL Course in Barcelona, Spain
Starting Price:
$1,580.00 USD
You can teach in Spain in 2024
If you're looking for a life change or are exploring your post-graduation options, why not give Spain and a career teaching English a try? All of the above courses will prepare you to be an effective teacher whether you choose to stay and work in a city like Madrid or Barcelona, or go further afield to countries like China or Japan. Do something new and earn your TEFL certificate abroad in 2024!
Learn more about living and teaching in Spain: