Gap Year
Gap Year Travel Itinerary Ideas by Region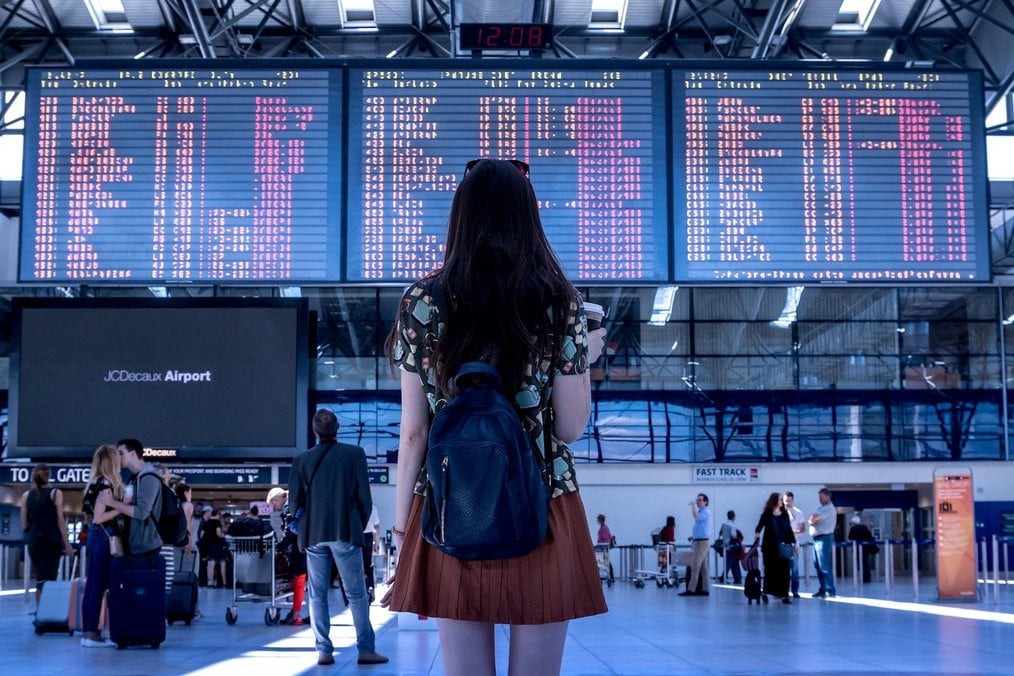 To get the maximum experience out of your gap year, both in quality and quantity, you're going to need to plan your gap year travel itinerary.
This isn't to say that you have to stick to it like your life depends on it -- you should never let plans get in the way of following cool adventures you never before knew were out there -- but having a basic itinerary will help you discover things you'd like to see, and how much money you're going to need to get there.
And when you know you can't see the whole world, how do you decide what you will see? We've broken down four popular regions, Europe, Latin America, Southeast Asia, and Oceania, and given regional gap year travel itineraries for each to help get your gap year wanderlust flowing:
Gap Year Itinerary Ideas for Oceania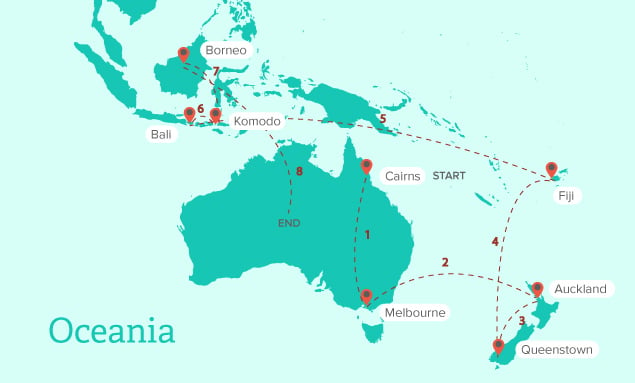 This includes places like Australia, New Zealand, the South Pacific Islands, and Indonesia. This is actually an ideal location, because you'll be able to work with the high wages of Australia on a working holiday visa, while taking long side-trips to the relatively cheaper surrounding countries -- very few of which require you to actually grab a visa beforehand.
Start off in Australia on a working holiday visa. The East Coast is the most popular stretch to see and allows for plenty of working opportunities in the cities and small towns that line the beaches. Start in Cairns and work your way south (stopping at plenty of adventure destinations along the way), before arriving in Melbourne a few weeks or months later.
Fly out of Melbourne and land in Auckland, New Zealand. The North Island is a better starting point for the Land of the Long White Cloud, and it's all uphill as you head down south. You can get a working holiday visa here as well, but depending on how you wish to divide your time, you can also see the whole country in as little as one to three months.
Explore even more adventure travel destinations, along with great WWOOFing opportunities and backcountry exploration. End your time in New Zealand by flying out of either Christchurch or Queenstown on the South Island.
Head on over to the South Pacific islands, like Fiji, Tahiti, Vanuatu, Tonga, and Samoa. After so much travel, you can enjoy some relaxing time on the beach, and since these islands are so small, you can take your time and still see what you'd like to see in just a few weeks.
When you're suitably decompressed, fly on over to Indonesia for some more adventure. Soak up the spirituality (and the nightlife) on Bali, go snorkeling with manta rays off Komodo, and see some wildlife on Borneo and Java. Depending on how much time you spend in each place, you can get back to Australia just in time to watch your year run out.
Gap Year Itinerary Ideas for Southeast Asia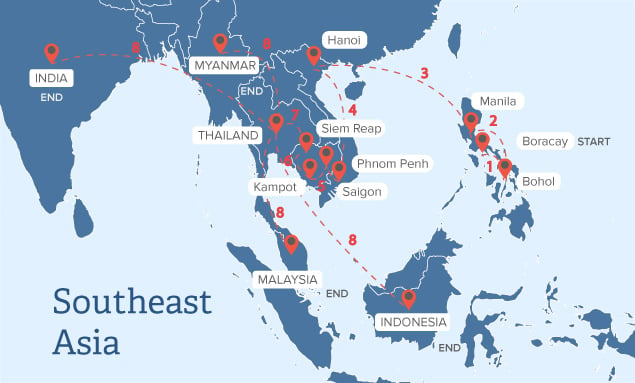 This region encompasses countries like Thailand, Vietnam, Cambodia, Burma, Malaysia, and Indonesia (a little overlap from our last region... which also means you could combine the two). Many people also find time to stop by the Philippines, India, or Nepal when traveling through here, a well-worn backpacking route often called the Banana Pancake Trail.
There aren't usually working holiday options in these countries, but they're so darn cheap that you won't even need them. Visas are usually easy to acquire (we're talking $20 and a few days notice) and last long enough (a few months at a time) that you can see everything you'd like to see and more in each country before you have to move on.
If you want to hit the Philippines, do it first. It's the only country off the mainland, and you'll save money by only taking one flight over the South China Sea. You could spend years in the country of 7,000 islands, but if you want to see the rest of the region, you'll have to pick and choose. Boracay is a touristy island that will ease you into the culture before heading off to the likes of Bohol, Cebu, Palawan, and Luzon, where you can hike through rice terraces, go scuba diving among giant black karsts, and fly through hills on motorbikes.
Fly out of Manila into Hanoi, Vietnam. Luckily, this country is essentially one giant line, so either buy some bus tickets or (and this is the best way to see the country by far) or get a motorcycle for about $300 and drive it all the way to Saigon, where you can sell it for roughly what you bought it for. Trains are an option, but more expensive. You'll catch just about every great stop by virtue of heading south.
From Saigon, catch a bus out of the country and into Cambodia. See the lowest lows of Khmer culture at the Killing Fields of Phnom Penh, then see their highest highs as Angkor Wat in Siem Reap. Stop in Kampot, Kep, and Sihanoukville along the way, and if you brought your malaria tablets, journey into the deep jungle for some epic hikes.
From Siem Reap, catch another bus into Thailand. See the temples and villages of the north, or head south to tropical beaches and massive parties. Many tourists choose to start their tour in Thailand, as the tourist culture is much more developed there, so you'll certainly have some stories to tell the fresh-faced at this point.
And here the road forks. You could conceivably continue south into Malaysia and Indonesia, or you could head west into Burma and even India. If you've been traveling slowly, your year may even be up, and you could head home. No matter where you go next, you won't be able to step outside on a humid day without nostalgia taking you straight back to that first day in the Philippines.
Gap Year Itinerary Ideas for South America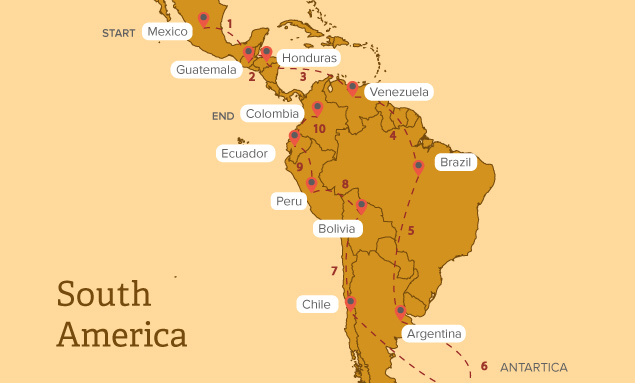 The continent of South America is similar to Southeast Asia in terms of costs, but it's often more accessible, since it's culture is more Western in nature and there are more options for staying. Major cities like Buenos Aires are popular places to settle in for a bit if you can find work (usually with a teaching job), while WWOOFing in Mendoza and Chile are good ways to extend your stay.
If you're coming from North America, getting to South America is even easier -- there's no pesky ocean getting in the way. Adding a Central American driving tour through Mexico, Guatemala, Honduras, and the ilk will be a good chance to see just how culture evolves the further it gets from home. Plus, that means you'll have your own motor to take around the continent, Motorcycle Diaries style.
Like Che Guevara himself, the best way to see the region is to jet around the edges, taking the occasional foray into the wilder interior. You can go paragliding in Venezuela, celebrate Carnaval in Brazil, go tango dancing in Buenos Aires, and more.
If you're feeling splurgy, stop in Ushuaia, Argentina. It's the civilian's gateway to Antarctica, and while cruises cost an arm and a leg... I mean, you get to go to flippin' Antarctica.
Head back up north along the west coast of Chile, Bolivia, Peru, Ecuador, and Colombia. Stop through world-class sites like Salar de Uyuni, the Death Road, and Machu Picchu before winding your way back up to the land from whence you came.
Gap Year Itinerary Ideas for Europe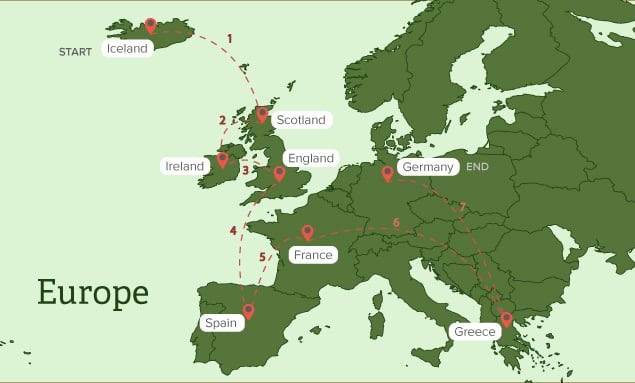 Then there's Europe. The mythical place to spend a gap year. Of course, you'll probably never be able to afford spending an entire year here, even if you could get around the immigration laws (90 days in the Schengen Zone for every 180 days for a standard visit). But if you do manage to rustle up a program that allows you to work, and you're willing to couchsurf and hitchhike, and your parents are feeling generous, then it's theoretically possible. Don't give up just because you reach a few hurdles.
Start in Iceland. As a big ol' island, it's remote enough that you'll want to see it first. Rent a car and drive a big circle around the entire island, making sure to stop and get out as often as possible to check out all those volcanoes and waterfalls.
From there, the next stop is Great Britain on your way to the mainland. You know them, the closest thing to Americans you can get without a bald eagle on their shoulder. Explore the highlands of Scotland and the breweries of Ireland. Maybe stop for a music festival in good ol' England. I hear Glastonbury's alright.
Catch a tunnel ride, a ferry, or a flight and head to the mainland. From here, you're essentially good to go no matter where you want to head. Europe is dense and, with a huge system of highways, trains, and a good ol' hitchhiking culture, incredibly easy to get around. Consider a Eurorail pass and you can cross the continent in a day.
Run with the bulls (or just throw tomatoes at people) in Spain. WWOOF on a vineyard in France. Go sailing in Croatia and Greece. Visit a war memorial in Germany. It's really a shame it's so difficult to stay on the continent for such a long period of time -- the most developed region on the planet could take lifetimes to fully appreciate.
The main obstacle here is making money. You can still get the working holiday visas for certain countries, but if you're only staying in a country for 1-3 months, it limits your employment options. This is why so many choose the cheap Southeast Asian countries to spend a year -- you can make it on only a few thousand dollars if you're careful. Look into WWOOFing and couchsurfing as ways to extend your stay.
See The Whole World on Your Gap Year
Still can't make up your mind? Did you get more wanderlust from this bucket full of ideas rather than find the direction you were looking for? Well, you could always throw these four itineraries together and try to make it around the world -- but we'll leave the RTW stuff up to the experts over at BootsnAll (they've got a killer RTW flight planner too... just sayin').
But for most of you, the question now is: which one will you choose? Let us know in the comments below!