Teach Abroad
How to Get a Job Teaching English in South Korea
Teaching English in South Korea has become a wildly popular way to get paid while traveling the world, and it's easy to see why. The salary and benefits offered are some of the highest in the industry, you don't need a teaching background or experience, and it's just a quick plane ride to dozens of epic travel destinations.
In my opinion, living [and teaching] abroad is one of the best things you can do!
If English is your native language, you have a completed Bachelors degree, your criminal record is clear, and you hold a passport from the USA, Canada, Ireland, the UK, Australia, New Zealand, or South Africa, then guess what? The dream of teaching English in South Korea is well within reach.
In my opinion, living abroad is one of the best things you can do, especially if you are looking for an adventure. You'll add invaluable experience to your resume, broaden your horizons, and even save some money for a rainy day. Take some time to look into this opportunity and it won't be long before you agree with me when I say, "you should probably do this!"
Why Teach English in South Korea?
No matter what your motivations for teaching abroad may be, South Korea is a fantastic option for teaching ESL in Asia. Compared to most countries, South Korea offers great starting salaries, numerous benefits, and an unforgettable cultural experience. On a typical teacher's salary, you will be able to save money, live comfortably, and travel. But, you've undoubtedly heard this about other teach abroad destinations as well. So why should you teach in South Korea? Well...
Free housing: You won't pay rent. No seriously -- a studio apartment is included in your benefits package, and your employer will pay your rent for the duration of your time in Korea.
No experience needed: You don't need a background in education, and it's okay if you don't have formal teaching experience. All you need is a Bachelors degree… in anything! Schools in Korea value you because of your native English fluency. I know it sounds too good to be true, so I'll put it another way: are you flexible? Energetic? Willing and open to change? You like kids, right? And English is your native language? Done. You're hired. (Psst, but we still recommend getting TEFL certified first.)
You get to travel: ... like really travel... riding yaks in Nepal, camping along the Great Wall, windsurfing in Bali, skiing in Japan, cooking classes in Thailand, hiking in New Zealand… should we keep going?
Koreans are some of the most friendly, enthusiastic, and passionate people on the planet. They're hospitable, engaging, and endearingly stubborn. They love to laugh. Some will make you want to rip your hair out, and some will become like brothers and sisters. The friends you make in Korea will be loyal, steadfast friends for life.
You'll become a global citizen: Your view of the world will be challenged, it will stretch and grow to make space for the new people you meet, the stories you hear, the culture you encounter.
How Do You Find a Job Teaching in Korea?
Sold on teaching in Korea? Well, your next question likely is "how?" because there's likely a lot to finding a job in South Korea that you don't yet know. But first, you'll need to think about who and where you want to teach. Most specifically, do you want to teach in a public school or a language academy (aka Hagwon)?
Types of Teaching Jobs in Korea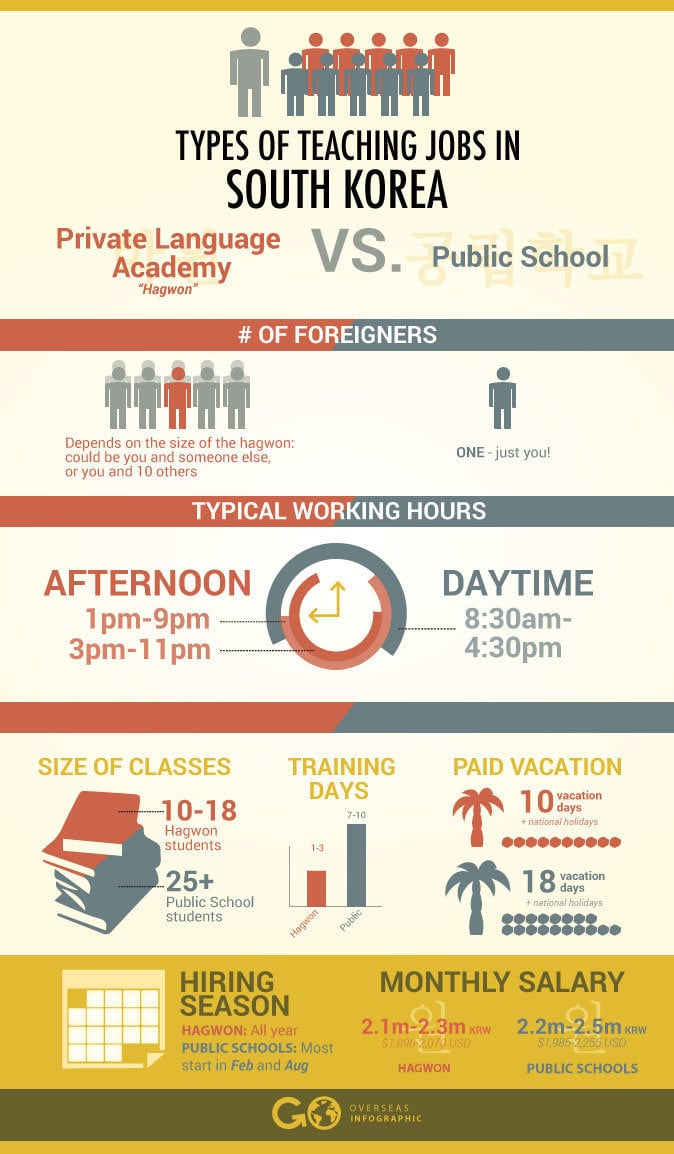 Where Do I Start the Job Search?
Before you even begin applying to jobs, you'll want to figure out how to market yourself. In my experience working for a recruiter, Korean employers are looking for energetic, outgoing, enthusiastic teachers.
The more you can do to demonstrate that, the better. While you'll still be able to find a job without one, we also recommend demonstrating your commitment (and learning how to be a great teacher!) by completing a TEFL certification course.
Another easy way to show your enthusiasm for living and teaching in Korea is to brush up on your understanding of Korean history, traditions, and language. No, we're not suggesting you become fluent in Korean (and, sometimes, schools prefer teachers not to speak Korean) but familiarizing yourself with a few key phrases can put you well ahead of the curve. If you're really determined, you can try getting some formal teaching or tutoring experience under your belt before departing!
Choosing a recruiter all depends what you're looking for, and what kind of experience you want.
Once you've wrapped your mind around what it means to teach English in Korea, the next step is often to choose a recruiter. Although you can find a job independently, having a recruiter on your side is incredibly helpful and a common way for teachers to find jobs. Of course, not every recruiter is of the same caliber, so here are some things to consider when choosing one:
Recruiters Know the Work Visa Process: and the good ones will help walk you through it. You'll avoid countless hours of research, and ensure that you don't make small mistakes that cost you time and money.
Every Recruiter Has a School Network: if you work with a recruiter, you'll likely be submitted to more jobs than you would if you're only looking on your own.
Culture Shock: let's face it! You need some cultural training. The really good recruiters will give you tons of info on Korean culture, lifestyle, traditions, workplace nuances, and arrival information so that you can better manage the culture shock you will inevitably experience your first few weeks.
Assistance After Arrival: you won't be alone if something comes up! Most recruiters don't offer this service (their service ends when they've placed you at your school), so be sure to hook up with a recruiter that will be available to you via phone or email after you arrive in Korea.
Choosing a recruiter all depends what you're looking for, and what kind of experience you want. If your priority is simply to land a job, and to find it quickly, you'll probably want to work with a company that is known for having tons of job openings at any given time. If you want to make sure you get placed in a reputable school, and you're willing to wait for something that will be a good fit, you should work with a recruiter that has a history of working with quality schools.
By taking the time to investigate the mission, vision, culture, and past teacher experience before working with any recruiter, you're sure to find one that suits your goals.
This is where reviews (like those on Go Overseas' Teach Abroad listings) are incredibly helpful. See what others have to say about the recruiters you're interested in and even contact a few to see if their reputation matches reality.
In the end though, it's hard to say what makes a "good" or "bad" recruiter, because each company has a different mission. But by taking the time to investigate the mission, vision, culture, and past teacher experience before working with any recruiter, you're sure to find one that suits your goals.
Where Do I Find a Recruiter?
Right here on Go Overseas, obviously!
No, but really, there are some other great ways to find a recruiter. For starters, there's the tried and tested Google search. If you go this route, you should look for a company with a personable and upfront approach that conveys professionalism. Does the company have pictures of their staff on their site? You'd be surprised how many don't! Be wary of companies that aren't clear about the process, and steer clear of companies that promise you the moon. And remember: you should never have to pay a recruiter.
If that doesn't turn up any luck, try your university's job boards. You never know what you'll find. While you are at it, why not ask your college's career center or international office if they have any info on recruiting companies. Chances are they'll point you in the right direction.
Offline, referrals are a powerful way to find a good recruiter. Especially those from friends or family -- one of the best ways to find a great recruiter is to get a referral from a friend. Ask around and you'll get honest opinions. If someone you know had a good experience, then it's likely you will too.
And finally, Korea-focused forums are a good resource. We recommend trying Waygook. If that's still a no-go, there are also some good TEFL sub-reddits on Reddit.
"Okay, I Have a Recruiter. What Happens Next?"
Once you've found a recruiter that you like, expect the next part of the process to go as follows:
Your recruiter should be able to provide you with step-by-step instructions on how to get your visa documents, if you don't already have them. Be sure to gather them quickly -- most recruiters can only submit you for jobs once your visa documents are ready (and not before then).
For Hagwon Jobs: Your recruiter will submit you for jobs that match your age group and geographic preferences. You'll then have to wait until a director requests an interview with you!
For Public School Jobs: Make sure you work with a recruiter that is certified by the Ministry of Education! They will give you the application, help you fill it out, and submit you for the opening.
You interview with a school. These interviews are usually with the school director and conducted over Skype. You won't be given much notice, so be prepared to jump on a call when you least expect it! The format interview itself will be as varied as the number of schools there are in Korea! Some will be a few minutes and some will take up the better part of an hour.
Contract Offer: If the interview goes well, the director will send your recruiter a contract. At this point, you'll need to make a decision quickly in order to secure the job -- most directors prefer to seal the deal within 3-4 days. Be sure to get the email address of a current teacher before you make any decisions!
You Sign your Contract and get ready for the adventure of a lifetime. Your recruiter will help finalize your visa documentation and prepare you for departure (booking flights, packing, goodbye parties, etc!)
Do keep in mind that the public school process works differently than hagwons. With hagwons, you'll get the offer quickly and be expected to decide quickly. If you pass the interview with a public school, they submit your visa documents to immigration first and once your documents are cleared they will officially offer you a job. Don't worry -- if you do everything right, your documents will clear immigration!
Things to Take Note of When Going Through Your Contract: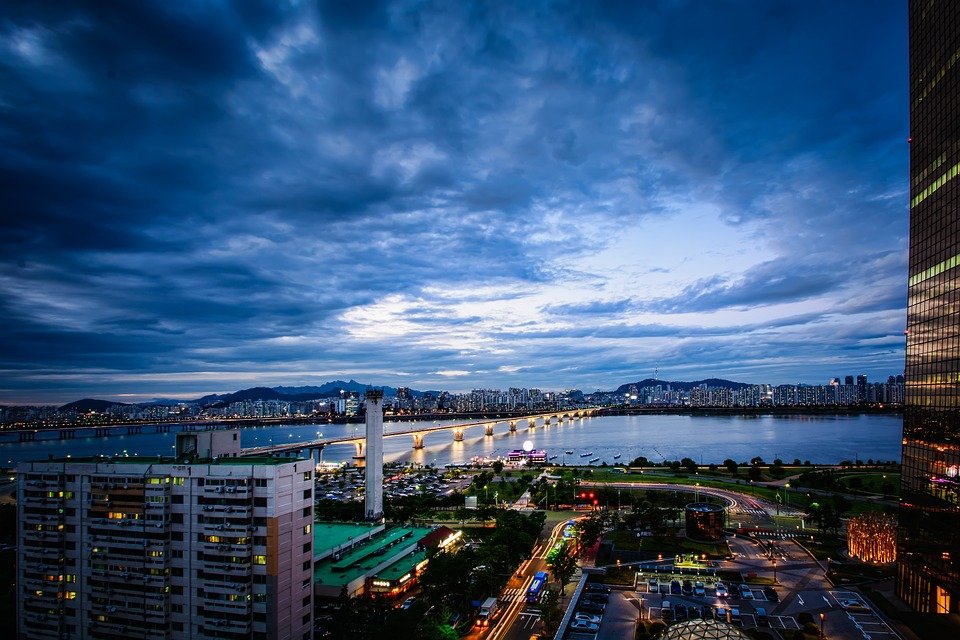 Alright, so now you've found a great recruiter, they hooked up you up with a job that matched your qualifications and goals, and you have a contract in hand. This isn't the end of things quite yet, because you'll still have to read it over and negotiate your salary and contract. Here are some helpful things to keep in mind when you review your contract:
Start Date: This date can change a bit, so be flexible. Immigration delays are common, which might affect your start date by a few days, or up to a week.
Salary: Should clearly state what day you will get paid each month, and the actual salary amount should be monthly, not yearly.
Accommodation / Housing: Your contract needs to clearly define if you're getting single housing, or a housing allowance. If you're getting a housing allowance (because you're living with a friend/partner), make sure the allowance amount is written.
Working Hours vs. Teaching Hours: Teaching hours are usually written in the contract (25 hours per week, for example). Your working hours will be different, and are usually listed as the hours you're supposed to be at the school. Some schools don't include this info in contracts, so be sure to ask your school what time you are required to be at work and what time you can leave.
Vacation Days: Confirm whether national holidays are included in those 10-15 days of vacation, if it doesn't already say so.
Airfare Ticket: Most schools reimburse your flight to Korea after you arrive. Some (but not all) will also provide return airfare. If your contract isn't clear, ask about it.
Medical Insurance: This is provided by the National Health Insurance Corporation (NHIC). 50% of the cost for medical insurance should be covered by the school, and you'll pay the other 50%.
Pension: Only Canadian, US, and Australian citizens are eligible for the lump-sum refund at the end of their contract.
Tax: Income tax will be between 3.5% - 7% for your first 2 years in Korea.
What Do I Need for the Work Visa? How Do I Get One?
Ahhh, the visa question. We understand that the visa process can be daunting but if you are diligent you'll be fine. Here's what you'll need:
A full Bachelors degree from a recognized university in an English-speaking country.
To be a native English speaker from USA, Canada, the UK, Ireland, Australia, New Zealand or South Africa.
A 100% clear criminal record.
An E2 work visa.
While not required, you should also consider getting a TESL / TESOL / TEFL / CELTA certificate.
We know what you're probably thinking -- hold up, E2, what? How do I get that? Fortunately for you, a signed contract is the most important (and difficult) visa document to obtain, but if you've followed the previous steps diligently, then you already have that. Remember, your recruiter will work with you to make sure you get everything ready, but for your own knowledge, you'll next need to submit the following visa documents to your school in Korea:
An apostilled copy of your Bachelors degree (if you're Canadian, you'll also need a set of sealed transcripts)
Apostilled original of your Federal-level background check
Photocopy of your passport
E2 Health Statement
Resume
Signed contract
4 passport photos
Once you receive your Visa Insurance number (VIN) from Korea immigration, visit the Korean Consulate in your jurisdiction with the following so they can issue your visa:
Your passport and one passport photo
Completed E2 visa application
Consul's Checklist
One set of official, sealed university transcripts
Your resume
Money for the visa fee
Now Get Teaching!
*Phew* And that's it: your step by step guide on how to get the job of your dreams teaching English in South Korea. Obviously, we hope this info will help you jumpstart your adventure as an English teacher in South Korea!