Study Abroad
Where Should I Study Abroad in Italy: Rome or Florence?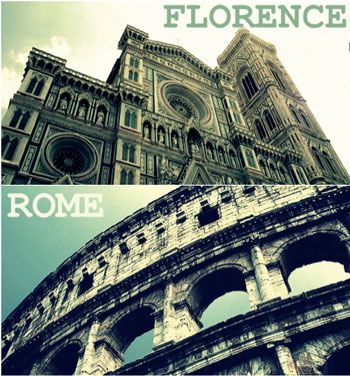 So, you want to live in the land of gelato, art, and 'La Dolce Vita'? Italy hasn't become one of the most popular study abroad destinations by accident – the allure of sipping cappuccinos, relishing in ancient architecture, and possibility of wooing attractive locals all seem to be irresistible to international students - and that's only scratching the surface!
As with anything, too much of a good thing can be a bad thing: in this case, Italy has countless amazing cities, all ripe with opportunity for every type of student. Italy's different regions and cities have their own flair, culture, and even food. The cities most oft chosen are Rome, the political capital and Florence, the art capital.
Rome and Florence are both special cities worth visiting on your study abroad trip, but you will ultimately need to choose one to live and study. Though it can be difficult to choose without having visited either, we recommend considering the following factors when coming to your decision:
Population, Climate, and Location
Best known for some of the most historical and recognizable structures in the world, Rome is the capital of Italy and lies in the central Lazio region. Rome is also home of the Vatican City, a city-state whose history is robust with religious fervor, and whose streets behold all of the Papal offices of the Catholic Church. On a grander scale, Rome has been named the 28th most important city in the world and the 11th most visited!
Florence, like Rome, is an ancient city that has modernized and yet retained its unique history. Florence is the capital of the region of Tuscany and is further north than Rome, though still considered in central Italy. It is home to the Uffizi museum, the Ponte Vecchio and most notably the Duomo. Florence is one of the top fifty fashion capitals in the world, and Forbes magazine has named it one of the world's most beautiful cities. Another perk of the smaller city is that Florence is typically a lot cleaner than Rome.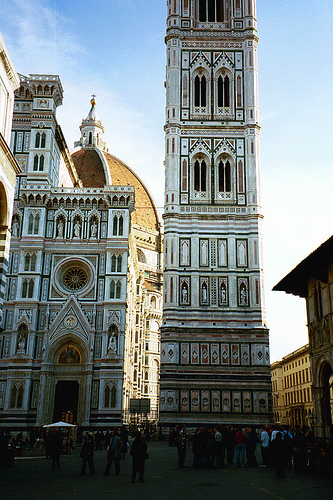 Though both look and feel like big cities, Rome's population of 2.6 million+ people is much larger than Florence's 400,000. If you like big cities where you can consistently use public transportation to get around, Rome is for you (just check out the bus system from Termini train station or hop on the metro). About the same size as Chicago, Rome isn't as pedestrian friendly as more-manageable Florence; however, there is always something new to be found. Even wandering and milling about will lead you to unexpected adventures around every corner.
Florence has a much more countryside, homey vibe than bustling Rome. This is a great city to break in your walking shoes, as it does not have a metro system. It won't take more than a couple weeks for you to know your way around the whole city center, no map necessary, chatting with the corner grocer across from your favorite cafe. Nothing transforms a destination into a home like exploring the entire city on foot. Florence is a city you can get to know inside out - that's not to say there isn't a city feel or plenty to do though!
As Italy is a peninsula, the majority of the country is surrounded by the Mediterranean Sea; thus, most of the country enjoys a mild Mediterranean climate. Rome rarely experiences snowfalls; instead, winters are marked with increased rainfall, with the summer season being more dry. The temperature hardly ever drops below 50 degrees Fahrenheit, so you can leave your snow boots at home (more room for souvenirs in your suitcase)! Students in Florence will enjoy a more hot and humid summer. As it's located in the Valdarno valley, winters are moderately cold and there is no dry season.
Rome and Florence are in convenient locations for students interested in traveling throughout Italy. Roma Termini and Florence Santa Maria Novella are major stops for TrenItalia, the train system that connects all of Italy's fabulous cities to each other. Additionally, Florence is only an hour away from the Pisa Airport, where many budget-friendly airlines like RyanAir and EasyJet have hubs (making the rest of Europe extremely accessible for students interested in traveling in nearby countries!). Fiumcino, another airport where cheaper airlines operate, is also located a quick hour ride from the Rome train station. If you're having a tough time deciding on which city is best for you, don't worry - Rome and Florence are less than 2 hours away from each other by train, so you will definitely get to experience both!
Universities in Italy
Because of Rome and Florence's popularity among international students, you have tons of great programs and universities to choose between for your study abroad trip. Both cities have been considered major educational centers since the Renaissance. A good first step to finding your perfect program is to talk to your university study abroad advisor to see if they have any partnerships with any Italian universities. If none of their options float your gondola, you can always do a bit a research to find a program in Italy that fulfills all of your interests!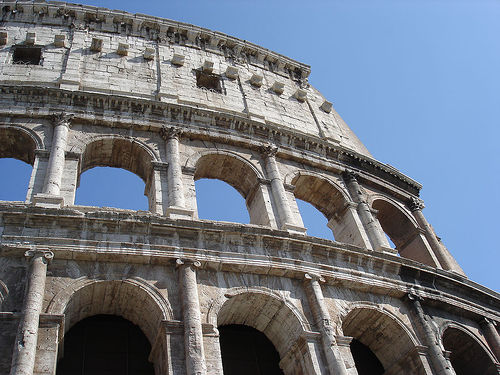 If you excel in speaking Italian, consider enrolling in courses at The University of Rome and University of Florence. Well known for their top-notch programs and sterling reputation, these courses are reserved for Italian-speakers only (as none of their classes are taught in English!)
In Rome, there are two American universities, John Cabot and the American University of Rome, that offer four-year degree programs to international students as well as semester study abroad programs. Courses range from the humanities, sciences, the arts, and Italian studies. In Rome, you essentially have the opportunity to take classes in whatever field of studies you are pursuing. The courses in Florence, however, are typically much more specialized.
Students seeking a truly authentic Italian learning experience will find that academic institutions in Florence are more intimate and focused. Some favorites are the Lorenzo de' Medici Institute and the Florence University of the Arts, which are great options for students looking for both short and long term programs. Florence is also robust with culinary and language schools. Because Florence is in the region of Tuscany, some programs will offer unique wine and cooking courses.
Cost of Living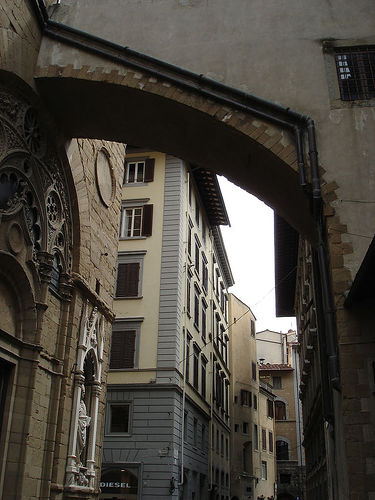 Rome and Florence do not have any strong differences in terms of daily expenses. Living in either city will cost you a bit more than living in New York, but of course if you plan ahead and budget, both cities are very livable.
To paint a clearer picture, let's look at a few specific costs broken down. When it comes to rent, Rome is more expensive; it would cost ~1500 Euro per month for a 1 bedroom in the city center verses ~1200 Euro in Florence. Food is slightly more expensive in Florence, with an average lunch costing between 12-15 Euro versus Rome's average of 10-12 Euro.
One important thing to remember is that Rome requires you to use public transportation almost daily, while you can get by without using it in Florence. This can save you up to 40 Euro a month in Florence!
Related: How to Study Abroad in Florence on a Budget
Things to Do
Rome and Florence are two of the most important cities in Italy and are international student centers. As many international cities today, both are equipped with lively nightlife, multiple restaurants for diners of all kinds, discos, bars, pubs, etc. But what else can these cities offer a student once the charm of countless nights out and convenience store wine wears thin?
Florence
If you love the Italian art and culture (and want to see legacies of the Renaissance up close), Florence's medieval charm will hypnotize you. The Renaissance and subsequent philosophical zeal for study, rediscovery, and revivals of classical art, culminate in a unique Florentine culture of antiquity and humanism. Florence is home to some of the greatest art works ever produced: Michaelangelo's David, the Birth of Venus by Sandro Botticelli, Fra Angelico's many religious frescoes in the San Marco, the list goes on and on! Another enjoyable element are the multiple palaces and gardens intermittent throughout the city, a living tribute to the Medici Family (or the House of Medici).
Shop-a-holics will enjoy the infamous San Lorenzo, a large, outdoor leather market just down the street from the Duomo. Additionally, there is plenty of opportunity to venture out into smaller Tuscan towns, just grab a bus schedule! Spend your weekends enjoying wine tastings in vineyards outside of the city or taking day trips to the nearby cities of Milan, Venice, and Rome.
Related: What to Know Before Studying Abroad in Italy
Rome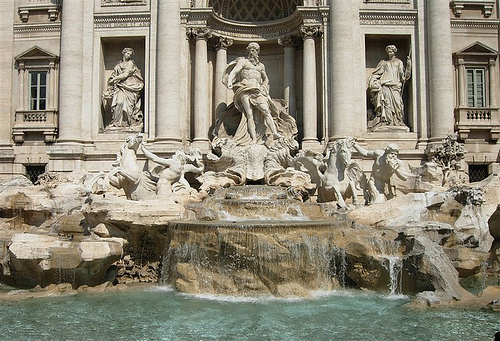 If ancient civilizations are more your cup of tea (er, espresso), you've probably had Rome on your travel bucket-list for quite some time. Rome is chock full of Roman ruins, so tap into your inner gladiator and check out the Colosseum, the Pantheon, and the Roman Forum (there is history around every corner, literally!). Even the most hopelessly romantic will find a light stroll around the city to be invigorating, especially after tossing a coin for luck in the Trevi Fountain.
Walking through the streets of Rome is like stepping back in time; the architecture is amazing and the atmosphere is unlike any in the world. Students should also spend time exploring the Vatican City, as it is home to St. Peter's Basilica, the Sistene Chapel and other impressive examples of world renowned art. If you're looking for short break from the city, students are encouraged to take weekend trips to nearby Naples, Capri, and Umbria!
Neither Rome nor Florence are places to spend your semester studying in if you love being surrounded by nature (though Florence is closer to the countryside). Additionally, neither city necessarily has "scenery" or a "skyline." Not to say that studying abroad in Italy won't give your camera a workout! - both cities have cool vantage points with great views worth scouting out. Generally speaking, Romans are considered more disgruntled and Florentines are more quiet and reserved.
The great thing about studying abroad is that you can take your time to discover all of the intricacies of your new home; there is no rushing, no trying to squeeze 80 things into three days, no stressing when deciding which Italian pizza to eat because you only have one chance. No matter which city you choose, you'll find unique and special places that transcend a typical tourist experience.
In the end, pick the place that sounds like somewhere you could call home. And if you want a more immersive experience, look for programs in smaller areas such as Venice or Milan. Just prepare yourself for an experience of a lifetime, full of adventure, new friends, and plenty of pasta!
TOP RATED PROGRAMS IN FLORENCE
TOP RATED PROGRAMS IN ROME