Study Abroad
The 7 Best Cities to Study Abroad in China
China is an increasingly popular study abroad destination... but it's a big country! Which city is right for you? Learn about the top cities to study abroad in China.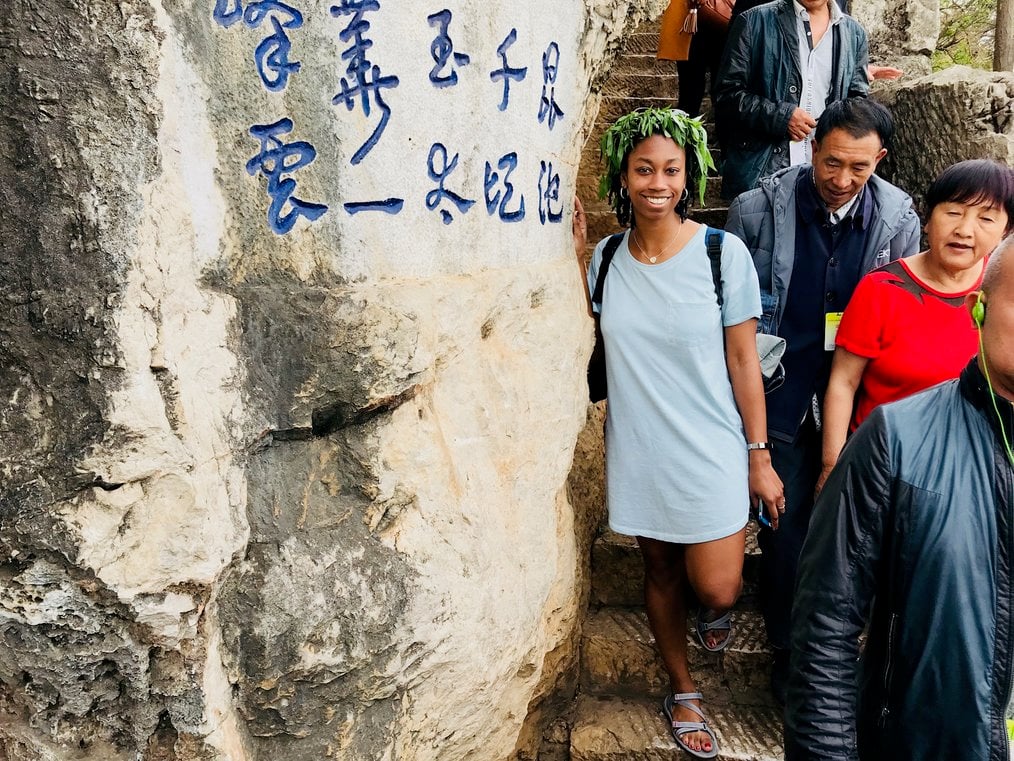 Let's be real: China is humongous. It is the fourth largest country geographically and has the highest population of any country in the world. 20% of all humans live in China after all -- that's over 1.4 billion people. There's something like 600+ cities in the country. Not to mention that six of them have over 10 million residents. This is getting overwhelming... but also a little exciting, if you plan to study abroad in China.
But how do you pick just one Chinese city to study abroad in? Well, it depends on what you want to get out of your time overseas. Whether you're a history buff, outdoor enthusiast, language learner, foodie, or city kid, China has dozens of cities that will fulfill your every desire. You have a hard choice to make. Choose wisely.
When I was in college, I chose Hong Kong for the combination of beaches, mountains, and city life. After class, I would head straight to my favorite bubble tea stand or do my homework at a cafe in the nearby arts center. On weekends, my newfound international friends and I would explore the markets or find a secluded swimming hole at a nature reserve. The decision to study in Hong Kong impacted my education tremendously. After returning to the US, I changed major to East Asian studies and never looked back.
Regardless of where in China you decide to study, the experience will boost your hire-ability after you graduate. China is an economic powerhouse. Gaining that firsthand experience studying in the world's business hub will build character and expose you to countless experiences that you never thought you would have. Go with an open mind, learn the regional dialect (it seems impossible, I know), and embrace the Chinese lifestyle.
1. Beijing: The Great Wall & Mandarin
Beijing is China's capital city and political center. If you're studying Mandarin or want to frequent Chinese historic sites, Beijing may be ideal. The juxtaposition of China's past and their future is evident throughout the massive city. The city has over 3,000 years of history crammed into nearly 6,500 square miles of sprawling geographic territory (about 20 times the size of NYC). Some of China's most notorious sites like Tiananmen Square or Temple of Heaven are just a short walk from some of the universities. You could venture to the Forbidden City after class and find yourself in a modern nightclub in the same evening.
This all sounds wonderful, but Beijing is not well-suited for those who prefer a smaller, rural educational experience. If you can't stand crowds, pollution, and noise, this is probably not your best bet. On the other hand, the Yanshan mountains are not far, neither is The Great Wall of China. There are loads of trendy neighborhoods to explore like Xisi and the 798 Art District. Plus, you can get around the city by bike, subway, train, or bus, so urban adventures are convenient. Just avoid taking public transit during rush hour if possible.
Many scholarships are available for studying in Beijing due to the influx of exchange students in the city. Additionally, Beijing may be pricey among Chinese cities, but it's much more affordable than any major European destination. Plus, your networking options are limitless if you intend on interning in China afterward.
Popular study abroad programs in Beijing:
2. Xi'an: History & the Terracotta Warriors
Although it's the city's most famous sight, Xi'an is more than just the Terracotta Warriors. It's the capital of China's Shaanxi Province and the eastern end of the Silk Road. For this reason, you'll notice Middle Eastern influence reflected in certain parts of this area. The street foods in the Muslim Quarter are worth the visit alone. Xi'an is also surrounded by a massive military wall, the City Wall, which is representative of the city's history as China's former capital.
Xi'an is rich with historic architecture, convenient public transit, and a wide variety of traditional Chinese cuisine. There is a lot of international tourism in this region due to the Terracotta Warriors, the city's claim to fame. You'll still get the modern eateries, bars, and nightclubs, but without the severe overpopulation that some major Chinese cities like Beijing and Shanghai are currently experiencing.
Xi'an will suit any Chinese history buffs appetite for experiencing China's cultural heritage without being smothered by big city life. The city is not suffocatingly large and is more laid back than others of its size. Students can explore science and engineering research opportunities at Xi'an Jiaotong University or get educated in the local history and culture.
Popular study abroad programs in Xi'an:
3. Guilin/Yangshuo: Where Mountains Meet Water
Guilin is an international destination for outdoor enthusiasts. Between Guilin and the nearby town of Yangshuo, you have world-class rock climbing, hiking, boating, biking, swimming, and caving. These smaller cities in southern China are connected by the Li River, a scenic river lined with limestone mountains that have eroded into unique shapes. Air pollution is much milder there, almost nonexistent (relatively), making Guilin a prime destination for students who like a more slow-paced lifestyle filled with unique scenery.
Like many other Chinese cities, people in Guilin speak Mandarin. They also eat lots of rice noodles. You can find them practically everywhere for less than one USD per serving. If you're more interested in spending your time exploring China's natural wonders than experiencing life in the big city, I highly recommend checking out Guilin or Yangshuo for studying abroad.
Spending a semester here will feel like a vacation, but with homework. Although Guilin isn't one of China's major cities, you'll never get bored with the local attractions and the cost of living is extremely affordable even on an exchange student budget. People here are welcoming, and the mountains are always waiting for you after class.
Popular study abroad programs in Guilin:
4. Shanghai: Global Finance & Sprawling Metropolis
With over 24 million people and counting, there's no surprise that Shanghai is the biggest city in China and the most expensive of those on the mainland. Supposedly, the biggest airport in the world will open in there in 2019. Shanghai is known for its impressive skyline and extreme excess. I'm taking regular Ferrari sightings and designer handbags everywhere. Studying in Shanghai is happening and glamorous, but you don't have to be rich to afford a semester here. There are plenty of low-cost options for studying, eating out, housing and transportation.
Related: How Much Does it Cost to Study Abroad in China?
This is an ideal location for students who love city life... and I mean really, really love city life because you'll live in the heart of one of the world's most populated cities! Luckily, travel from Shanghai is cheap and easy for those interested in seeing more of East Asia, but this city alone will likely keep you occupied for at least a whole semester. Plus, many of China's top-ranked universities are located here.
You have to try the Chinese-style brunches, get a super cheap massage, take a tai chi class, explore the street markets, and ride a maglev train before you go home. Shanghai looks more like a scene from a science fiction movie than the typical image of old China, but you'll certainly never run out of things to do after class.
Popular study abroad programs in Shanghai:
5. Chengdu: Gastronomy & Pandas
If you know anything about Chengdu, it's probably the Panda Base. There are indeed lots of pandas here, actually 80% of the world's giant pandas, and yes, you can go see them. Located in southwestern China, Chengdu is the capital of Sichuan province. Sichuan province is famous for their delicious, spicy Sichuan cuisine. The city has a notorious gastronomic scene. Local specialties include mapo tofu and hot pots. There's also more tea houses here than in Shanghai, which create a perfect atmosphere for working on assignments.
Chengdu is a fairly large city with a more laid-back atmosphere than other big Chinese cities. The city is flat, but the mountains aren't far, which is ideal for a complete escape from the urban lifestyle. Even a trip to the Himalayas over a break from school is quite reasonable from here.
Chengdu is a good in-between for students who love the outdoors, but still want to live in a major city. People here are friendly and speak in a distinct Mandarin dialect. On top of that, there are loads of university students in Chengdu to hang out with during your time overseas, and you can ride a bike just about anywhere within the city.
Popular study abroad programs in Chengdu:
6. Hangzhou: Lakes & Temples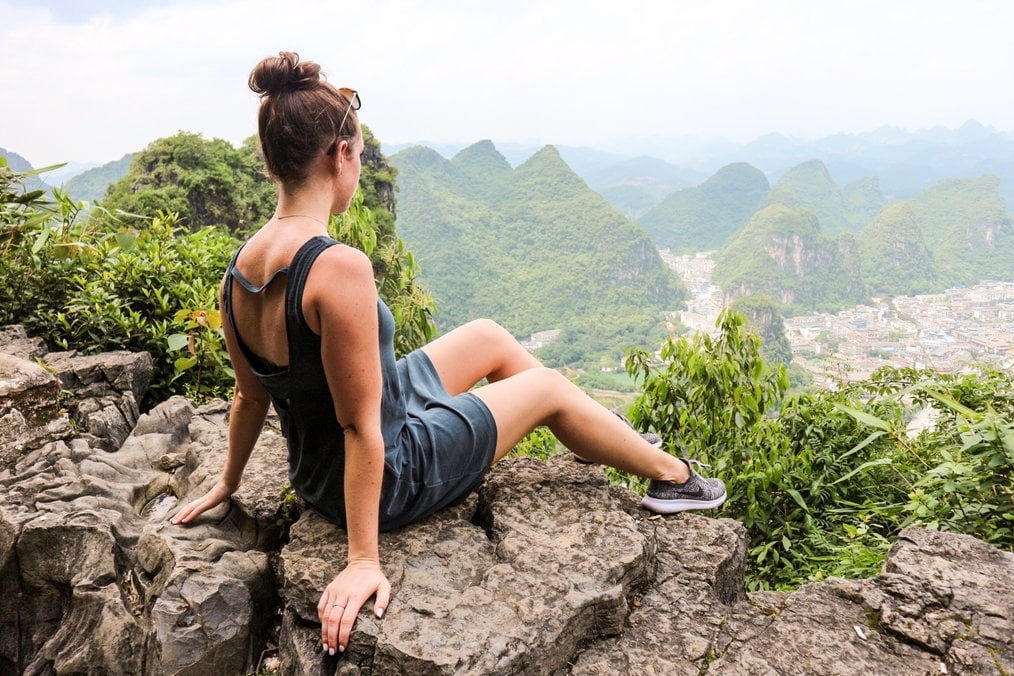 Eastern China's tech city, Hangzhou, is often referred to as "heaven on earth" for its views of the West Lake and rich traditional culture. Despite the intimidating population of around 9.5 million people, you'll still experience authentic Chinese culture in Hangzhou. The city is connected to Shanghai by the Grand Canal. They're only 110 miles apart, which puts you in close proximity to a major airport without having to study in Shanghai proper.
West Lake and the Grand Canal are two of Hangzhou's most famous sights. They are both recognized by UNESCO as World Heritage Sites. The 1,104-mile-long Grand Canal is manmade. Running all the way from Beijing to Hangzhou, the Grand Canal holds the title for the longest canal in the world. Hangzhou is a good all-around choice for those looking for a bit of everything during their study abroad experience. There are over 20 universities here so expect to see college students everywhere you go.
Popular study abroad programs in Hangzhou:
7. Hong Kong: Food & the Future
Hong Kong is technically a Special Administrative Region of China or "SAR" for short. Therefore, it's somewhat autonomous from China and the dominant language is Cantonese rather than Mandarin, but English is commonly spoken as well. They even have their own currency, the Hong Kong Dollar. This is, by far, the most expensive city on the list. If you don't know a single word of Chinese or Cantonese, Hong Kong is great. You can study in English and avoid speaking any other language the entire time you're there if you like (although I recommend learning at least a few key phrases).
Hong Kong may seem like another intimidating megacity, but there's something different about this one. Hong Kong is diverse. The local culture stems from British colonization, which only ended in the late-90s after well over a century of British Crown rule. You'll notice British pronunciations of stations such as "Admiralty" and "Prince Edward" as you ride Hong Kong's subway system, the MTR, throughout the city. Your fellow students will come from a wide variety of countries and cultures.
Due to the mountainous terrain, many areas of Hong Kong have been undeveloped, leaving pristine natural parks for public use. They're easy to access by bus or MTR. Some parks even have monkeys. They're also free, which is perfect for budget weekend adventures. Nature aside, Hong Kong is also rich in street food, culture, and nightlife. Egg waffles are sent from heaven, and Lan Kwai Fong is about as good it gets for clubbing after class. The best part about this city is that it caters to expats from around the world. If you have the budget, Hong Kong is worth it.
Popular study abroad programs in Hong Kong:
With all of these options, plus another few dozen thriving cities with study abroad programs, how do you pick? Try making a list of your priorities and interests. Compare that list to the offerings in each city. For example, If you're big into hiking and not into cities, Guilin might work for you. On the other hand, if you want the highest quality education, but also want accessible international travel, Shanghai or Hong Kong might check all of your boxes.
A few things to consider before you depart are how you will communicate with friends locally and those back home. China has a rigorous firewall (generally referred to as the "Great Firewall"), which prevents users from accessing certain sites like Facebook and Google. Invest in a quality VPN to ensure that you can still use these sites while you're overseas. Download WeChat, the most popular messaging app in China, to message with peers and Pleco for translation. Chinese is hard. We are incredibly lucky that modern technology has evolved to meet the needs of exchange students, so take advantage of any available resources and enjoy studying abroad in China!