Where in Ireland Should You Study Abroad?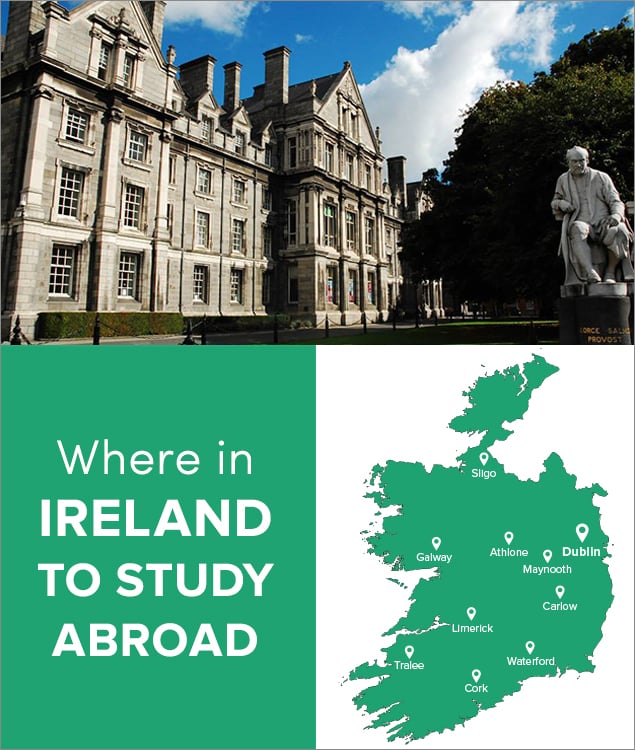 With stunning natural landscapes, a fun-loving culture, vibrant history, and a lower cost of living than many places in Europe, (not to mention English being the main language of instruction), the reasons why Ireland is an ideal location to study abroad surely weigh more than a pot of gold!
This island nation in the British Isles, home to 4.6 million people, is known for ancient castles, Celtic folklore, good beer, and miles upon miles of green. But where in Ireland can you study abroad? Surprisingly, there are only 20 universities in the whole country, spread out across ten different cities. Let's take a look at where in Ireland you can study abroad.
Dublin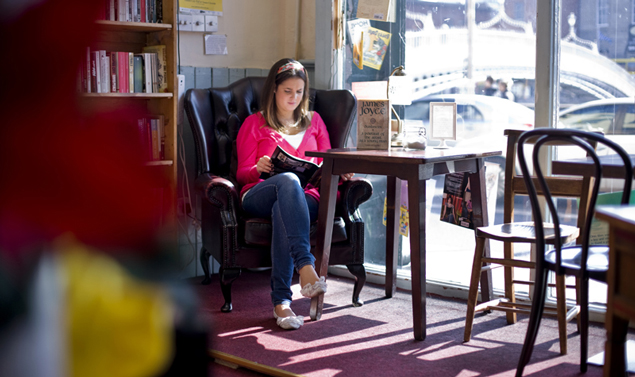 "When I die Dublin will be written in my heart," wrote author James Joyce. The quaint capital city of Ireland has had this effect on many, with its swirl of medieval and contemporary architecture and colorful spirit. With a strategic location on the East coast facing the Irish Sea, Dublin's history dates back 1,000 years.
Today it is the country's economic heart, as well as one of the more obvious cities, go to as a study abroad student in Ireland. While Dublin is a quieter capital city than many of its European neighbors, it is the country's largest city and also the most diverse.
Cross the River Liffey on the Ha'Penny Bridge to head to Temple Bar, a cultural quarter full of authentic pubs. Wander the picturesque grounds of the historic Trinity College, founded in 1592 by Queen Elizabeth I in search of the book of Kells. Explore your interests at the vast number of museums, from the Science Gallery and Gallery of Photography to the National Museum of Ireland and Little Museum of Dublin.
Limerick
Set in Ireland's mid-west region on the River Shannon, Limerick is Ireland's fourth largest city by population. Like many of Ireland's cities, Limerick was first founded by the Vikings in the 900s. The city was quickly conquered by the Irish who protected it with the thick, fortified walls of King John's Castle. However, modern Limerick is known as a haven for art – in fact, the city was named the country's first national City of Culture in 2014.
While the famous memoir Angela's Ashes, which recounts the author's gritty childhood here, may paint Limerick in a grim light, many find modern Limerick to be far from grim. The streets are dominated by funky eateries, museums, and street art that students will enjoy exploring in their free time between classes. Georgian architecture also dominates many of the buildings, giving the city an old-world feel.
Galway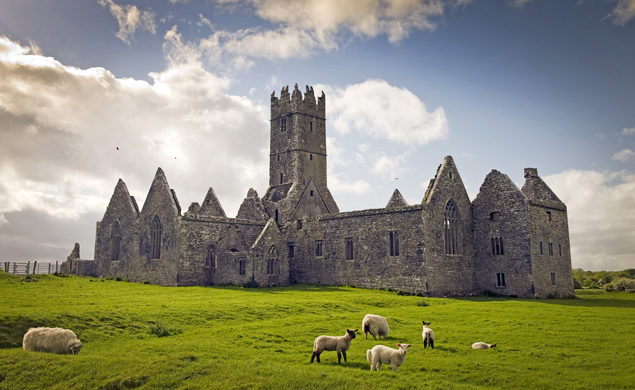 As acknowledged in Lonely Planet, "Galway is often referred to as the 'most Irish' of Ireland's cities." Indeed, with winding medieval lanes, quaint colorful homes and lively streets lined with pubs, the harbor city of Galway brings many of Ireland's iconic images to life. It's also the city where you'll be most likely to hear Gaelic, an ancient Celtic language that is still an official language in Ireland.
Most of the eateries, pubs, and cafes are located on Quay Street, which comes to life at night with the sounds of traditional live music and dancing. Kirwan's Lane offers a glimpse into the medieval world with twisting streets and buildings dating back to the 1500s. Galway Bay and the River Corrib are home to many fishing boats and a great place to observe Irish seafaring traditions.
Cork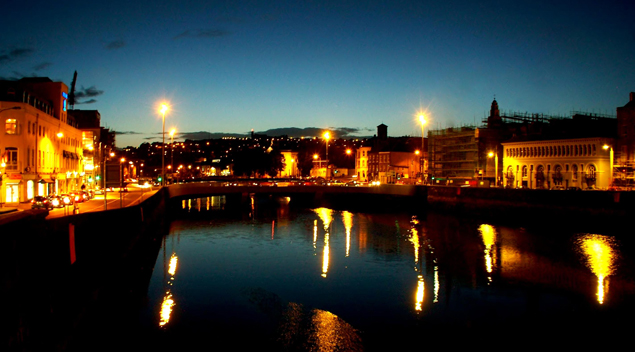 Ireland's third largest city, Cork, is located in the country's southwest region situated on the River Lee. Unlike most of Ireland's cities which were founded by Viking settlers, Cork was founded earlier as a monastic settlement in the 6th century. However, the Vikings later used its strategic location as an important trading center. Today it is known for its many waterways and the myriad of bridges, such as St. Patrick's Bridge, that help locals navigate the watery surroundings.
The people of Cork have a lot of pride in their city. The center includes a hodgepodge of architecture from Georgian, 17th century, and modern eras. Hit hard by the economic recession that began in 2008, Cork is rejuvenating itself with many independent eateries, pubs, and coffee shops.
Maynooth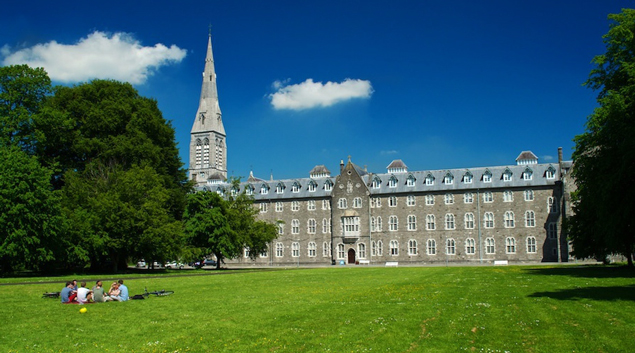 Whereas the United States is full of college towns, or cities dominated by the universities and students who study there, Ireland only has one – Maynooth. Home to three major institutions, Maynooth is located in Northwest Ireland just a short journey from Dublin. The town itself is quaint and full of nature. Campuses are sprawling and tree-lined.
Maynooth University is the National University of Ireland. While the overall population of the town may be low, more than 14,000 students from a variety of disciplines call this university home. Buildings on campus date back to the late 1700's, giving the university a majestic, time-honored vibe. Other universities in Maynooth include St. Patrick's College, the National Seminary of Ireland, and a Pontifical University operated by the Catholic Church.
Sligo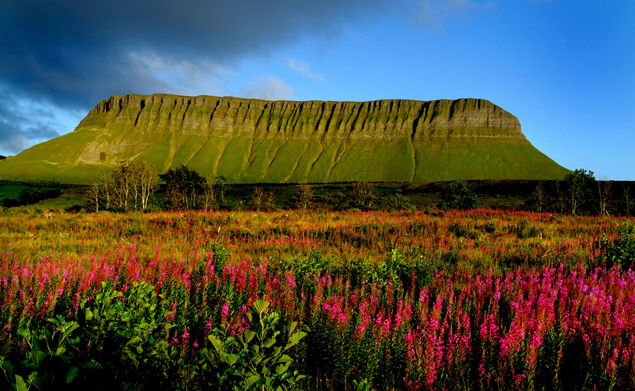 Located in Ireland's northwest just 40 miles from the border of Northern Ireland, Sligo is a charming coastal town that offers easy access to splendid scenery and nature. The land that makes up the town today has a long history, dating back to 8000 BC when Mesolithic people first arrived in Ireland. St. Patrick, the missionary and bishop who brought Christianity to Ireland, paid two visits to Sligo in his lifetime. Sligo is also the hometown of poet and Nobel laureate William Bulter Yeats. The surrounding landscapes influenced much of his work.
From mountains to sea to rolling hills of green, Sligo is the gateway to many enchanting landscapes that can be explored by hiking. The town center itself is compact, making it a highly walkable city. Music lovers rejoice – Sligo is also known as a hub for traditional Irish music.
Waterford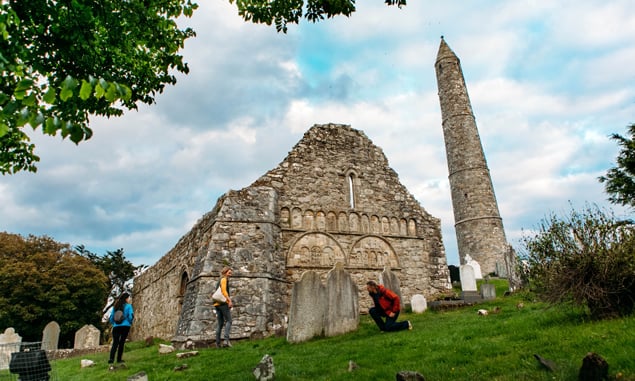 Founded by Viking raiders in 914 A.D., Waterford is Ireland's oldest city. The seaport in Southeast Ireland sits on the River Suir. The tiny city center is packed with history, with remnants from the Viking area, medieval times and 18th century still standing.
Once a more important city than Dublin, today Waterford has the highest unemployment rate in the country. The city's economy is driven by trade, where docks, freighters, and cargo dominate much of the landscape. Compared to other cities in Ireland, many describe Waterford as plain. However, its name shines internationally thanks to Waterford Crystal, an opulent crystal manufacturer founded in the city in 1947.
Carlow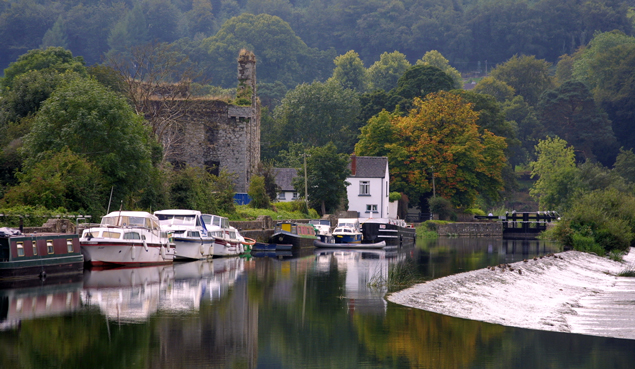 The inland city of Carlow is located in southeast Ireland on the River Barlow. It is set in an agricultural region which produces much of the country's grain supply. Carlow and the surrounding areas were some of the hardest hit by the potato famine of 1845-1847. While the famine caused much of the population to flee, the agricultural industry has since returned and stabilized.
With fertile soil, Carlow is surrounded by rolling hills of green that help make Ireland so famous. The combination of so much green, medieval buildings, and the river make it a place where the picturesque notions of Ireland are brought to life.
Athlone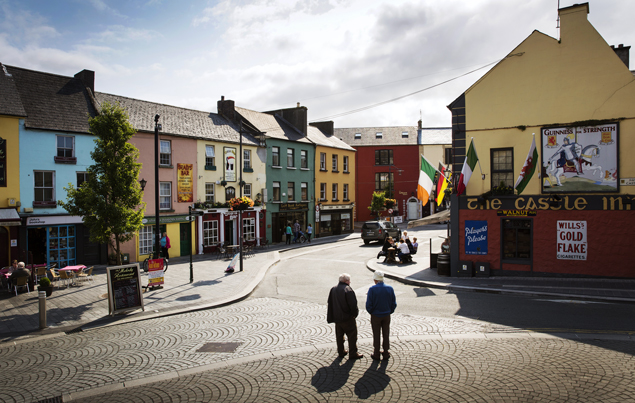 Athlone is located almost exactly in the center of Ireland on the River Shannon in the Midlands Region, which is known for its natural beauty and many lakes and waterways. Athlone's history dates back to the Bronze Age when the river crossing was used as a strategic vantage point.
Athlone is known for its trails that allow hikers and cyclists alike to soak up Ireland's nature. The city center is compact with many bridges that also make it a desirable home base to explore on foot. Foodies, eat up! The city is also known for being home to some of the country's finest restaurants.
Tralee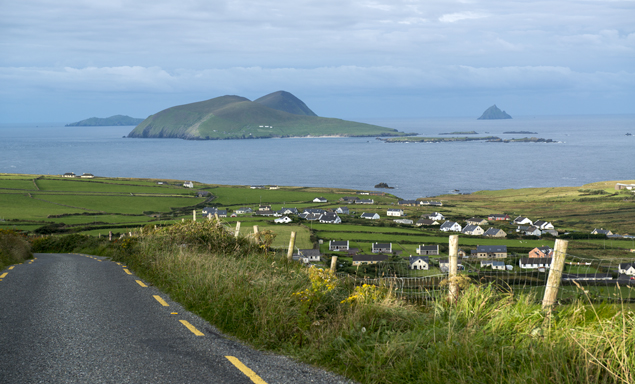 Close to the sea, Tralee is located in southwest Ireland on the Dingle Peninsula, which, like many places in the country, is known for its stunning landscapes. Due to its proximity to Tralee Bay, the lands here have been home to a roadway that dates back to ancient times. Tralee was a sight of much violence during both the Irish War of Independence and Irish Civil War, however, today it retains a peaceful atmosphere.
Tralee is renowned for how well it has maintained Irish culture in comparison to other cities on the island. While having all modern conveniences, it still retains the feel of a traditional Irish country village.
Now that you've got some ideas on which Irish cities might be right for you, check out our top suggestions on how to experience Irish culture while studying abroad. No matter where you decide to study abroad in the end, you're in for a treat!
This post was updated in February, 2017. Photo Credits: Tourism Ireland and
Maynooth
.
Disclaimer: We have paid relationships with some of the companies linked to within this article.