5 Up-and-Coming Destinations in 2014 for Teaching Abroad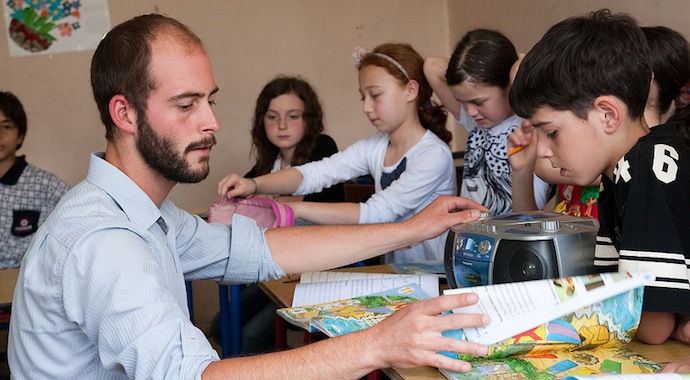 Photo Credit:
Greenheart Travel
Are you looking for a more up to date list? Then head on over to our list of unexpectedly wonderful destinations to teach abroad in 2016.
Teaching English abroad has long been a favorite way to travel the world while making decent money and often enjoying a higher standard of living than what is possible back home. With the lack of job opportunities available in the US, work abroad has never been more attractive.
While most people think of Spain, South Korea, or Taiwan when considering teaching abroad, there are quite a few other places that are becoming more and more ideal for those looking to experience something a little different while saving money and living well. Are you considering teaching abroad? The following up-and-coming destinations should make your short list:
1. Cambodia
There is something quite gripping and intriguing about Cambodia. As most foreigners who travel through or make their home in this Southeast Asian country will agree, the warmth of the climate and the people both make this an ideal place to live. Though the country gets slightly more expensive with each passing year, Cambodia is still a budget destination and English teachers can save quite a bit of money while experiencing a very nice quality of life. Renting an apartment can cost as little as $100-$200 per month and a meal usually runs under $5.
Most opportunities exist in Siem Reap and Phnom Penh, though jobs in Cambodia can be found just about anywhere. With a beautiful seaside, the famous temples at Angkor Wat, and beautiful jungles, Cambodia really is the gem of Southeast Asia. Teachers generally find that their students are hard-working and appreciative of the opportunity to learn English.
Hours: Expect to work about 20 hours per week.
Pay: Anywhere from $10-$25 per hour depending on experience level. The de facto currency in Cambodia is US dollars.
Requirements: Cambodia is one of few countries where a TEFL certification is not a requirement. Teaching opportunities generally just require a native level of speaking ability.
Things to consider: infrastructure is still quite lacking in Cambodia, though it is on the up and up. Healthcare is also suspect.
Suggested program: LanguageCorps
2. Azerbaijan

Sitting at the crossroads of Europe and Asia, Azerbajian is definitely an up-and-comer in the global scene. As this beautiful country continues to go through dramatic changes, the demand for English teachers will continue to grow. Slowly but surely, English is replacing Russian as the main language for business transactions, creating demand and the perfect opportunity for English teachers looking to experience something a little off the beaten path.
The capital city of Baku provides the most opportunity, with language centers and universities making up the bulk of job offerings. Though cost of living is somewhat high, pay is typically pretty good and the beautiful natural scenery and delicious food make it worth the trade-off.
Hours: Full time at 8-9 hours per day with some occasional work on weekends. Typical annual leave can vary from 2-10 weeks.
Pay: $1000+ per month at language centers and upwards of $3000 per month at universities.
Requirements: A CELTA or TEFL certification is generally required.
Things to consider: There is a fair amount of red tape involved with getting approval to work in Azerbaijan. An official invitation and registration with local police are both required of foreigners. Additionally, infrastructure is still somewhat lacking though improving.
3. Kyrgyzstan
Located in central Asia, this land-locked country is becoming more and more popular for English teachers. With cheap accommodation, transportation, and food, Kyrgyzstan is a great option for living well and saving money. With blue lakes, beautiful mountains, and glaciers, it is both beautiful and the perfect destination for outdoorsy types.
Bishkek is an ideal place to obtain a teaching job as it's a liberal-minded city with lots of activities for adventurous travelers. It is also an easy place to meet other foreigners.
Hours: Typically 7-8 hour days, sometimes evening or weekend shifts dependent on which type of language school one works at.
Pay: $800 per month and upwards at language centers, and $2000 plus per month at international schools.
Requirements: Typically a CELTA is required
Things to consider: There isn't as much chance for professional development and English teaching jobs are not commonly well-advertised.
Suggested program: International TEFL Academy
4. Colombia
Often given a bad rap as a dangerous place to live and travel, those who have spent time in Colombia agree: it's a great place to be and has an undeservedly bad reputation. Seeking teachers to tutor mainly adults for business-level English, opportunities abound in Colombia. Opportunities can mainly be found in Medellin. Living expenses are quite reasonable with apartments running around $500 per month and upwards, it's not as cheap as some of the other places on this list, but still a great option.
Hours: 25 hours per week is the average.
Pay: Expect to take home $900-$1500 per month dependent on experience.
Requirements: Native English speaking ability is required and a TEFL certification is likely to be required as well.
Things to consider: You are more likely to land a job if you're already in Colombia vs. applying from abroad.
Suggested program: ITTT TEFL
5. Turkey
A bit more firmly on the tourist trail, Turkey is a wealth of beautiful beaches, amazing architecture, and delicious food. Each of its seven regions boast their own unique character, climate, and scenery. Given Turkey's desire to join the European Union, the demand for English teachers is growing. With great nightlife, plenty of wonderful areas to explore, and a low cost of living, Turkey is an excellent option for English teachers.
Most teachers head to Turkey's larger cities for job opportunities, the most major of which are Istanbul, Ankara, and Izmir.
Hours: 6-7 hours per day.
Pay: Anywhere from $750 to $1300 per month.
Requirements: Typically a CELTA is required.
Things to consider: Saving money might not be as easy in Turkey with its tempting nightlife and social scene.
Heading a off the beaten path to find teaching opportunities is an excellent way to find cheap countries to live in where the standard of living is high, tourism is building, and opportunities are growing. Moreover, sometimes the lesser-known countries have more relaxed requirements, will offer more opportunities for those with less experience, and provide a great way to build one's teaching resume. With low rent, cheap food, and often decent nightlife and opportunities to meet other English teachers, each of the aforementioned destinations is a great pick.
Thinking outside the box and looking at places that are a little lesser known can result in some decent wages, enjoyment of cheap countries, and opportunities to get to know a part of the world that you may otherwise not have previously considered.